Gold Outperformance, Affluence is Our Down Fall
Commodities
/
Gold and Silver 2011
May 18, 2011 - 05:12 AM GMT


Many moons ago during our back packing phase, we were snorkeling off a lovely beach in Bali, Indonesia, when we turned a corner to find ourselves opposite a private beach belonging to a rather posh hotel. The high paying guests were somewhat surprised to see us bobbing around in the surf. There was one particular gent who was all the way up to his ankles in sea water, holding a cigar in one hand and large glass of what looked like whiskey in the other hand.
He had neatly combed hair, was the colour of an unwashed milk bottle and rather portly, to be polite. Success in life had brought him to this place, a five star hotel, cigars and whiskey, why, because he could afford it. We observed each other and no doubt we thought the same thing of each other, what a weird way for someone to live.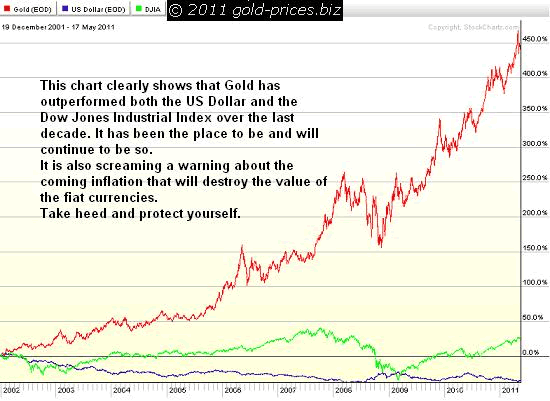 The point is that the western world managed to get itself into a position where it was fat, happy and affluent and so enjoyed, rightly or wrongly, the excesses that accompanies success. Fast forward many moons and here we are still fat, not so happy, with affluence draining down the gurgler all the way to the eastern world. The policies of easy credit and a 'print and hope' currency have seduced us into a false sense of security, as we can always rely on a financial bailout for the large enterprises and a social security handout for individual households.
This state of semi-sedation and a 'devil may care' attitude is about to hit the wall. The game is up. The future is going to very hard indeed. Every job that you can imagine is now the subject of intense competition from a fitter, faster, cheaper and more determined aggressive competitor. Its not just the activities of the occasional call center that is now being carried out in a foreign land, its everything from major medical operations to the production of high tech gadgetry. As the influence and dominance of the east rises, the importance on the world stage of the western world will decrease.
This decade will see some us become tenants in our own countries with the ownership of companies, utilities and land being transferred to those with the cash. And that's not us, is it?
For an individual, self preservation is now high on the agenda, where possible find other avenues of income to supplement your main wage. Any part time or evening occupation that adds a few more bucks to your income will become more and more important as things unfold.
Commodities have already rocketed and are now in a roller coaster phase, however, the underlying trend is up as the worlds biggest ever industrial revolution continues unabated providing relentless demand. This will inevitably lead to rampant inflation scoring a direct hit to our wallets.
As you are well aware we are seeking refuge in the gold and silver space, however, just about any hard asset that you can trade at a later date will prove to be far more valuable then any paper currency, once disposal goes up a notch and the holders start a fire sale.
As we see it, the short term will be choppy with rallies and sell offs happening at the drop of a hat as investors run from one side of a sinking boat to the other, looking for safety. Come July we will know whether or not there more stimulus is to be injected into the system, which just may help to hold the fort for a little longer. However, by August we will see the continuation of the demise of the dollar with some speed and an upward trend form in gold prices resulting in a run to $2000/oz by the year end.
So, we could have two months or so to formulate a plan and then execute it.
If you have not started down this road then try and set up a monthly purchase plan to acquire both physical gold and silver and take possession. Secondly, look to acquire a few quality producers and finally, if you have the nerves for it, a few well thought out options trades.
The chart above compares gold with both the US Dollar and the Dow Jones Industrial Average and as we can see the gold has outperformed in spectacular fashion. Further more it is screaming a warning message to us all, in that fiat currency and the market in general are not to be trusted. Unless you a super stock picker and managed to identify a few real winners an investment in the stock market has robbed you of your spending power. Holding dollars has also diluted your wealth considerably when you look at what you could purchase with a dollar ten years ago compared with what it will buy nowadays.
We have waited a long time for this situation to develop and we believe that we are at the start of some exponential moves in this sector. There is no time lose, so get into position with some solid holdings before prices run away from us. Avoid the daily chatter that surrounds minor events and focus on the big picture where is the economy is not well and the dollar is heading for oblivion, along with all the other paper that promises to pay the bearer nothing.
To stay updated on our market commentary, which gold stocks we are buying and why, please subscribe to The Gold Prices Newsletter, completely FREE of charge. Simply click here and enter your email address. (Winners of the GoldDrivers Stock Picking Competition 2007)
For those readers who are also interested in the silver bull market that is currently unfolding, you may want to subscribe to our Free Silver Prices Newsletter.
DISCLAIMER : Gold Prices makes no guarantee or warranty on the accuracy or completeness of the data provided on this site. Nothing contained herein is intended or shall be deemed to be investment advice, implied or otherwise. This website represents our views and nothing more than that. Always consult your registered advisor to assist you with your investments. We accept no liability for any loss arising from the use of the data contained on this website. We may or may not hold a position in these securities at any given time and reserve the right to buy and sell as we think fit.
© 2005-2019 http://www.MarketOracle.co.uk - The Market Oracle is a FREE Daily Financial Markets Analysis & Forecasting online publication.

Only logged in users are allowed to post comments.
Register/ Log in