Stock Market Stuck in No Man's Land, Plus Silver and Dollar
Stock-Markets
/
Gold and Silver 2011
May 14, 2011 - 07:47 AM GMT

US Equities spent most of their time stuck inside the previous weeks range, the major action came from the other "risk" asset markets, like silver, oil and the FX markets, that's where the better action came, although we simply traded our areas of support and resistance on the ES, as following on from last week's ideas, we simply still don't have an edge to which pattern will play out, the range has gone sideways for the past 2 weeks, although we suspect its getting ready to get aggressive next week. So we will let the market doing the talking and we will follow what the market wants to do.


SPX
Last week I showed 4 ideas, and as of now we still have those 4 ideas working, for the past week we pretty much traded inside the previous weeks range, much to the chagrin of both bulls and bears alike. With such a small range, we suspect the market is getting ready to make a big move as it has been triangulating for the last 3 days of the trading week.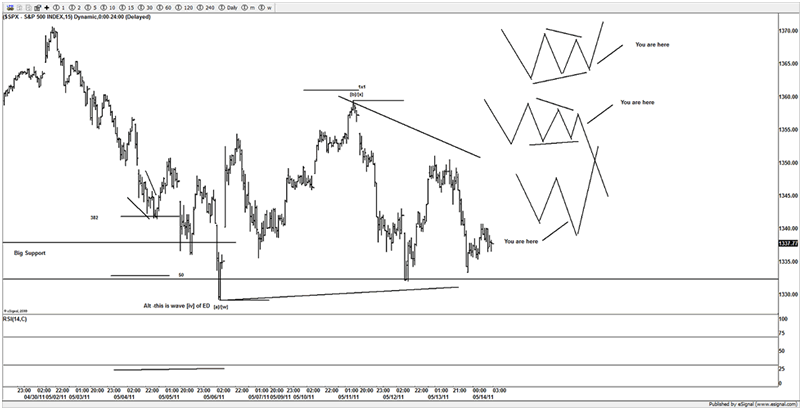 The market has tested the support zone of 1332-1338 on 3 occasions, and the bulls have come back into the market and held the line, so early next week the bulls need to deliver or face breaking last week's lows at 1328SPX, then targets open up from 1320-1300 (subject to price structure).

The key areas are shown via the red lines, as until we break under or above one of the red lines we cannot yet confirm a breakdown or breakout of the sideways range, we are stuck in at the moment, but I do suspect, early next week, we should get a resolution or a better understanding of what's about to likely happen, but we have our key S/R #s and we will go in with those, which have kept us on the right side of the moves this past week.

Oil

The real action came in the oil and silver markets and a few other FX crosses like AUD/USD and EUR/USD, those got heavily hit as the US$ got a push higher, in last week's report I mentioned, that if the US$ got a bid you would see more downside as assets get sold to cover those margin calls, well the US$ made a move higher as a result downside pursued in "risk".

This is the advantage of looking at many markets, rather than waiting to be either chopped up or bored from coma driven markets, traders can move to other markets that are showing much better opportunities, which is what members did, there is no point in watching chop, if other markets are showing a great setup to trade.

It's not that difficult to watch, as by watching a multitude of markets, it can keep you on the right side of the markets, just by having these sorts of edges, lends to support ideas of the suspected market path.

After reversing off the ending diagonal pattern we were initially looking for a 5 wave decline, which we got, then a bounce in 3 waves, which just hit our target range. As of Tuesdays close I had noticed silver, US equities, AUD/USD and oil all aligned into our targeted areas, and I made it clear to members that I suspect the market was setting up a trap as the US$ was about to reverse and push higher, the ES hit our 57ES# and promptly reversed, as the DX gained traction on the upside, "risk" got sold as was seen on Wednesday, as US stocks, FX and commodities all pushed lower.

That's the setup we like the best, when multiple number of markets come together as it gives us clear ideas. We don't think oil is yet done and overall looking lower against this week's highs, we still have a target of $85 in the near term, only an aggressive move above the highs made this week at $104.65, would changed the picture.

The idea shown here is a move towards the $101-102 area in a choppy advance, then a reversal, so we are watching the DX to see if it follows through with more upside that should put pressure on the markets in general.

A move above $103 would caution us and start to put pressure of this idea, but until that happens we will stick with the idea, as its been working so far, and we don't have any reason just yet to change our stance, as long as the US$ gets a bid and pushes higher we favor more selling in "risk" markets and US$ to gain strength in the near term. More about why later in this report.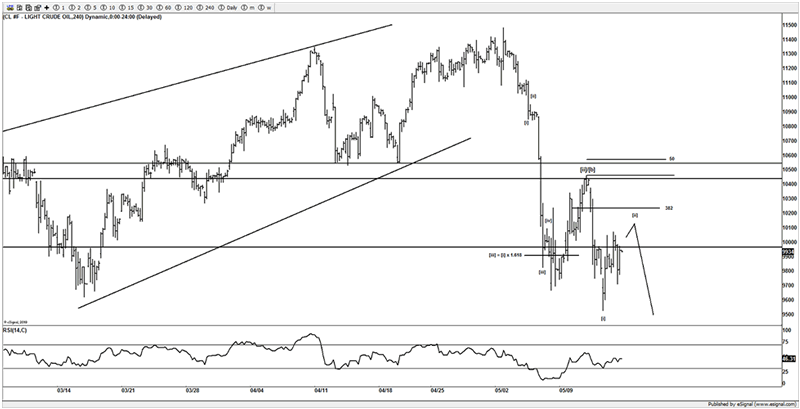 As with any trade, you need to know where the idea is wrong before you can start counting on being right, as stops are for protection of your account, as much as we have confidence at times with ideas, there are times when things don't go accordingly the way you want them to, that's why it's important to have a stop. From next week we like the downside on this market proving we see strength in the US$ and weakness confirming our ideas on this market.

Silver

As silver rose higher, we noticed it came into alignment with oil at our target and our ES target at 57ES, the key was also that US and European stocks (FTSE and DAX) had a 3 wave rally, i.e. ABC rally, so did the AUD/USD and other FX pairs we follow, we suspect the market setup a trap into Tuesday as I could clearly see corrective bounces, our target was the $38 area, we just pushed above that, but stayed under the $40 handle, which still had us looking for a reversal, when I was reading calls of the "low was in for silver" I had a sneaky idea the market would never make it that easy.

We were working a 4th wave bounce into $38 area, and seeing corrective price action in other markets, particularly noticing the strength of the DX, traders that took no notice of that fell into hands of the market, as the rug was pulled, just as I suspected, our target for the last decline was under the $33 area, where we needed a 5th wave, with the RSI divergence, members were advised if short to start looking to scale out as I suspected the end to a 5 wave sequence.

Overall, if the US$ has marked an important low, then we suspect more weakness coming in the weeks ahead, fundamentally nothing has changed, all that has changed is that the US$ is rallying, and traders have being forced to liquidate positions, if this continues due to margin calls, expect more of the same as you have seen over the past few weeks, which makes for some great trading setups.

We are not interested in the reasons why a market goes where it does, we just trade price as traders that's what you must do, trying to reason with the market, will lead you to a damaged account as you fight price action with fundamentals that have no bearing to the price action you see, all that pays is price.

From here we think the market still wants lower so selling opportunities will likely setup, if we see 3 wave corrective bounces, like oil we suspect this market has lower to come, as forced liquidation does not care about values, if the US$ is ramping higher, then I suspect liquidations will need to take place, that means good markets get sold as well as bad markets.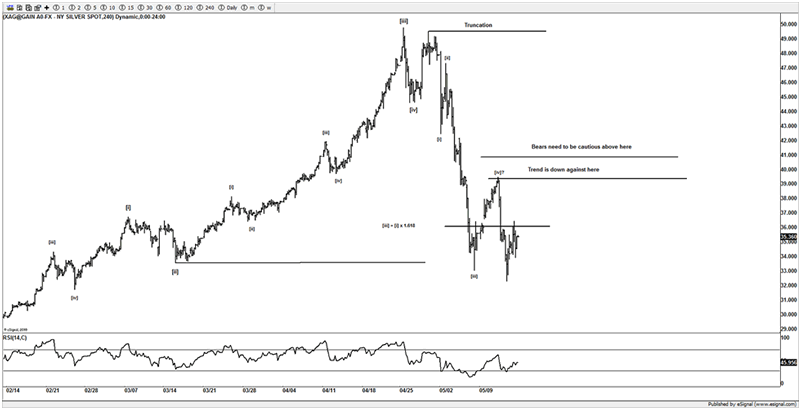 With a 5 wave decline, the market will really need to correct higher potentially seeing towards the $40 handle, if its only 3 waves (that's key) and a sloppy corrective bounce, then I suspect it again will setup for more downside, one idea is that we still could be in the 4th wave and trace sideways for a potential triangle, but need a bit more price action, as the risk/reward from here, it's not really favoring any side.

We still favor selling rallies in this market, if we see weakness into the $40-42 area, and strength in the US$, this is not a fundamentals trade, as seen, it's about following what price is doing those that hang around to long might just end up being the bag holders.

Traders need to decide do they want to make $$$$, or moan about how the markets are rigged etc.

Toy Soldiers

As you can clearly see, markets are synced up, all 5 of those markets moved off the back of the US# getting a bid, so it pays to watch those markets against what is happening with the US$.

This is what happened over the past 2 weeks,

In today's markets you simply cannot look at one market you need to be looking at many others for clues.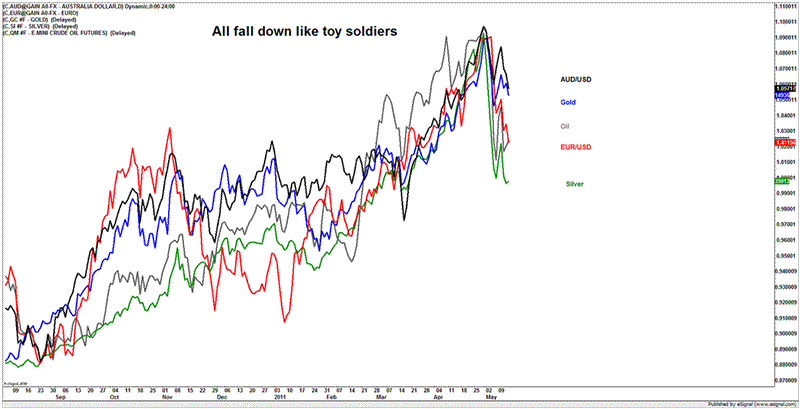 This is the same set of markets but on back on the high made in Jul 15th 2008, when the DX got a huge reversal and start its epic short squeeze, as you can clearly see all 5 markets pushed lower as force liquidations' forced traders to dump assets, good or bad, it made no difference, when forced liquation's are in force, the market simply does not care about "da funny mentals".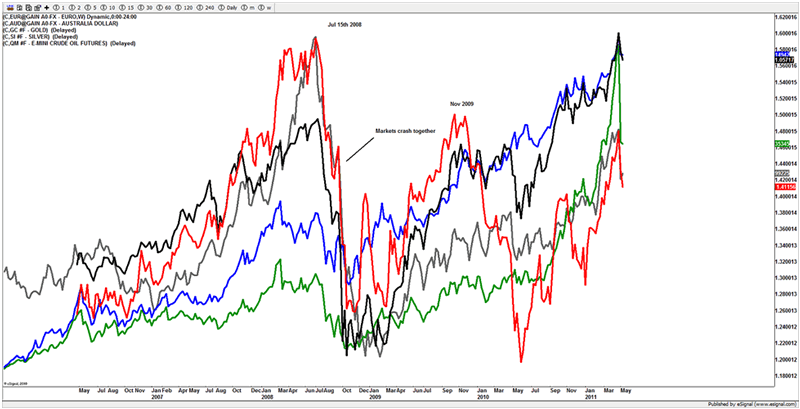 Back in Nov 2009, look carefully you can see the only market to move lower is the EUR/USD pair, the rest of the markets move higher, now look at previous 2 weeks, you will notice that the markets are moving in sync with each other, we think that's an important clue, as this is the 1st time the markets have actually took noticed of the US$ strength, the only previous recent occasion was at the Jul 15th 2008 highs, when the DX made a low.

Coincidental, I think not, the past few weeks have been the 1st time I can see, since the high on 15th Jul 2008, that all those markets have pushed lower together, the lows on the DX in Nov 2009 only saw the EUR/USD move opposite to the DX, the other markets continued higher, the past 2 weeks we have seen all these markets react to the US$ strength, which clearly is a change of character.

So clearly the importance of what happens in the near term to the US$ is of great importance to traders.

Will history repeat itself??? that's for the markets to decide, we will just follow price action.

If you're looking to follow these markets and many others that we follow, then take advantage of the 4 week free trial, where you can then evaluate the site and see it fits in with your trading style.

Click [url=http://www.wavepatterntraders.com] here [/url] to become a member

You can also follow us on twitter http://twitter.com/#!/Nouf_wpt

What do we offer?

Short and long term analysis on US and European markets, various major FX pairs, commodities from Gold and silver to markets like natural gas.

Daily analysis on where I think the market is going with key support and resistance areas, we move and adjust as the market adjusts.

A chat room where members can discuss ideas with me or other members.

Members get to know who is moving the markets in the S&P pits*

*I have permission to post comments from the audio I hear from the S&P pits.

If you looking for quality analysis from someone that actually looks at multiple charts and works hard at providing members information to stay on the right side of the trends and making $$$, why not give the site a trial.

If any of the readers want to see this article in a PDF format.

Please send an e-mail to Enquires@wavepatterntraders.com

Please put in the header PDF, or make it known that you want to be added to the mailing list for any future articles.

Or if you have any questions about becoming a member, please use the email address above.

If you like what you see, or want to see more of my work, then please sign up for the 4 week trial.

This article is just a small portion of the markets I follow.

I cover many markets, from FX to US equities, right the way through to commodities.

If I have the data I am more than willing to offer requests to members.

Currently new members can sign up for a 4 week free trial to test drive the site, and see if my work can help in your trading and if it meets your requirements.

If you don't like what you see, then drop me an email within the 1st 4 weeks from when you join, and ask for a no questions refund.

You simply have nothing to lose.

Until next time.

Have a profitable week ahead.
By Jason Soni AKA Nouf
© 2011 Copyright Jason Soni AKA Nouf - All Rights Reserved

Disclaimer: The above is a matter of opinion provided for general information purposes only and is not intended as investment advice. Information and analysis above are derived from sources and utilising methods believed to be reliable, but we cannot accept responsibility for any losses you may incur as a result of this analysis. Individuals should consult with their personal financial advisors.
© 2005-2019 http://www.MarketOracle.co.uk - The Market Oracle is a FREE Daily Financial Markets Analysis & Forecasting online publication.

Only logged in users are allowed to post comments.
Register/ Log in