Stock Market and Euro Elliott Wave Counts
Stock-Markets
/
Elliott Wave Theory
May 04, 2011 - 07:23 AM GMT

The markets are now coming into a target zone that will likely define the trend going forward over the coming weeks/months. As bears continue to try and top tick this rally from the lows made in Aug 2010. They are being forced to cover as the strength is overwhelming; anyone that tries to short this market is getting run over.

The trend is clearly still up and the easiest way to make a successful trade is to follow the trend, top tickers generally get wiped out, as being right once out of 20-30 times, does not constituent to a healthy account balance.
So where does this leave us in the long term view, now I want to point out I am not really a fan of these long term counts, simply because, to be wrong on these ideas can take years, as the bears have found out to their misfortune, just like back in 2006, when the bears were looking for the "3rd of 3rd" crash, they eventually had to switch bias as the market proved them wrong. I specialize in short/medium price action.
So where are we?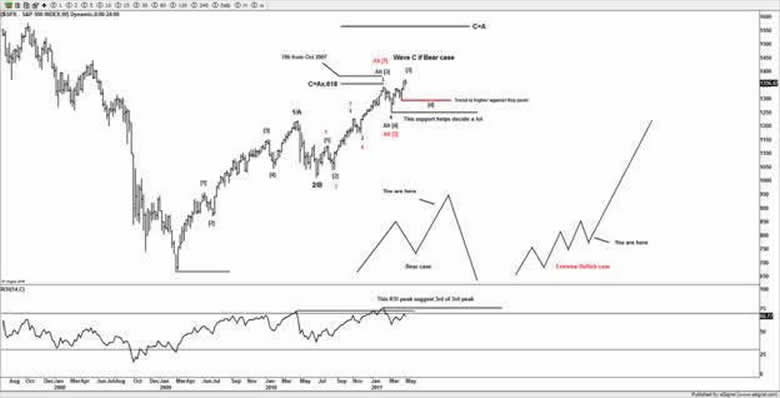 The bullish count is an aggressive potential "3rd of 3rd" to the upside that is setting up, the bearish wave count, or at least still a medium bullish idea is that the market is still in a bear market rally but in a medium bullish trend, I will explain further.

The aggressive bullish wave count

Now readers, especially bearish readers, will probably look at this and say "no way is the market going to go higher", well I want to point out, that each and every correction has been met with buyers, and the corrections have been in 3 waves, the importance of that is 3 waves on a decline in a uptrend is it confirms a correction. As long as the market continues to impulse higher and corrects in 3 waves, the trend is going to go higher, you simply can't argue with price action, you can make all sorts of theories as to why the market is where it is, but those again won't stop price action, either you accept what price action is doing or you don't, it's pretty simple.

Yes there is a high correlation to the POMOs and I suspect like most traders that the FED is the back stop for the funding, but as the saying goes you "can't fight the FED", being right about something is still wrong in my book if you are 2 years too late and wiped out your account, you either have to accept the situation or you fight it and likely lose in the short term, of course it remains to be seen what happens after the FED stops QE2.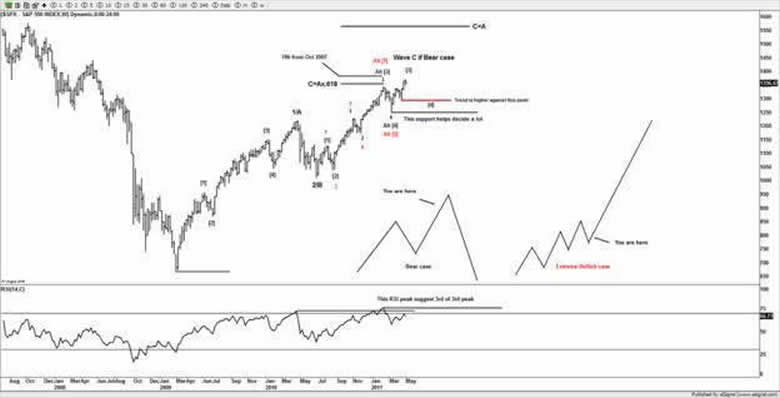 The red labeling is the extreme bullish case, I say extreme, as the potential for the next move is one that pushes the markets aggressively higher in a "3rd of 3rd".

Generally a retrace for a second wave stalls somewhere between the 61.8-78.6% areas so you can see the bears are really clutching at straws, the market has had tons of bad news thrown at it, and still it continues higher. Again let me make it clear, as long as the market trends higher and the corrections are in 3 waves, that still confirms the trend is going higher regardless how you want to count it.

The bear wave count

The bears have this in a final 5th wave, although I tend to think it needs more waves to fully embrace a completed wave count from the lows made at 1010SPX back in mid 2011, and overall move from March 2009.

The trend is higher against the last swing low made in the April 2011 just gone at 1295SPX, as long as that remains intact the trend is higher, no ifs or buts, although our caution area is against 1320SPX, we are still bullish against this current market regardless of which wave count, as long as any dip still holds above 1320SPX, we are still bullish this market.

Now what happens if we push lower under 1320SPX and actually back through the lows back in April this year at 1295SPX?

Well then firstly, the trend needs to be respected, as that is a minor momentum shift, and something the bulls do want to respect, although it does not do much damage on the longer term trend, we do have a few ideas that we are also working with, should the case arise that the lows made in April this year get taken out, but for that we would need to see weakness under 1320SPX, so we will cross that if we need to at a later date, as there is no point in dwelling on something that atm, does not look like it's even going to be tested, although if it were, we will adapt and trade it as we always do.

Lately the momentum is starting to suggest weakness, and whilst it's not an issue atm, it's something that longer term could pose as a clue.

Taking a look at the shorter term view, there is the chance this is part of running triangle and in a wave [b] now or indeed as part of an expanded flat, again it would be in a wave [b] however, in order to suggest any of those ideas we would need to see weakness under the 1320SPSX area 1st.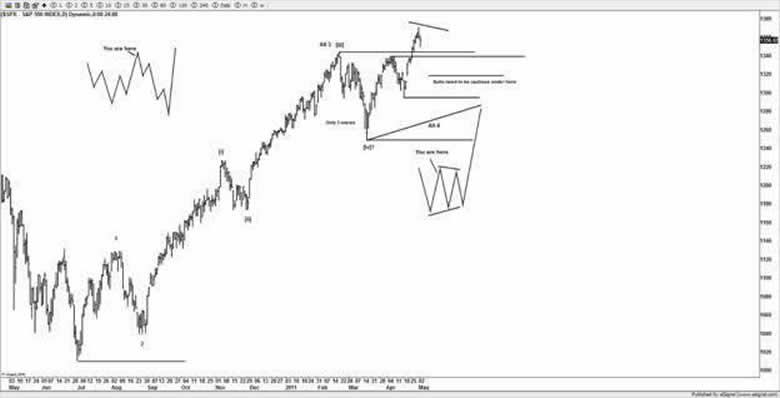 Now whilst these ideas are valid, we would really only consider them fully, if more weakness is seen under 1320SPX, having pushed higher above the 1338-1344SPX area, that would need to be broken as a 1st clue. From what we have seen so far, the trend does not look like it's in any jeopardy, only a sharp move under 1340SPX would be the 1st clue, then under 1320SPX.

So whilst the top tickers are out in force, we will continue to trade the trend, only when we see clues and break our key areas will be cautious about the upside.

Alternative idea to the bear's crash idea.

Whilst it maybe a little too much for readers to accept an aggressive move higher, the alt view that we are also following, is that the markets are actually in a larger X wave, we are more inclined to believe this idea than the crash to Dow 1000 idea.

The market started its bear market from the 2000 highs, and completed wave W into the lows made into March 2009, what we are in the process of now is a 3 wave advance for wave X and then need a 3 wave move for wave Y, and likely to push just under the March 2009 lows, NOT the crash that the bears expect, although seeing the March 2009 again, would certainly see a seriously bearish sentiment, and once more present a buying opportunity.

Now there are many reasons for a decline, one could be what we are seeing now is a repeat of the 2008 period, where commodities are going higher as well as the US$ pushing lower, this is a very similar setup to that right now, and its remarkable in its similarities, the other is that QE2 will finish and not be activated again, although it would be something to see if Ben Bernanke actually does the right thing and not print.
VIX

The one thing that the bulls need to be concerned about is the very fact that the VIX will still need to push under this support zone at 15.30, with a rebound back about the 15.30 area, it's going to need some aggressive price action on the US markets to push the VIX and keep it under 15.30 from here. If the market was indeed setting up for a large and aggressive move to the upside, I would expect the VIX to push far lower, even with complacency at these levels if price refuses to push lower, it's going to leave the VIX holding these levels.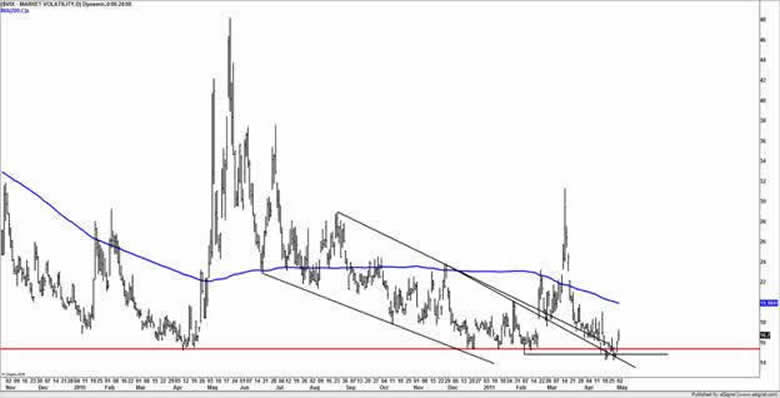 FTSE

Another market that we are watching for a clear idea, to decide if bearish or bullish is the FTSE in the UK.

The bear count from the March 2009 lows is that of a large ABC, the bullish count is that of a potential 12 12 and a very aggressive wave count that is suggesting a huge move to the upside; however one way to know which one is working is if the price action starts to wedge, that's the classic signature of an ending diagonal, like most markets the trend does appear to be tiring, we do have a measured target just about 6260, if we do see this explode to the upside, I suspect the market then likely to test the Oct 2007 highs, this market is still bullish against 5858, although under 5900 is the 1st caution sign for the bulls.

If we see a move under 5900, we do have a few other ideas that we bring to the forefront.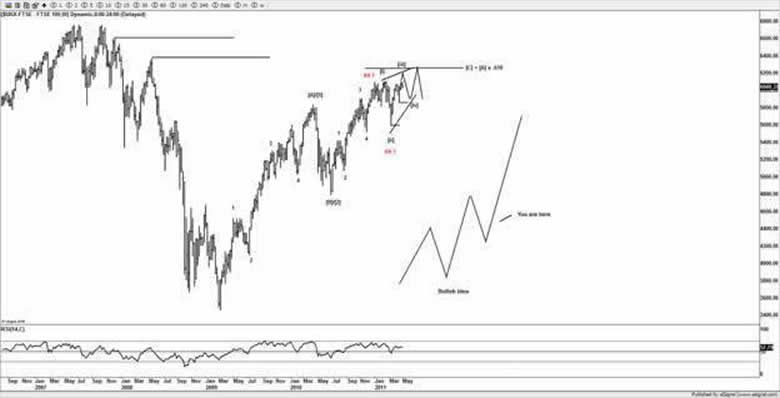 EUR/USD

So what of the US$ and its counterpart the EUR/USD pairing, well FX traders know that if you follow the EUR/USD pair, it's a sign where the US$ is going to end, being 57% of the DX weighting, it pays to watch this pair.

Long term because of the 3 wave decline the door is open to many suggestions, which on the face of it, is not that really helpful, unless you are a long term trend trader.

However the preferred count is that of a larger flat and we would need to see a move towards the 151-152 area to complete that wave count. Of course once completed that would then need to see an aggressive reversal.

There is an outstanding target of 15289 where a 1x1 measured target would be hit.

The alt idea is a potential long term triangle, but as you can see, all we have done for the past 3 years is zig zag, the crunch comes for the US$ if the EUR/USD pair accelerates above the 153 handle, as the US$ is going to be in a lot of trouble, but with the sentiment extremely bullish on the EUR/USD pair and sentiment extremely bearish on the US$, we believe now that an impending reversal is a very high odds/low risk trade, we think there is further to go on this current rally, as long as 147 area holds we are still bullish this pair.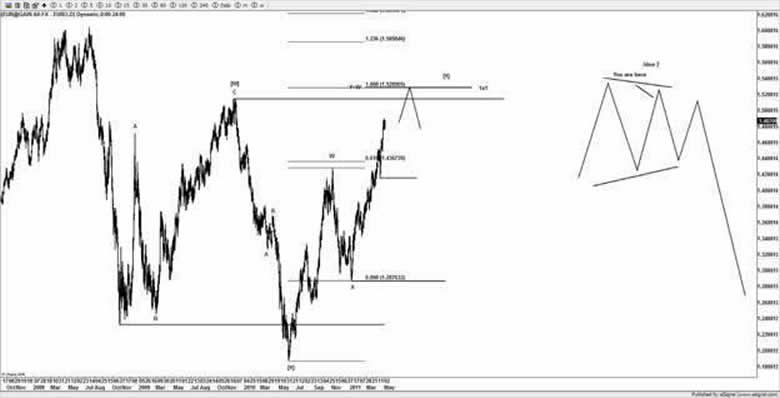 These are just a few ideas that we are following.

What do we offer?

Short and long term analysis on US and European markets, various major FX pairs, commodities from Gold and silver to markets like natural gas.

Daily analysis on where I think the market is going with key support and resistance areas, we move and adjust as the market adjusts.

A chat room where members can discuss ideas with me or other members.

Members get to know who is moving the markets in the S&P pits*

*I have permission to post comments from the audio I hear from the S&P pits.

If you looking for quality analysis from someone that actually looks at multiple charts and works hard at providing members information to stay on the right side of the trends and making $$$, why not give the site a trial.

If any of the readers want to see this article in a PDF format.

Please send an e-mail to Enquires@wavepatterntraders.com

Please put in the header PDF, or make it known that you want to be added to the mailing list for any future articles.

Or if you have any questions about becoming a member, please use the email address above.

If you like what you see, or want to see more of my work, then please sign up for the 4 week trial.

This article is just a small portion of the markets I follow.

I cover many markets, from FX to US equities, right the way through to commodities.

If I have the data I am more than willing to offer requests to members.

Currently new members can sign up for a 4 week free trial to test drive the site, and see if my work can help in your trading and if it meets your requirements.

If you don't like what you see, then drop me an email within the 1st 4 weeks from when you join, and ask for a no questions refund.

You simply have nothing to lose.

Until next time.

Have a profitable week ahead.

By Jason Soni AKA Nouf
© 2011 Copyright Jason Soni AKA Nouf - All Rights Reserved

Disclaimer: The above is a matter of opinion provided for general information purposes only and is not intended as investment advice. Information and analysis above are derived from sources and utilising methods believed to be reliable, but we cannot accept responsibility for any losses you may incur as a result of this analysis. Individuals should consult with their personal financial advisors.
© 2005-2019 http://www.MarketOracle.co.uk - The Market Oracle is a FREE Daily Financial Markets Analysis & Forecasting online publication.

Only logged in users are allowed to post comments.
Register/ Log in