Silver Supply Shortage?
Commodities
/
Gold and Silver 2011
Jan 29, 2011 - 02:57 AM GMT

There are some bizarre things going on in the silver market at the moment, reminiscent of the supply shortages and high premiums witnessed in 2008. For starters, silver is currently in both short-term and long-term backwardation, suggesting there is higher demand for silver NOW than in the future. This is backed up by the U.S. mint reporting all-time record sales for silver eagles during the month of January, with three days still left to go. Sales are on pace to breach 5 million coins sold, shattering the November 2010 record of 4.6 million. It is worth noting that all of the 2010 American eagle gold proof coins also sold out, but the focus of this article will be on the increasing signs of a shortage in silver.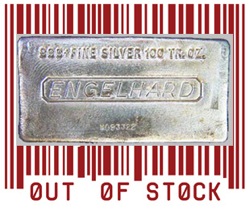 Just yesterday, King World News interviewed one of the top gold and silver dealers in the United States about tightness in the silver market. Bill Haynes is President and owner of CMI Gold & Silver and when asked about a shortage in silver he stated:
"All of the major suppliers of 100 ounce silver bars are either weeks or months out, some will not even take orders. I had some conversations with a number of people who buy from them, had to dig through the information and some of them revealed that they thought the refineries were having trouble and the manufacturers were having trouble getting the physical product which falls right into the silver shortage.
It does surprise me because we did not see the buying that we saw in 2008, 2009 when our safes were absolutely emptied of 100 ounce silver bars, and that's the type of buying I thought we would have to see in order for there to be a shortage of 100 ounce silver bars.
I was able to get 100 ounce silver bars (recently) and then all of the sudden these guys I call them and say ok, we are talking 100 ounce silver bars, they'll say well, it's a month out on any order you place today. And then I have people telling me they will not take any orders on 100 ounce silver bars until May.
There's a couple of things that are going to happen that is going to shut a lot of people out of this market. All of the 100 ounce bars are going to be gone in a matter of days, not weeks, days. Then people are going to have to put up their money and they are going to have to wait weeks or months before they get their bars. They are also going to have to pay higher premiums for that product because the marketplace will put a higher premium on the bars on a price drop that depletes all of the vaults around the country."
Zerohedge also reported that the UK was the latest region affected by growing silver shortages after a British bullion dealer notified clients that the company had no remaining silver bars in stock and BullionVault posted a page on their site saying they were not accepting orders for silver in London.
In addition, Eric Sprott had to wait over two months to finally take delivery of the 22 million ounces needed for his new silver fund. He was recently quoted as saying:
"Frankly, we are concerned about the illiquidity in the physical silver market," said Eric Sprott, Chief Investment Officer of Sprott Asset Management. "We believe the delays involved in the delivery of physical silver to the Trust highlight the disconnect that exists between the paper and physical markets for silver."
Another example of the growing disconnect between the paper spot price and free market pricing is the fact that silver coins such as Silver Eagles or Canadian Maple Leafs are selling for $4 – $6 over spot on Ebay. This is a fairly liquid worldwide market for exchange and the premiums have been increasing in the past few months to as high as 20%!
Even one of the largest online dealers of silver bullion is now offering to BUY BACK silver coins such as American Eagles for $1.75 or more over spot price. That is right, while the official spot price was $26.75 this morning, APMEX was offering to buy Silver Eagle coins for $28.50.
By Jason Hamlin
Jason Hamlin is the founder of Gold Stock Bull and publishes a monthly contrarian newsletter that contains in-depth research into the markets with a focus on finding undervalued gold and silver mining companies. The Premium Membership includes the newsletter, real-time access to the model portfolio and email trade alerts whenever Jason is buying or selling. You can try it for just $35/month by clicking here.
Copyright © 2011 Gold Stock Bull - All Rights Reserved
All ideas, opinions, and/or forecasts, expressed or implied herein, are for informational purposes only and should not be construed as a recommendation to invest, trade, and/or speculate in the markets. Any investments, trades, and/or speculations made in light of the ideas, opinions, and/or forecasts, expressed or implied herein, are committed at your own risk, financial or otherwise. The information on this site has been prepared without regard to any particular investor's investment objectives, financial situation, and needs. Accordingly, investors should not act on any information on this site without obtaining specific advice from their financial advisor. Past performance is no guarantee of future results.
© 2005-2019 http://www.MarketOracle.co.uk - The Market Oracle is a FREE Daily Financial Markets Analysis & Forecasting online publication.
Comments
George
29 Jan 11, 15:55
nonsense


this is nonsense, I know a plating company that is using 1,000,000 ounces of silver per month, for plating solar panels in Spain. They continue to buy and use this silver with no interruption in their supply lines. Your article is a lame attempt to scare people and an even more lame attemnpt to force the price of silver up, nice attempt at propaganda



g kaiser
30 Jan 11, 01:24
re nonsense.


This can't be right, George! 1000000 ( one million) ounces of silver is more than 30 tons of silver per month.



John
30 Jan 11, 03:16
trully nonsense


They can't possibly use 1mio ounces per month, with that much silver they could cover whole spain with solar panels.



Alec
30 Jan 11, 18:30
re trully (sp) nonsense


Good job Jason!!! It's Sunday evening, here in the former USA, and the market has kicked into high gear Monday already in the New world! I am just thrilled that the Asians fall so quick for your trickery and buffoonery and have driven the price of silver higher! Keep up the good work!!! trully!!!



ANdrew
28 Mar 12, 08:30
I agree to this shortage of Silver supply


First of all thank you for posting this article. I agree that there is a shortage in supply of silver in today's market coz maximum are trying to invest in silver because of the recent economic meltdown.

Andrew

website - www.miningstockalerts.com




Only logged in users are allowed to post comments.
Register/ Log in