Agri-Food's Price Trends Diverging from Gold
Commodities
/
Agricultural Commodities
Jan 25, 2011 - 12:05 PM GMT


An old saying goes, "Lots of ways to skin a cat." Given the rise in Agri-Food prices over the past about four years that may be a skill that becomes rediscovered in the years ahead. While growing up near St. Louis one of the more interesting experiences was a visit to the now long shut downtown open air farmers' market. One of the rules for the purveyors of meat was that rabbits had to have the unskinned feet attached. No one apparently wanted to buy cat, and have some unscrupulous seller substitute rabbit.
As the green line in the above chart portrays, the Agri-Food Price Index has more than doubled in the past four years. How many industries around the world have experienced the selling price of their product move higher that dramatically? Over the same period of time we also note, using the red line, that the price of $Gold has not kept up with the price of Agri-Food.
One of the big lessons of this past year has been that Agri-Foods are not produced in a factory. They are also produced, with rare exception, one time of the year. They are grown in dirt, not the nearest social network site. In 2010, Russia barred the exportation of wheat. Wheat in Russia, as is the case in most countries, is harvested only one time a year. Worlds will not know till near the middle of this year if any Russian wheat will be exported. A complacent world expected Australia to help fill the gap, only to have that game rained out.
China has indeed been a massive miracle of industrial production over the past decade. That nation has demonstrated an uncanny ability to build a plethora of goods at wonderfully low prices. From televisions to solar panels, China can produce vast surplus of many things. That is, with the exception of Agri-Food.
With Agri-Food, it must increasingly import them. In 2010 that China was a net importer of corn became painfully apparent as the price of corn moved dramatically higher. It had actually achieved that status the year before by importing distillers dry grain. Was part of President Hu's visit to the U.S. in part to discover the minimum bid for Iowa?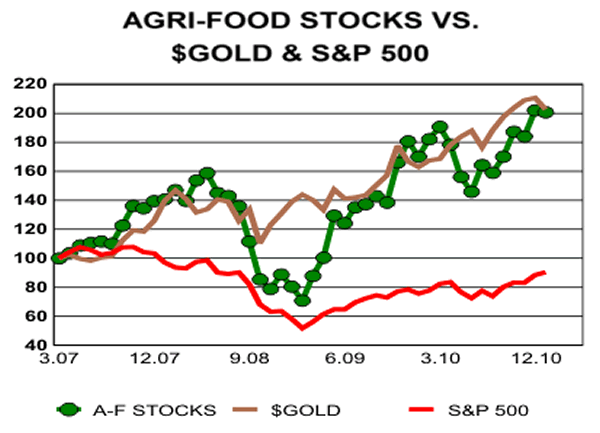 Many have benefitted from the inadequate supplies of Agri-Food, and in particular the higher prices. In above chart, the green line portrays what Agri-Equities have been doing over the past several years. Solid brown line is for $Gold. While both have arrived at about the same spot on the graph, they took different paths.
A naive review of that graph might also conclude that Agri-Equities and $Gold have moved together. On the contrary, they have not moved in close conjunction with each other. Coefficient of determination(R2) is only 4%. That means that combining Agri-Equities with $Gold in a portfolio would have produced the about same return as either, but would have done so with far less total investment risk. Not owning Agri-Equities is a risky investment position, especially in a world with an increasingly inadequate Agri-Food supply.
Our 4th Agri-Food Commodities: An Investment Alternative, January 2011 was recently released to considerable interest. This analysis, though statistical, dry, and boring, has rapidly become the standard for reporting and analyzing returns produced by Agri-Food commodity prices. It thoroughly documents the superiority of returns produced by Agri-Food commodity prices, which ultimately drive the returns on Agri-Investments. This report can be previewed at our web site or at www.scribd.com
By Ned W Schmidt CFA, CEBS
AGRI-FOOD THOUGHTS is from Ned W. Schmidt,CFA,CEBS, publisher of The Agri-Food Value View, a monthly exploration of the Agri-Food grand cycle being created by China, India, and Eco-energy. To contract Ned or to learn more, use this link: www.agrifoodvalueview.com.
Copyright © 2011 Ned W. Schmidt - All Rights Reserved
© 2005-2019 http://www.MarketOracle.co.uk - The Market Oracle is a FREE Daily Financial Markets Analysis & Forecasting online publication.

Only logged in users are allowed to post comments.
Register/ Log in