Gold Weakening Momentum Continues, Next Target $1320
Commodities
/
Gold and Silver 2011
Jan 23, 2011 - 12:14 PM GMT


Well, the weakening momentum of the gold move that I had been warning about seems to be doing its job. Gold is in a little bit of a down draft. For how long and for how far is anyone's guess? For now the $1320 mark is the price to watch based upon a P&F chart. Once there we'll see what next.
GOLD : LONG TERM
We're still waiting for the $1320 level to be breached for the P&F chart to go bearish long term (however, the real break below the P&F up trend line may be at the $1305 level). It's a weak market but not yet a long term bear from the P&F perspective.
The long term indicators are still nowhere near a collapse. The gold price just might reach the up trending moving average line next week but I doubt that the line will turn negative on such move. The momentum indicator is still well inside the positive zone and here I don't see a break into the negative at least for a couple of weeks. The indicator is below all recent levels and heading towards its previous low at the July level. It is also below its negative trigger line so although it still is in its positive zone it is showing a great deal of weakness. The volume indicator is basically tracking a lateral path but is sitting almost right on top of its positive sloping trigger line. Putting all this together we still have a BULLISH long term rating but getting weaker each week.
INTERMEDIATE TERM
The rating here was bearish last week and remains so this week. The gold price is moving farther below its negative sloping moving average line. The momentum indicator has now entered its negative zone and is below its negative sloping trigger line. Although in its negative zone it is still not quite at the negative level that it reached in late July prior to its low and start of the latest rally. The volume indicator is now below its negative sloping trigger line for confirmation of the recent price moves. As mentioned, the intermediate term rating is BEARISH. This is now confirmed by the short term moving average line dropping below the intermediate term line.
SHORT TERM
The short term price trend is now clearly showing its weakness that has been warned against by the momentum indicator for the past few months. The momentum is into new reversal lows while the price has still to reach serious low levels, but it is heading in that direction.
Shown on the chart is a short term slight up trend line (dash line) during Nov and Dec. I would not focus on this line as a normal practice but it does illustrate a point about trend line breaks.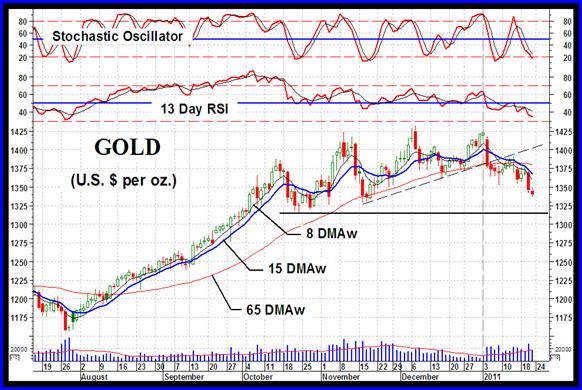 Very often when a trend line is broken the subsequent action turns around after a very brief period and tries to reverse back to the up side. This attempt at a reversal gets stalled right back at the trend line level, which now is a resistance line. A failed attempt at a reversal and its back to the down side with new lows quickly following. This kind of trend line break and an attempted reversal is common when we have a head and shoulder pattern. Now, some technicians might be able to come up with some kind of suggestion that we do have a complex head and shoulder pattern here but I like to keep it simple and just call this a trend line break within a topping pattern. We still have that more important support in the area where the P&F chart provides a warning. That is the one to watch. On a bar chart we are looking at the $1315 level as the support level.
As for our usual indicators, everything is miserable. The price of gold is running away from its negative sloping moving average line while the momentum indicator continues ever lower in its negative zone below its negative trigger line. The daily volume action continues above its average 15 day volume level and this during a down trend – not good. For the short term the rating remains BEARISH. The very short term moving average line continues to push lower below the short term average for confirmation of this bear.
As for the immediate direction of least resistance I am going with the lateral. The Stochastic Oscillator has just entered its oversold zone from which rallies take place. Friday was a nothing day following a serious plunge. This is also often a precursor of a turn around of some sort. I don't think we are yet at a trend reversal phase but we just might be at the early start of some sort of rebound.
SILVER
Other than the fact that silver is still long term BULLISH nothing else is very promising at this time. Although silver has been out performing gold in recent months, in recent weeks that has changed and silver is now the under performer. Will this situation continue? Who knows? The best we can do is follow the daily and weekly action and go with the trend. When the trend changes, we change.
The short term moving average line turned negative at the start of the new year and remains so. The intermediate term moving average was breached on the down side on Thursday and went negative on Friday. The momentum indicators have been showing their weakness for some time now. The short term momentum indicator is now at its lowest level since February while the intermediate term momentum is back to where it was in August. Both momentum indicators continue to point lower and are below their negative trigger lines. Both time periods can be rated as BEARISH. The very short term moving average line is below the short term line confirming the short term bear while the short term moving average line is just on top of the intermediate term line just slightly shy of confirming the intermediate term bear. This confirmation is expected to come on Monday.
PRECIOUS METAL STOCKS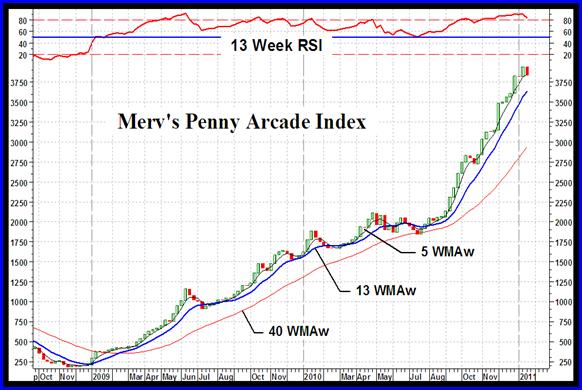 Once more we come to the Penny Arcade Index. It was a down week for all of the major North American Gold & Silver Indices. It was a down week for all of the Merv's Indices also, including the Penny Arcade Index. Still, the Penny Arcade Index is rated as the number one in performance for all three time periods. Not the actions of a bearish market.
I hope I'm wrong but as long as the pennies continue to perform quite well I don't think the general precious markets will turn bearish. Oh! they may react lower for a while, as they seem to be doing at the present time but the pennies are still predicting that new highs are still ahead for the markets. In the past this Merv's Penny Arcade Index turned bearish long BEFORE the other Indices reached their tops. I'm going on the assumption that will be the case next time, and there WILL BE a next time, but not yet.
The precious metal stocks have been moving lower since the beginning of the new year. This also happened last year with the markets turning to the up side after a few weeks for a good and strong year. I'm not sure if we should take any lessons from this but it is something to watch for, will the precious metal stocks actually turn around within the next few weeks and head into the stratosphere once more?
Merv's Precious Metals Indices Table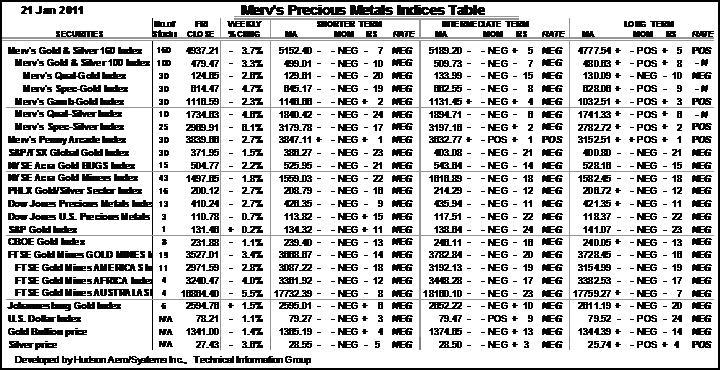 Well, that's it for this week. Comments are always welcome and should be addressed to mervburak@gmail.com.
By Merv Burak, CMT
Hudson Aero/Systems Inc.
Technical Information Group
for Merv's Precious Metals Central
For DAILY Uranium stock commentary and WEEKLY Uranium market update check out my new Technically Uranium with Merv blog at http://techuranium.blogspot.com .
During the day Merv practices his engineering profession as a Consulting Aerospace Engineer. Once the sun goes down and night descends upon the earth Merv dons his other hat as a Chartered Market Technician ( CMT ) and tries to decipher what's going on in the securities markets. As an underground surveyor in the gold mines of Canada 's Northwest Territories in his youth, Merv has a soft spot for the gold industry and has developed several Gold Indices reflecting different aspects of the industry. As a basically lazy individual Merv's driving focus is to KEEP IT SIMPLE .
To find out more about Merv's various Gold Indices and component stocks, please visit http://preciousmetalscentral.com . There you will find samples of the Indices and their component stocks plus other publications of interest to gold investors.
Before you invest, Always check your market timing with a Qualified Professional Market Technician
© 2005-2019 http://www.MarketOracle.co.uk - The Market Oracle is a FREE Daily Financial Markets Analysis & Forecasting online publication.

Only logged in users are allowed to post comments.
Register/ Log in