Crude Oil Shock Dead Ahead … Take Action NOW
Commodities
/
Crude Oil
Jan 21, 2011 - 08:12 AM GMT


We are on a collision course with the next oil shock. Most people won't know it until it hits them right between the eyes with all the force of a ball-peen hammer. By then it will be too late.
Here is some of the latest news I'm watching …
Increased Demand, but No Increase in Supply
The Organization of Petroleum Exporting Countries (OPEC) raised its global oil demand forecast to a growth of 1.23 million barrels per day (bpd) in 2011, for a total expected demand of 87.3 million bpd in 2011. That's 50,000 barrels higher than it expected last month.
Meanwhile, the International Energy Agency (IEA) is expecting even higher demand. The IEA says it expects oil demand this year will rise to 89.1 million barrels a day — up from 87.7 million barrels a day in 2010. That new estimate is 400,000 barrels a day more than it expected last month.
We already know that oil stockpiles in the U.S. are falling fast. What would stabilize prices is more supply. But OPEC says it views the world's oil market as well supplied and inventories should build in the first half of the year, so it's not going to pump any more.
Iran's oil minister, Masoud Mir-Kazemi, told reporters:
"The increase toward $100 is not worrisome … none of the OPEC members considers this figure as being unreasonable."
Translation: "Nyah! Nyah! Pay up, thank you!"
China Expected to Be Biggest Oil Consumer by 2030
In a report released on Wednesday, oil giant BP says that China will be the largest source of oil consumption growth over the next 20 years. China's thirst for oil is expected to rise to 17.5 million bpd. This means China would overtake the U.S. as the world's biggest oil consumer.
This comes on the heels of the bombshell news China dropped on the global oil market recently …
According to that country's just-released customs data, oil imports rose 18% in 2010, to 4.9 million bpd. That's much, much higher than the 8.8% increase predicted by the U.S. Energy Information Administration.
What's more, China's oil imports are accelerating — hitting 4.9 million bpd in December. Driving that gain is the fact that China, a nation where everyone commuted by bicycle not too long ago, now has 60 MILLION cars on the road, with 12 to 18 million more new cars expected to be added this year.
And it's not just China …
India Shifts into Higher Gear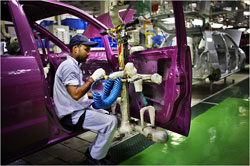 Soaring sales keep India's car factories humming.
India consumed nearly 3 million barrels of oil per day in 2009, and is buying so many cars — with sales jumping 21% in November — that it is expected to be the fourth largest car market in the next three years.
Heck, India's Prime Minister Manmohan Singh, recently admitted that his country's oil demand should jump 40% in the next decade!
These are staggering numbers. And one thing's for sure — the rip-roaring car buying and oil demand growth in Asia is going to directly impact you!
There ARE New Oil Discoveries, But …
The oil bears are pinning some of their hopes on new, big discoveries in oil fields off the coast of Brazil. Those fields may hold 123 billion barrels of oil, twice what was previously estimated.
Still, it takes a LONG time to bring those new oil finds to market.
Tapping some of those deepwater fields requires technology that hasn't even been perfected yet. And the sad fact is that the Brazilian finds, as well as new discoveries in China and Angola, and the potential for increased production in Iraq, just aren't enough to make up for the rapid depletion of existing oil fields.
For example …
Kuwait has been in decline since 1970.
The U.S. has been in decline since 1971.
Iran's oil production has been in decline since 2008 (it produces more natural gas than oil). Meanwhile, its demand is soaring.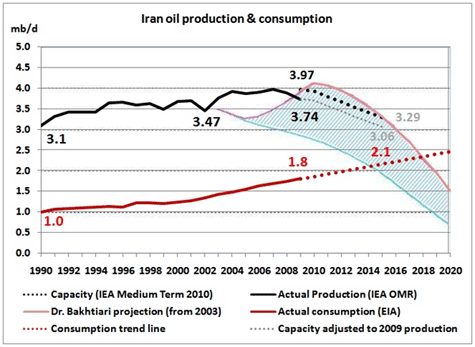 Indonesia has been in a free fall since 1991, and this former OPEC exporter is now an importer.
The UK North Sea has been declining since 1999, and its decline has gotten a lot worse recently. What's more, the United Kingdom, once an oil exporter, is now seriously talking about oil rationing.
Norway's oil production has been in decline since 2001.
Mexican production has been dropping since 2005.
There are plenty more examples, but you get the picture. Either BP is counting on some major new discoveries no one else knows about, or there is going to be a serious tug-of-war in the global oil supply/demand picture, one that will probably be resolved by much higher prices.
And just because oil prices skyrocket here in the U.S. doesn't mean everyone feels the same pain. Many governments, including the Chinese, artificially subsidize gasoline prices to keep restless citizens happy.
Also numerous experts think China's currency will head higher against the U.S. dollar. If that happens, Chinese consumers will be cushioned from the blow even more since oil is priced in dollars.
Take Action NOW to Protect Yourself and Potentially Profit
There is nothing you or I can do to stop the rise of oil prices. You CAN hope for another global recession. That would bring oil prices down, but you wouldn't like what else comes with it.
However, the one thing you can do is make some smart investments in select energy stocks and funds that should rise with the price of oil. The profits from those trades would give you a nice cushion when you get pinched at the gas pump.
You can do your own research. Or you can hop on the profit train with MY best picks in a new energy report, Burning Oil: 7 Winners in the Next Energy Boom.
This proprietary research report is packed with analysis, insight, and my best oil picks to power up your portfolio. What's more, I'm including three follow-ups with your subscription.
If you haven't signed up yet, there is still time. You can get my Burning Oil report right now — just point your web browser here. And whatever you do, I don't recommend you ignore the coming energy shock. It's best to prepare your portfolio and your life for the higher prices ahead.
Yours for trading profits,
Sean
P.S. My report is packed with analysis and red-hot recommendations in the best energy stocks and funds, plus a "secret" weapon you might want to add to your arsenal of profit potential — 8 picks in all. Act now while Wall Street snoozes — the next oil shock is coming whether you like it or not. Get onboard today!
This investment news is brought to you by Uncommon Wisdom. Uncommon Wisdom is a free daily investment newsletter from Weiss Research analysts offering the latest investing news and financial insights for the stock market, precious metals, natural resources, Asian and South American markets. From time to time, the authors of Uncommon Wisdom also cover other topics they feel can contribute to making you healthy, wealthy and wise. To view archives or subscribe, visit http://www.uncommonwisdomdaily.com.
© 2005-2019 http://www.MarketOracle.co.uk - The Market Oracle is a FREE Daily Financial Markets Analysis & Forecasting online publication.

Only logged in users are allowed to post comments.
Register/ Log in