Another Record Breaking Winter, What Happened to Global Warming?
Politics
/
Climate Change
Dec 19, 2010 - 03:51 AM GMT


Britain and Europe have been hit hard for the third straight record-breaking winter season. Labeled by experts as the coldest winter in 100 years and set to blow well into 2011, it is already raising some very interesting questions about the new ideological split we are witnessing throughout society in the much celebrated green debate.
Tonight Britain braces itself for a further 10 inches of snow and more sub-zero temperatures to come- with no let-up, top forecasters have warned. These unusual Arctic conditions are set to last through the Christmas and New Year bank holidays and beyond and as temperatures plummeted to -10c (14f), prompting the UK's Met Office to state that this December 2010 was 'almost certain' to become the coldest since records began in 1910.
So is it not safe to say that we are witnessing a real, tangible and physical trend here? Unlike the million dollar computer-generated climate model projections produced by the UN's elite circle of research grantees and bursary award-winning climate scientists, this new trend is actually a real one- one we can feel, touch, and most importantly… empirically measure.

Yet another record-breaking winter in Britain, could this be a trend? Go figure. (PHOTO: Patrick Henningsen).
Indeed, it is Britain who has been hit- yet again, by a siege of blizzards and freezing temperatures. As public transport and utilities face continued disruption in services, major airports are reporting closures as the snow drift continues to pile up. It seems that temperatures will struggle to rising above freezing points for the second straight day and this will sure spell more chaos for the general welfare. For a relatively moderate, low altitude climate zone like the UK, such winter storms can cost lives and create an endless backlog of crisises that municipalities will have difficulty managing.
There is a rather bizarre upside of course. If you count yourself as one of the millions worldwide who find yourself living in constant fear of global warming and climate change, there is one positive reassuring aspect to this now bona fide and well documented global cooling weather trend since 1998. This essentially means that you can now safely get out from under the bed and breathe a sigh of green relief as you look out your window to see everything covered in thick white again. Yes, yes, you are completely and utterly safe from CGI-created scary visions of sea levels rising- as seen in the science fiction "cult" film, Age of Stupid (yes, those are CGI graphics and no, sea levels are not rising), allegedly due to that arbitrary phantom menace… of climate change.
Still though, this hasn't stopped thousands of green-washed activists, hippies and guilt-ridden corporate rehab patients in search of a low calorie religion from chasing their paper tiger further into that endless political forest. A generation lost to indoctrination from up-on-high, high, high up some of the world's leading investment banks and arcane think tanks. And the hippies, well they are also high, of course.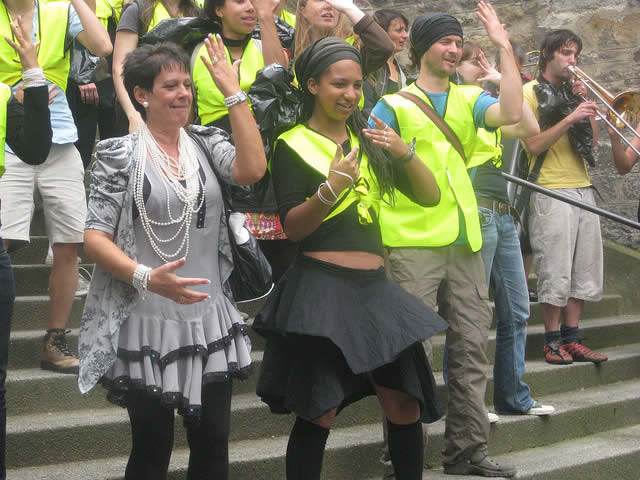 Lost the plot: What was once a fun green activity for young Euro-hippies has now transformed into a wandering farcical climate circus.
The Club of Rome (official progenitor of the global warming hoax) and the UN's own well-documented programmes of social engineering(Agenda 21) and various departments of political division, all have seen resounding success, particularly between 2004-2008 when the ideological zeitgeist of global warming and its new alter ego, climate change, started heading south for the winter (all the way south to Antarctica, in fact). The inevitable collapse of the Chicago Climate Exchange (CCX) is one recent sign that the whole effort to monetised and control Western lives through this coercive pseudo market is struggling to maintain its illusion of green utilitarianism. The writing was on the wall this past summer and went unnoticed by most green activists and passive spectators in the great climate debate. Although initial investors and shared holders managed to jump ship with their fortunes in tact in, the end, it was simply "unsustainable".
If you have unwavering faith in men like Al Gore, the UN's own knighted IPCC body of 40-odd climate scientists and the Guardian's resident earth expert George Monbiot, then you have effectively swallowed the blue pill. Here you have a license to switch off your critical thinking faculties because in your mind you can hear the following phrases, successfully implanted there, over and over again. "The debate is over, the science is settled, every scientist agrees". Like a fundamentalist Christian, a Jew, or Muslim, you take the climate scriptures word for word. You are a true believer, one who somehow knows in his heart that there really is a thing called man-made, CO2-driven global warming. It simply must be. And there is a ready-made crowd waiting for you at the church, where everyone is singing happily from the same hymn sheet- literally. What once passed for education in the West, was transformed into a top-down waterfall of relentless green propaganda- driven by middle class guilt and a multi-billion dollar gravy train of state-subsidised financial opportunities.
And in the most bizarre turn of green ideology seen yet, more and liberal-minded zealots are now claiming "that global cooling is what we must expect because of global warming?" If you are in any doubt as to the reality of this new claim, just ask any climate change advocate yourself and you will be amazed to hear this new party line stated. Another idea has been successfully implanted into the minds of this faithful flock.
And then you have the skeptics- the demonised, the mavericks, the outcasts(of whom this author is one, and has yet to receive any money from 'big oil' etc) often stoned in public for challenging Herr's Gore, Strong, Hansen, Mann and Jones on certain hack aspects of their sacred computer-modeled science. The doubters knew something wasn't right when Wall Street started its hedging and hyping of the world's most innovative financial instrument yet- carbon emissions. They knew something was off kilter when carbon taxes inevitably became to main thrust of global warming shills and the United Nations. So after a third straight year of frostbite and ice skating down your neighborhood street and into a lamp post, it's gone beyond a joke. You simply have no choice but to swallow the red pill.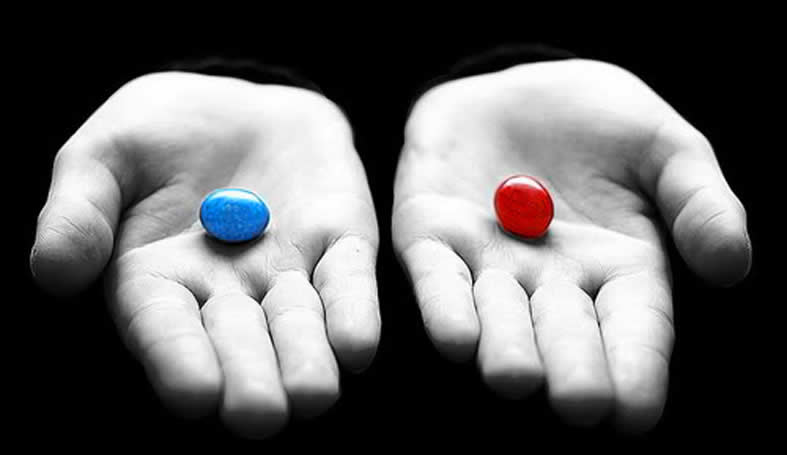 In the end, the climate debate comes down to Alice in Wonderland. Our advice: at least know which pill you have swallowed.
It seems that the only people in denial are the religious followers of the IPCC's new Jonestown Church of climate change… drunk on a delusion that they are, in their own little way, saving the planet from the evil substance known as CO2. It's become a sort of tribal division, where two tribes cannot seem to agree if the Sun orbits the Earth, or the Earth orbits the Sun. Throughout history tribes of people needed mythologies in order to give meaning to their lives. Climate Change is simply the latest mythology for this current epoch. In the 21st century, we thought modern man had surely advanced past this handicap, but alas… old habits die hard.
Alice… are you there Alice?
By Patrick Henningsen
© 2010 Copyright Patrick Henningsen - All Rights Reserved

Disclaimer: The above is a matter of opinion provided for general information purposes only and is not intended as investment advice. Information and analysis above are derived from sources and utilising methods believed to be reliable, but we cannot accept responsibility for any losses you may incur as a result of this analysis. Individuals should consult with their personal financial advisors.
© 2005-2019 http://www.MarketOracle.co.uk - The Market Oracle is a FREE Daily Financial Markets Analysis & Forecasting online publication.
Comments
Bill Butler
19 Dec 10, 13:02
What happened to Global Warming?


In the GISS database, the 12 month period ending Nov. 2010 is warmer than any previous calendar year. It is probable that when 2010 ends, 2010 will be the warmest year in recorded history. Data at http://data.giss.nasa.gov/gistemp/tabledata/GLB.Ts+dSST.txt

The Goddard Institute for Space Studies (GISS) is a joint research project of NASA and Columbia University.

In NOAA's NCDC database, the 12 month period ending Nov. 2010 is warmer than any previous calendar year. It is probable that when 2010 ends, 2010 will be the warmest year in recorded history. Data at ftp://ftp.ncdc.noaa.gov/pub/data/anomalies/monthly.land_ocean.90S.90N.df_1901-2000mean.dat

NOAA/NCDC is National Oceanic and Atmospheric Administration / National Climatic Data Center

The University of Alabama satellite records (through Dec. 18, 2010) show that 2010 has been the warmest year on record. Graph at http://discover.itsc.uah.edu/amsutemps/

Sea level is continuing to rise with the rate now in excess of 3 mm per year.

1) Go to http://sealevel.colorado.edu/

2) Click on "Time Series"

3) Click on "jpg" under "Inverted barometer not applied", "Seasonal signal removed"

The rate of sea level rise was less than 2 mm per year for the 1900s.

http://en.wikipedia.org/wiki/Current_sea_level_rise

Glaciers in the Alps (and elsewhere) continue to melt. For example, see http://www.gletscherarchiv.de/en/fotovergleiche/gletscher_liste



Steve
21 Dec 10, 04:58
Show me the evidence?


'We've had three cold winters' is hardly a body of evidence. I'm all for scientific debate, and would encourage you to present whatever evidence you may have, instead of attempting to rubbish the opposing view by calling them green-washed hippies?

The cigarrette industry spent a lot of money attempting to rubbish the science of their day, and we all know how that one turned out.



Bob
21 Dec 10, 05:42
Global Warming


It's interesting to notice that the story of the "eco-friendlies" has been slowly evolving from the "Global Warming" mantra to "Climate Change". Now, you don't have to do anything. All you do is sit there, watch the weather and say, "See!!! I told you the climate is changing". It's a Win / Win situation for them and the Running Dog Media Hypocrite Lackey's who want to appear in public to be Politically Correct and "Eco Friendly" , but who privately could care less.



TremblesForHisCountry
26 Dec 10, 11:08
Global Warmin


The term "Global Warming" is being replaced with climate change because -though it is counterintuitive - global warming makes every season more extreme, winter and summer.

Also, you're only referencing data for the northern hemisphere. You're leaving out HALF THE PLANET. Also, earth is closest to the sun in the southern hemisphere's summer, which is why the oceans are heating and the water levels are rising.

So, just a word of advice: Know your song well before you start singing: Do more research.



Paul
28 Dec 10, 08:45
tremblesforwhat?


Global Warming replaced the New Ice Age mantra, and now its gone from Climate Change to Climate Disruption. The only research going on here is market research in the search for the perfect slogan.



MrSmithster
03 Jan 11, 15:42
Think people!!!


Try some common sense maybe? Does it seem warmer to you? Does all the evidence you can see with your own eyes point to warming?? Just look for yourself. Its pretty obvious something isn't right with "Global Warming" as told by Gore and all. And why would you believe a Govt. hack or Govt. funded research? Weird how the same crowd that blindly believes in all the fake "Global Warming" talk, yet is highly suspect of anything else coming from any Govt funded research, (and yes the UN is Govt). Its not even "Global Warming" anymore, they have changed the wording to "Climate Change". How totally dishonest



William
05 Jan 11, 17:46
Global Warming is real


As about ocean level rising - how many islands has been disappear ? As about cold winters - yes in part of Europe and north America, but what about Siberia and other areas of Asia and still some parts of Europe and North America. Can you

see that weather is getting crazy - all this hurricanes, floodings, storms, etc. O ye hay say now it's natural.

But CO2 level and average global temperature raise pattern are still match. And changes, that in the past took many thousands years happening now in less than a century. So,, one or another way - planet will survive, but big question

about humans.



Steve
08 Jan 11, 13:14
Climate Change


(Climate TAX) How many lies have we been fed now and in the past from elected Governments, and why should we believe this one?

Where is the cast iron proof that "WE" have caused "Global Warming" There isn't any!! Is it a natural cycle that happens over thousands of years? Most likely!

The Governments of today have jumped on this band wagon as an excuse to blame us for this disaster and as a penalty we should pay extra "TAXES" to help keep

these award-winning climate scientists in a job!

Its about time this Climate Change rubbish was suppressed and perhaps utilise the Tax payers money where its needed the most.

p.s........don't leave your TV on standby you might sink an island "_"




Only logged in users are allowed to post comments.
Register/ Log in