Why I Still Favor Investing in China
Stock-Markets
/
Chinese Stock Market
Oct 17, 2007 - 09:14 AM GMT

Tony Sagami writes:The International Monetary Fund just updated its 2008 global economic forecast, cutting its expectations for global growth to 4.8% from 5.2%. The previous forecast was made in July before all the subprime bombs started blowing up.
The lion's share of the downward revision was because of the U.S. The IMF revised its growth forecast there from 2.8% to 1.9%!
According to the IMF: "The risks are firmly on the downside, based on the fear that the tensions on financial markets could increase and cause an even more marked global slowdown."
In my opinion, they are absolutely right about the subprime problem and a rapidly slowing U.S. economy. Standard & Poor's also agrees — they expect the subprime mortgage crisis to worsen all the way into 2009.
Look, there is no question that the U.S. economy is slowing. Most of the Wall Street estimates I've seen forecast GDP growth between 1% and 3%. And a small but growing number of economists think we're headed for a recession.
The Chinese economy, on the other hand, is still red-hot. The most recent statistics showed the country's GDP skyrocketing at an 11.9% annualized rate, which is the fourth straight year of double-digit gains.
Even though the IMF is ratcheting back its forecast for the U.S., it continues to expect more breakneck growth from China. The group says the Chinese economy will expand another 10% in 2008!
So I have to chuckle at the steady stream of Chicken Littles calling for the sky to start falling on the Chinese stock market. If anything, I think the U.S. market is in far more of a bubble than China.
In fact, there are two very good reasons to stick with investments in China. I'll get to them in a moment. First, let's examine …
Three Key Differences Between the U.S. and Chinese Economies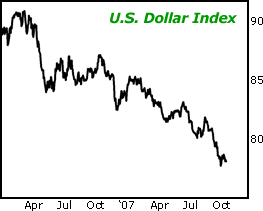 The dollar's slide has been relentless, signaling a lack of faith in the U.S. economy …
#1. Currencies: The value of a currency is like a window into a country's economic soul. After all, when things are going well and investors are confident in the country's prospects, they tend to bid up the value of its currency. Conversely, when things are heading south, investors run for the hills.
You can see just how much faith investors have in the U.S. right now. As we've been telling you here in Money and Markets , the greenback has been sinking like a rock. The U.S. dollar index recently plunged to its lowest level of all time, busting through the previous lows set way back in 1992.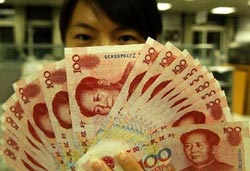 Last month, the yuan hit a new all-time high against the greenback.
I hate to say it, but that's what happens to your currency when your country runs massive trade and budget deficits!
Meanwhile, the Chinese yuan, despite its tight link to the U.S. dollar, hit a new all-time high against the greenback last month. One of the reasons: Unlike our country, China has a trillion-dollar budget and a multi-billion-dollar trade surplus!
#2. Real Estate: Martin and Mike have done a great job keeping you ahead of the curve on the U.S. real estate market, so I didn't need to tell you just how bad things have gotten. Suffice it to say that no matter what housing statistic you look at — new home sales, housing starts, median price, or default rates — things look very grim.
The Chinese real estate market, however, is as healthy as a horse!
Real estate in China has been going up without the use of shady mortgages!
The most recent data showed that the average housing price across 70 major Chinese cities increased 8.2% in August vs. the same time a year ago. And if you look at major cities, like Beijing and Shanghai, the gains have been even stronger!
Plus, that growth wasn't achieved with phony-baloney mortgages. A full 83% of all home purchases in China last year were made with cash! That's right — ALL CASH.
Heck, even if you want to buy a second house in China, you have to put down something like 30%. Want to buy a business property? You typically shell out even more — in the neighborhood of 40%.
Compare that with all the no-money-down, interest only loans that fueled the market here in the U.S., and you can really start to see just how strong China's real estate market is!
#3. Inflation: Yesterday, oil jumped above $85 a barrel for the first time in history … and other inflationary pressures are picking up steam as well. Prices for wheat, metals, dairy products, vegetables, electricity — they're all rising at a rapid clip.
Inflation can choke off economic growth in a hurry, especially in a country like the U.S., where central bankers are choosing to ignore it, and possibly even increasing it by cutting interest rates.
To be sure, inflationary pressures exist in China, too. But here's the big difference: The Chinese government controls the price of a vast array of products, including land, transportation, fuel, utilities, and many foodstuffs.
Control over prices is one of the features of a command economy (as opposed to a free market economy). And the Chinese government is using this power to help combat inflation — it recently froze prices on all the items it controls for the rest of the year.
Is There Risk in China? Yes. But Here Are Two Comforting Facts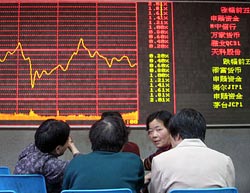 While pullbacks are inevitable, many Chinese stocks remain undervalued and the country boasts strong fundamentals.
Let me be clear: I'm not trying to tell you that there isn't any risk to the Chinese stock market. In just the past year, we've seen double-digit corrections in the country's markets.
While those turned out to be just pullbacks on the road to higher prices, there's no telling what lies ahead. I certainly wouldn't rule out more volatility ahead of us.
There are two things, however, that I want you to keep in mind during the next inevitable downturn:
First, the biggest risk, by far, is concentrated in the mainland China stocks listed on the Shanghai and Shenzhen stock exchanges.
The Shanghai Composite's current P/E ratio is 52. Now, 50+ P/Es are not new for the index — it reached these levels back in 1999 and stayed relatively high until the end of 2003! However, I'm not going to tell you that a P/E of 50 is cheap.
But guess what? Americans can't invest in mainland China exchanges anyway!
Instead, they invest in Chinese stocks listed on the NYSE, Nasdaq, and Hong Kong stock exchanges. And those stocks are selling for roughly half the multiples of mainland stocks.
So, in my mind, they remain very undervalued given their explosive sales and profit growth!
Consider this: The stocks that make up the FTSE-Xinhua China 25 index in Hong Kong have compounded their profits by 26.8% annually over the last five years!
Second, I'd like to bring things full circle by reminding you that China is still growing like mad … and that will continue for years.
So a stock market downturn, as painful as it may be, will be nothing more than a temporary correction.
Bottom line: You need both patience and a strong stomach to invest in China, but I think the payoff will continue to be huge.
Best wishes,
By Tony Sagami
This investment news is brought to you by Money and Markets . Money and Markets is a free daily investment newsletter from Martin D. Weiss and Weiss Research analysts offering the latest investing news and financial insights for the stock market, including tips and advice on investing in gold, energy and oil. Dr. Weiss is a leader in the fields of investing, interest rates, financial safety and economic forecasting. To view archives or subscribe, visit http://www.moneyandmarkets.com .
© 2005-2019 http://www.MarketOracle.co.uk - The Market Oracle is a FREE Daily Financial Markets Analysis & Forecasting online publication.
Comments
ninja
30 Sep 08, 05:09
Chinese stocks


"Why I Still Favor Investing in China?"

Because these stocks will bring great profit for me in the future. I like CGYV the best. http://www.youtube.com/watch?v=NhWKpr1VRQg

If you change your mind, let me know.




Only logged in users are allowed to post comments.
Register/ Log in