Gold, Wealth You Can Wear
Commodities
/
Gold and Silver 2010
Dec 02, 2010 - 01:23 PM GMT


Jeff Clark, Senior Editor, BIG GOLD writes: In 1975, as Saigon was falling, South Vietnamese refugees were air-evacuated into Guam and the U.S. The company Deak-Perera was hired by the State Department to serve as the official "money changer" for the refugee camps, and it quickly became apparent to the employees that even the most prominent of Vietnamese citizens arrived with nothing but the clothes on their backs and whatever belongings they could carry. It was a somber scene.
The problem facing the refugees was that the banks in their home country had been nationalized (along with most everything else in the economy), meaning they couldn't write a check that was cashable. This presented obvious financial roadblocks for many of them, who were already dejected about their circumstances and insecure about the future.
Perhaps the most dramatic example was a successful Vietnamese businessman and his family who had been uprooted by the war. Though his suit was haggard, it was readily apparent the man had been wealthy back in his home country. He approached the exchange desk with two large suitcases full of piasters, the paper money issued by the Republic of Vietnam. The Deak-Perera worker, Michael Checkan, gulped and, with as much empathy as he could muster, explained to the refugee that piasters no longer existed. They were worthless, and the employee could not give him any money.
The reality of the situation visibly struck the man, and his face suddenly looked like he'd been told he had 30 days to live. He protested, but there was nothing the company or Michael could do. The currency simply wasn't worth anything. The man was broke, in spite of suitcases full of his country's money. As he trembled, his wife began crying and the children became frightened. They shuffled away, hopeless.
Later that day, Michael had another well-dressed refugee approach the exchange table with his family. He carried a ragged satchel, and explained that he had been a banker in Vietnam. As the man began pouring the contents of the bag onto the table, Michael braced himself, knowing he would have to explain that piasters could not be exchanged for anything of value.
His mouth dropped open, however, when he looked down and saw, gleaming in the sunlight, stacks of 24-karat gold TAELs, a form of gold bullion indigenous to South East Asia. They looked like wafers, thin sheets of gold delicately wrapped in paper. Each TAEL was .9999 pure gold and weighed 1.2 ounces. The man had dozens and dozens of them.
Michael peered back up at the man; he was brimming with hope. The employee calculated the bullion's value and moments later bought the gold TAELs, issuing the refugee a traveler's check for a large amount. The family hugged as they walked away.
As an American, you may not have to flee your country due to a military conflict. But there is something far more likely; you may have to flee your currency. There are many threats to your hard-earned wealth, and the most insidious is a weakening of the U.S. dollar.
For the United States, the invoices are piling up. Out-of-control government spending, rising healthcare costs, increasing entitlement programs, burgeoning military expenditures, etc., all add up to a number well in excess of revenue. The only politically acceptable solution is to print more money and devalue the dollar. The money you use for everyday life will buy less and less over this decade. Remember, as gold rises, it essentially means the dollar is losing value, eroding the purchasing power of every greenback in your wallet.
If you own any form of gold, you are already well aware of those facts. But have you considered the implications of traveling with that gold? Sure, coming from Vietnam in 1975, you probably got barely a sideways glance for carrying gold TAELs, or even a suitcase full of cash. But today, in the age of TSA "love tap" pat-downs and full-body x-ray scanners, and when you must declare any amount of cash over $10,000 on your way in or out of America, leaving the country with a stack of gold bullion is probably going to raise a few eyebrows - if not land you in a TSA backroom somewhere.
That's why it is important not just to own gold, but to consider owning it in various forms that give you both discretion and portability. There is no substitute for gold bullion, but there are far more portable alternatives, and which are far less likely to raise eyebrows (sure, numismatics are collectibles, but good luck explaining to customs the difference between a Gold Eagle and a Saint Gaudens).
Take 24-karat gold jewelry, for instance. To the casual observer, or the TSA agent, it's not unlike any other necklace or bracelet. To you, it is a portable store of wealth. A "money belt" customs will ignore. And a great insurance policy should you find yourself in need of money on the road.
Not only does 24K gold jewelry make moving with your money simpler, it also makes giving wealth to heirs or as a gift simpler. In fact, there are a number of advantages that are frequently overlooked: it's significantly cheaper than most numismatics and carries far lower premiums than traditional gold jewelry; it's subject to less of the complexities of taxes; it's more accessible than gold stored in a vault or certificates that take time to redeem; and as jewelry, it would avoid confiscation if that ever came to pass again.
Unfortunately, you are not likely to find real 24K gold jewelry of any significance in your local mall's jewelry store. Instead, they are probably selling 14K gold, and at premiums of 100% or more to the value of the precious metal. It's simply not practical to use designer jewelry as a store of wealth - you won't find a numismatic-like resale market for that Tiffany necklace.
Instead, you need to find a dealer that can provide you with pure, certified 24K gold jewelry that was designed specifically for use in passing down or traveling with your wealth, and at a reasonable markup. It helps if the jewelry uses a common unit of measure as well - each piece being an ounce or in some way easily divisible. That way you can quickly account for how much you have, and if the time ever came where you needed to sell it for emergency cash like our Vietnamese friend above, you could easily do so.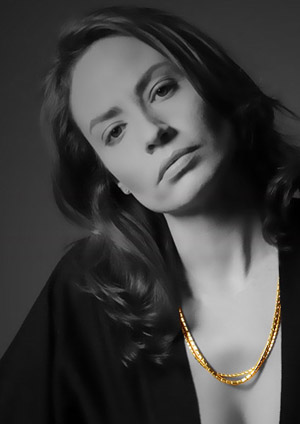 At Casey Research, we've found just such a partner with First Collector's Guild, which specializes in 24K gold jewelry.
If you own bullion or any other form of gold, consider how portable it really is. A little forethought and you may just realize it's not all available the moment you need it. If that's the case, a little bit of portable wealth protection might be in order. 24K jewelry is not an investment, but in the right circumstances it can be a great form of insurance.
But don't mistake it for just bullion; this is beautiful jewelry:
These pieces are very elegant and sophisticated. It's something you can enjoy for many years and generations to come. And they're perfect for gifts.
If you want attractive, wearable bullion that allows you to store value safely, then 24K jewelry is it. And it might be just the right way to sneak some gold into a loved one's stocking this year.
But hurry - since every one of the beautiful necklaces and bracelets is custom-made, you have to order by December 10 for delivery by December 25. To see all the different choices you have and learn more about Heirloom jewelry, click here
© 2010 Copyright Casey Research - All Rights Reserved

Disclaimer: The above is a matter of opinion provided for general information purposes only and is not intended as investment advice. Information and analysis above are derived from sources and utilising methods believed to be reliable, but we cannot accept responsibility for any losses you may incur as a result of this analysis. Individuals should consult with their personal financial advisors.
© 2005-2019 http://www.MarketOracle.co.uk - The Market Oracle is a FREE Daily Financial Markets Analysis & Forecasting online publication.

Only logged in users are allowed to post comments.
Register/ Log in