All That Sparkles Isn't Necessarily Gold
Commodities
/
Gold and Silver 2010
Dec 02, 2010 - 09:41 AM GMT


Precious metals have become a household investment. Your neighbor may not be buying gold bars and putting them in the garage, but the average investor is putting more of their money into the sector. Gold historically has been the metal of choice and has offered market beating performance since the summer of 2002. If you google 'gold investing' you get more than 77 million choices. Leave it to Wall Street to come up with an excess of ways to invest in the metal.
SPDR Gold Shares ETF (GLD) is the second largest ETF with $56.4 billion in assets. It accounts for 6.1% of the money invested in ETFs overall. Impressive for a fund that didn't exist until November 2004. The weekly chart below of GLD shows the uptrend in place since the fund was launched. Unless it breaks below the 50 week moving average or the uptrend line, the outlook is bright.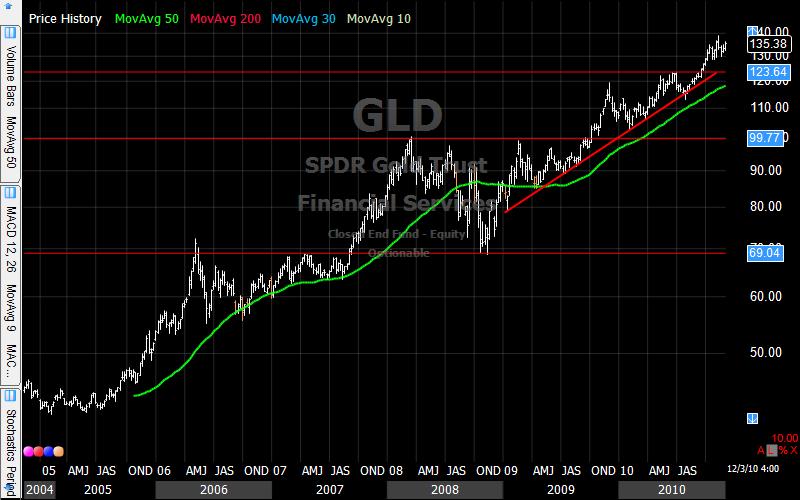 But, all that sparkles isn't gold when it comes to precious metals. There are other players now attracting investors and in some cases are outperforming gold. ETF Securities has launched a new series of metal funds that allows investors to track and invest in four different metals or have all four in one fund for a diversified approach. Like GLD the shares represent the physical metal stored in vaults for the investor, but they are an ETP* verus an ETF (see below for explanation). Looking at the four metals individually you find Silver has gained more than 58% since the August lows. By comparison the S&P 500 index has gained 15.9% and Gold is up 14.4%. The chart below is ETFS Silver Trust (see note below) showing the climb higher with the current test at the $27.60 level.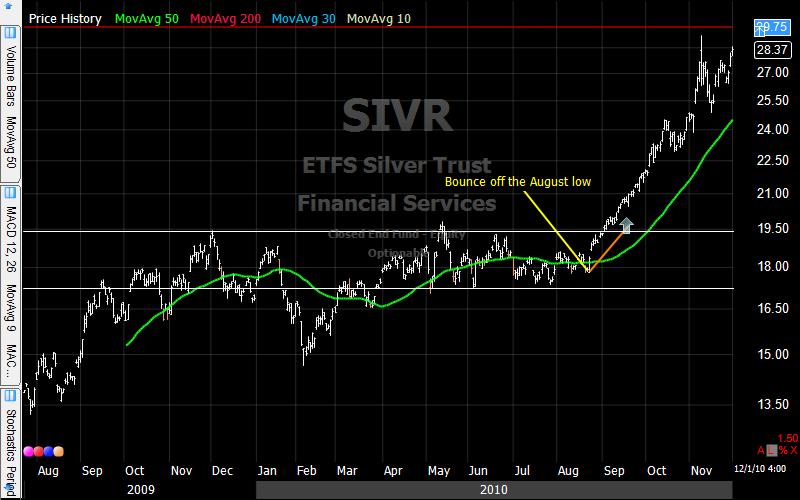 Two other metals worth watching in this space are Platinum and Palladium. The chart for both are below giving a glimpse of what is taking place with each. ETFS Platinum Trust (PPLT) dropped from $178 to $162 in November forming a bear flag (technical pattern) which is generally bullish for the stock. In this case it followed through breaking back to the upside on yesterday's rally. This is worth putting on a watch list for a possible play in the metal. During the same period the metal has gained 13.5% net of the 6.5% decline off the November high.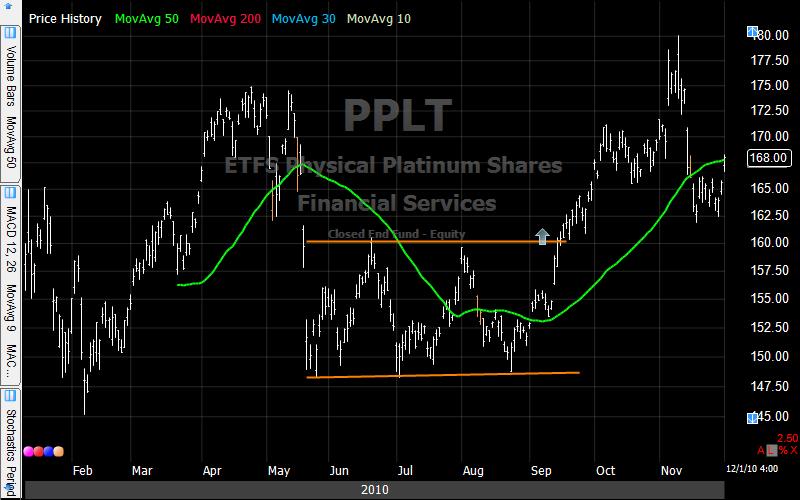 ETFS Palladium Trust (PALL) is in a similar uptrend to gold and silver. The test near the high at $70.50 broke higher on the rally yesterday as well. The uptrend is extended, but that has not stopped gold and silver from pushing higher. The risk of entry at this point is high and should be considered before putting any money to work in the fund. During the same period the metal has gained 54% comparable to silver.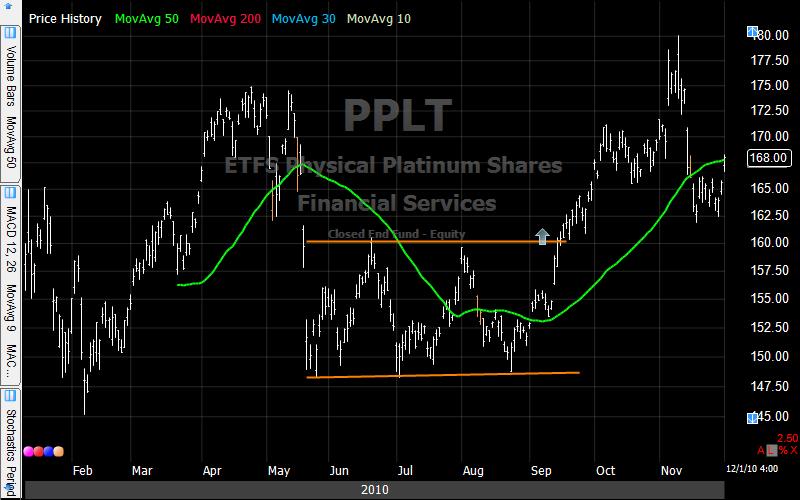 There are opportunities in the precious metals sector and they are more than gold. As investor's comfort level with these metals grow, the more liquid they will become. Each of the funds are thinly traded adding pressure on the entry and exit process for the average investor. However, the use of limit orders can help the process or talk with the trade desk of your brokerage firm for assistance is advisable.
*ETPs are Exchange Traded Products and should not be confused or related to as ETFs, Exchange Traded Funds. According to ETF Securities website they explain them as follows:
What are they Physically Backed Bullion Shares track precious metal prices – not commodity or mining companies. The shares enable the investor to gain direct exposure to precious metals without trading derivatives such as futures or taking physical delivery of the underlying commodity
What is the legal structure The structure is a Grantor Trust offered under the Investment Act of 1933. The Trust enables investors to gain direct exposure to precious metals without trading derivatives such as futures or taking physical delivery of the underlying commodity. The Trust only holds physical bullion and therefore has been structured as a 1933 Act Grantor Trust.

Similarities to ETPs Like an ETP, the Trust is open ended and listed on NYSE Arca. Shares can be bought and sold intra-day using ordinary brokerage accounts. The Shares can be shorted and are eligible for margin accounts. They can be executed as market orders, stop losses or limit orders. There are special risks associated with short selling and margin investing. Please ask your financial advisor for more information about these risks.

Jim Farrish is the Founder and Editor of SectorExchange.com and TheETFexchange.com. His primary goal is to educate people about investing. He has taught workshops locally and nationally for over 25 years, teaching thousands of individuals, business owners, and advisors how to focus on achieving financial independence. Jim Farrish is the CEO of Money Strategies, Inc., a Registered Investment Adviser with the SEC. The company and/or its clients may hold positions in the ETFs, mutual funds and/or index funds mentioned above. The commentary does not constitute individualized investment advice. The opinions offered herein are not personalized recommendations to buy, sell or hold securities. Investors who are interested in money management services may visit the Money Strategies, Inc., web site.
© 2010 Copyright Jim Farrish
© 2005-2019 http://www.MarketOracle.co.uk - The Market Oracle is a FREE Daily Financial Markets Analysis & Forecasting online publication.

Only logged in users are allowed to post comments.
Register/ Log in