Russian's Forget What they Were Celebrating on November 4th
Politics
/
Russia
Nov 05, 2010 - 04:18 AM GMT

What is Russia celebrating on November 4th? According to sociologists, many of Russia's residents simply have no idea what the Day of National Unity is. And yet this is not a new holiday of the post-perestroika era designed to replace the October Revolution Day on November 7. The history of this day counts over three centuries.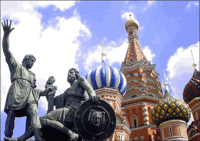 One recent poll published by the All-Russian Public Opinion Research Center is a little discouraging. Everyone understands that the country will have four days off. Yet, many do not understand what they are going to toast to. It turns out that approximately half of the Russians (48%) do not even know the name of the holiday celebrated in Russia on November 4.
At the same time the proportion of Russians who know that the holiday is called the Day of National Unity in recent years has increased (from 13% in 2008 to 16% in 2009). According to sociologists, people have their own names of this holiday: for example, some people call it a day of unity, the Day of Accord and Reconciliation, the Independence Day of Russia, and even the Constitution Day.
Of course, the number of people who really know what will be celebrated during the four-day weekend is increasing, sociologists stress. However, two-thirds of Russians (66%) do not consider November 4 a really festive date.
Yet, this holiday is over three centuries old. In 1649, by a decree of Tsar Alexei Mikhailovich, the day Our Lady of Kazan, October 22 according to the Julian calendar, or November 4 according to the Gregorian calendar, was declared a national holiday that had been celebrated for three centuries until 1917.

On November 4 of 1612 soldiers militia led by Kuzma Minin and Dmitry Pozharsky stormed China Town in Moscow, liberating the city from Polish invaders, and demonstrating the model of heroism and solidarity of all people, regardless of origin, religion or social status. Polish garrison surrendered. At the end of February of 1613, the Zemsky Sobor elected the new tsar Mikhail Romanov. This marked the end of the "great turmoil." This is why the holiday is called the National Unity Day. In general, it is, in fact, a resurrected national holiday.
The idea to celebrate the National Unity Day on November 4 was suggested by the Interreligious Council of Russia in September 2004. It was supported by the Duma committee on labor and social policy, and acquired the status of the Duma initiative.
On September 29 of 2004, Patriarch of Moscow and All Russia Alexy has publicly supported the initiative of the Duma to establish the holiday on November 4. On November 23 of 2004 a bill amending the Labor Code of Russia was brought for consideration of the Duma. It involved the abolition of the celebration of November 7, the anniversary of the October Revolution and December 12, the Constitution Day, as well as the increase of Christmas holidays from 2 to 5 days, as well as introduction of a new holiday on November 4. At the meeting of the Duma the bill was passed on first reading. On December 27, 2004 it was adopted on third reading and became a law.
Well-known Russian politicians, artists, and writers shared their views on celebrating the Day of National Unity with Pravda. Ru:
Vladimir Solovyev, TV host: "For me, November 4 is, of course, a holiday, defining period in the history of our country. Russia has decided to follow the path that eventually made it a great country, and not a forgotten little mono-ethnic state. Relatively speaking, we had a choice - to follow the path of Poland or the path that we have chosen. And of course, in my mind Minin and Pozharsky are much more important people than many of those who for some reason are considered heroes of the revolution. At least there is no blood of innocent victims. on their hands."
Dmitry Lipskerov, writer and restaurateur: "I believe that there are only family holidays or holidays that really unite the nation and people, regardless of nationality. It is likely that in 30-40 years, this holiday can be and will be a celebration in the sense in which we understand it. And now it is just a reason for an extended weekend".
Svetlana Khorkina, Olympic champion in gymnastics, a State Duma deputy: "I really like the name of the holiday both in the way it is pronounced, and its spelling. And most importantly the idea of unity it suggests. Indeed, when we unite, we are very strong people, strong nation. These days we feel the shortage of unity very strongly, because when we are united and strong, it is easier to cope with all difficulties in our country. A vivid example and confirmation of this is the Great Patriotic War, when all the people have united and defeated the enemy."
Maria Arbatova, a writer and TV host: "Frankly, I'm a post-Soviet person, and this holiday has not yet been accepted by me. I do not understand its ideology; I do not feel committed and have no memory of what we had with the Poles. On the one hand, it is nice to have more holidays, good and different. But on the other hand, the creative scope of its establishment was not the best. Russia's history is rich with events that are clear and that really could be consolidating. I think that this holiday has been implanted artificially."
Anatoly Kucherena, a Russian lawyer: "Back in 1649, by a decree of Tsar Alexei Mikhailovich, the day of Our Lady of Kazan, was declared a national holiday and was celebrated for three centuries, until 1917. Therefore it is difficult to say that our country has a new holiday. For me the day of national unity is, above all, a tribute to the country's history, a heroic deed of militia under the leadership of Kuzma Minin and Dmitry Pozharsky. This holiday is important for Russia, because even back then, in the 18th century, people of different religions, different ethnicities and classes came together to liberate the motherland from foreign invaders. And this public outburst ended the strife and sedition, ushering in the revival and strengthening of the Russian state. I would like to hope that on this day everyone will find time not only for their loved ones, but also for doing small good things for our country, for paying tribute to the heroism of Minin and Pozharsky."
Andrei Mikhailov
Disclaimer: The above is a matter of opinion provided for general information purposes only and is not intended as investment advice. Information and analysis above are derived from sources and utilising methods believed to be reliable, but we cannot accept responsibility for any losses you may incur as a result of this analysis. Individuals should consult with their personal financial advisors.
© 2005-2019 http://www.MarketOracle.co.uk - The Market Oracle is a FREE Daily Financial Markets Analysis & Forecasting online publication.

Only logged in users are allowed to post comments.
Register/ Log in