Taxes, Basel III, Gold & Going to College?
Stock-Markets
/
Financial Markets 2010
Sep 13, 2010 - 12:37 PM GMT

Interesting Gallup poll: Only 1 in 3 Americans actually favor keeping tax cuts for the top 2% (people making over $250,000 a year). As Barry Ritholtz says, that may come as a shocker to anyone who watches CNBC or reads the Journal or Fox or other conservative information sources. Maybe the Democrats aren't so crazy pushing this as the focus of the upcoming election.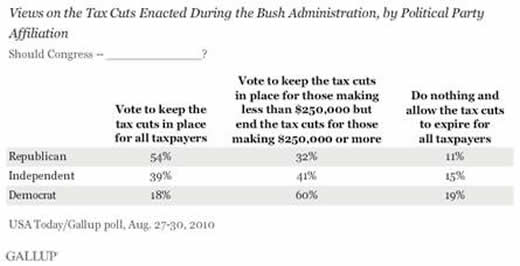 Caroline Baum goes as far as to blame Bush for "the biggest tax increase in history," saying "Everyone knew or should have known that this was a temporary tax cut (wink, wink) designed to put pressure on future Congresses. After all, no lawmaker wants to run on a platform of: "Vote for me, I raised your taxes."" The Bush tax cut was "the equivalent of taking out a variable-rate mortgage that is scheduled to increase after five years," says Veronique de Rugy, a senior research fellow at the Mercatus Center at George Mason University in Arlington, Virginia. "You know the rate is going to go up." That's how the law was written, de Rugy says. "By spending like drunken sailors, they almost guaranteed that tax cuts would be in jeopardy in the name of the deficit." It would have been better, she says, to make the tax cuts permanent and cut spending along the way.

The IMF also plays on the theme of "thinking ahead" by pointing out that we pretty much have a crisis once every decade so, next time - why not plan for it? The IMF proposes a "precautionary credit line" The Fund's member countries have asked its staff to explore options for overlapping layers of protection for the global economy as well as working on establishing synergies in terms of lending and surveillance with key regional financing arrangements. They are also considering a Global Stabilization Mechanism, a framework that would allow proactive provision of financing during a systemic crisis to stem contagion.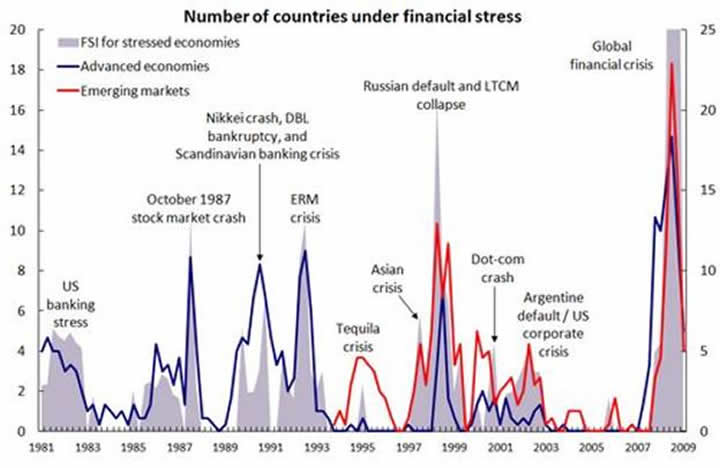 According to the IMF: "Good policies and frameworks—endorsed with FCLs (Flexible Credit Lines) and PCLs—are certainly the first line of defense. However, as history and the recent crisis have shown, there are times when localized events trigger panic among investors, setting off chain reactions across markets and countries irrespective of fundamentals. The intensity of investor withdrawal during the recent crisis surpassed most expectations, with normalcy returning slowly and only after many forceful measures were taken by the global community, including the leaders of the Group of Twenty industrialized and emerging market economies."

Basel III is another way global leaders are seeking to prevent the next crisis and it's no coincidence the rules being adopted this weekend phase in by 2019, when the cycle will be upon us once again (so mark your investing calendars). Key rules being adopted are a tripling of the top-quality capital requirements that banks have to hold in reserve over the next 8 years along with a new capital conservation buffer of 2.5% with, along with the Tier 1 capital requirement of 4.5% will put the floor for International banks at 7% (US stress tests used 4%). On the whole, it's not a big immediate issue as compliance does not become mandatory until 2015 but expect banks to jockey for position by announcing they are in compliance sooner than their competitors now that we have a framework to run off.

The Greek 2 yr note yield is below 10% for the 1st time since mid Aug after a story that Norway continues to buy Greek debt along with that of Spain, Portugal and Italy. Also talking its position is the Greek Finance Minister who said on their deficit, "we feel confident that given where we are at the moment there won't be any problem in hitting the target." Another Greek official in an interview said with respect to the market's belief of an inevitable debt restructuring, "no one is even contemplating or thinking about" that. If one believes this and trusts the EU backstop, a 2 yr yield around 10% is certainly alluring. With Basel uncertainty behind us and the poster child for economic worries, Greece, becoming less worrying, what will happened to gold?

[Gold chart by Jesse at Jesse's Americain Cafe]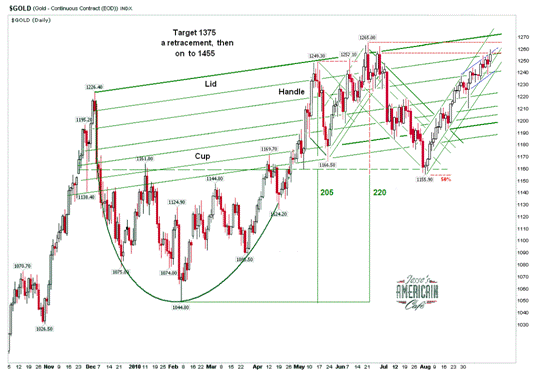 Oh, I don't know - I was asking you! I thought we'd top out at $1,150 so all of this is a surprise to me and I still can't come up with a good reason to pay over $1,200 for an ounce of gold but, obviously, many people do so we'll be watching this possible test of $1,265 for our last shot at a short position until we give up and just let it go to whatever planet gold prices are going. It just seems a little odd to me that gold is up over 20% from it's 2008 highs but platinum, which is just as rare but has less ETFs pushing it, is down 27% at a more realistic $1,600 per once. I suppose you could do a pair trade going long on platinum and short on gold but, as I said - I'd rather just short gold. Platinum can be played with PPLT, which is new but tracks platinum pretty well at $155.12 and gold, of course, can be played with GLD, now $121.73.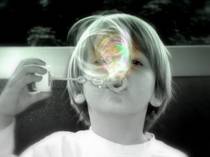 GLL is the ultra-short on gold and the Jan $36/41 bull call spread is just $2 and returns 250% if all goes well (GLL is currently $37.33) and if gold does go on a silly spike the purchase price can be offset by selling some puts like the Jan $33 puts, which are already $2 so figure selling whatever is $2 when gold tests $1,265 and giving up if it breaks $1,300.

Of course, gold bugs will tell you that gold is a great hedge against inflation but they are often the same people who tell you the economies are in crisis and we're in a deflationary spiral etc. so we just watch the chart at the moment…

Speaking of bad investments, college used to be a no-brainer: Spend about what you would to live at home for a year go to a few classes and a lot of parties and, hopefully learn to socialize with new people and get a few life lessons and a diploma. Parents hope that after 4 years of "they don't want to know" in college, their crazy teenagers will be coming home ready to settle down and get jobs and, more importantly - get out of the house! Was that worth $40,000 for 4 years when I went to school (about 1.3x the average 1980 family's salary)? Sure it was. Is it worth $200,000 for a top college in 2010, when the average family's salary is still less than $50,000,

putting a college education for one child at 4 times what the average family earns? Maybe not, especially when putting that same $200,000 in a retirement account for the kids that pays just 5% interest over 50 years returns $2.8M - that would be in addition to their non-college incomes…
"I think it makes less sense for more families than it did five years ago," says Richard Vedder, an economics professor at Ohio University who has been studying education issues. "It's become more and more problematic about whether people should be going to college." The key argument in favor of getting a four-year degree, the one that says on average, those with one earn more than those without it. Education Department numbers support this: In 2008, the median annual earnings of young adults with bachelor's degrees was $46,000; it was $30,000 for those with high school diplomas or equivalencies. This means that, for those with a bachelor's degree, the middle range of earnings was about 53 percent more than for those holding only a high school diploma. But a lot of college graduates fall outside the middle range — and many stand to make considerably less.

According to a report in the Chronicle of Higher Education, 31 percent of loans made to community college students are in default. (The same report found that 25 percent of all government student loans default.) Default on a student loan and face dire consequences, beyond a bad credit record — which can tarnish hopes of getting a car, an apartment or even a job: Uncle Sam can claim your tax refunds and wages.

College is supposed to prepare you to get a job but, as you can see from the chart on the left, less than 1/2 the people graduating college end up in jobs that require the degree which means that all college did for them is give them or their parents a mountain of debt and put them 4 years of experience behind their peers who went straight to work. If there's anywhere we need to see some serious deflation, it's in the cost of higher education - where you can't possibly refinance your home fast enough to put your kids into a decent school.

Of course, those with the right skill-sets can often find work, even in the toughest of times. According to Focus.com: "The recession brought a tremendous rise in the unemployment rate in America and many people are having trouble finding employment. However, there are many jobs to be had — and not just any jobs, some of the best companies in America are hiring. Depending on your skill-set, degree and what you want from a job, some of the best jobs in the country may be on your career path."

Fortune had a nice article listing some choice companies that are actively hiring like Accenture (30,000 openings), Deloitte (39,000), Price-Waterhouse (29,000), Nordstrom (yes, retail, 45,000) and Marriott, who are looking to fill 110,000 positions in the US, very few of them requiring a college degree. California and Texas had the most job openings, followed by New York. As I've been pointing out for quite some time, the fact that 450,000 people a week lose their jobs is no reason to lose our minds when you take into consideration that our total workforce is 140M people.

And what are "the best jobs in America" for college grads? Well Focus looked at BLS data to find jobs that will grow in demand by% or more over the next decade and have a median pay of at least $65,000 and at least 10,000 total positions nationwide. At the current rate of layoffs, about 1,500 out of 10,000 positions open up every year. They also screened out jobs that did not hold up well during the recession and included non-monetary items like quality-of-life factors such as flexibility, stress and personal satisfaction and then they put it all into this neat little chart: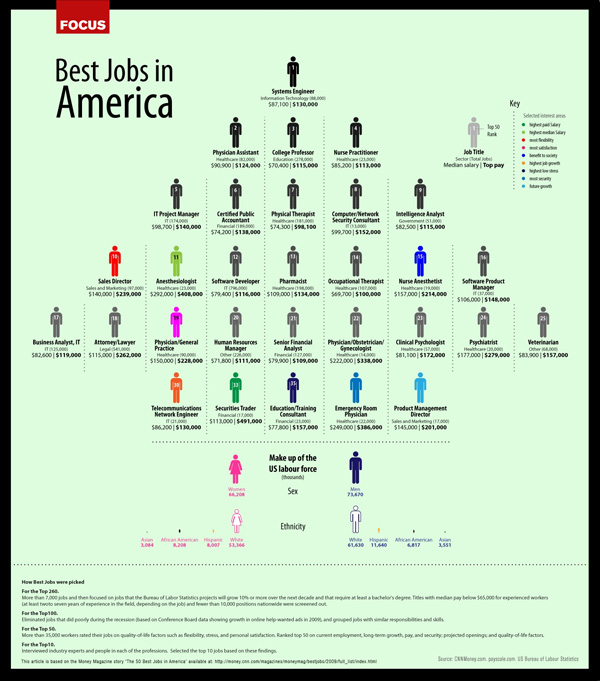 If you are going to go to college, or make an investment to send your kids there - the day's of "just winging it" are certainly over. Don't take lists like this lightly, encourage your student to have a plan and make sure the college they go to has a strong probability of leading to the career of choice because the opportunity cost for $200,000 is $2.8M over the student's working life and if they are not going to be willing to work hard to be on track to enter one of the top careers - then money spend on college may be wasted indeed!
By Phil
Philip R. Davis is a founder of Phil's Stock World (www.philstockworld.com), a stock and options trading site that teaches the art of options trading to newcomers and devises advanced strategies for expert traders. Mr. Davis is a serial entrepreneur, having founded software company Accu-Title, a real estate title insurance software solution, and is also the President of the Delphi Consulting Corp., an M&A consulting firm that helps large and small companies obtain funding and close deals. He was also the founder of Accu-Search, a property data corporation that was sold to DataTrace in 2004 and Personality Plus, a precursor to eHarmony.com. Phil was a former editor of a UMass/Amherst humor magazine and it shows in his writing -- which is filled with colorful commentary along with very specific ideas on stock option purchases (Phil rarely holds actual stocks). Visit: Phil's Stock World (www.philstockworld.com)
© 2010 Copyright PhilStockWorld - All Rights Reserved Disclaimer: The above is a matter of opinion provided for general information purposes only and is not intended as investment advice. Information and analysis above are derived from sources and utilising methods believed to be reliable, but we cannot accept responsibility for any losses you may incur as a result of this analysis. Individuals should consult with their personal financial advisors.
© 2005-2019 http://www.MarketOracle.co.uk - The Market Oracle is a FREE Daily Financial Markets Analysis & Forecasting online publication.

Only logged in users are allowed to post comments.
Register/ Log in