Investing for Mexico's Social and Economic Collapse
Politics
/
Mexico
Aug 13, 2010 - 08:05 AM GMT


There is a war next door, and our neighbor may be losing. I'm talking about Mexico's ongoing battle with violent drug gangs. The northern parts of Mexico are becoming lawless, and the drug gangs are taking steps to set themselves up as de facto governments. This could have big implications for Mexico and for its oil production. And Mexico is our number 2 supplier of imported oil.
Does the fallout from Mexico's collapse extend beyond oil? Heck, yeah! The U.S. share a long and porous border with Mexico, and troubles there are already spilling over here.
Here are some facts about Mexico's drug gangs that are starting to scare me …
About 28,000 people have been killed since December 2006, when President Calderon declared war against the gangs. A whopping 1,200 people were killed in July — the deadliest month yet. The city of Ciudad Juárez, which borders El Paso, has by far been the most violent area, with more than 4,300 people killed in the past two years. Drug gangs are armed with military-grade weapons smuggled from the U.S., and other weapons come straight from the Mexican army.
So many people were terrified of being assassinated in the last election, political parties had trouble finding candidates to run for office.
Drug gangs are smuggling more drugs into the U.S. now than when the war started. It has become a $39 billion a year business — worth one-fifth of the Mexican government's annual budget.
The drug gangs are diversifying — moving into immigrant smuggling, extortion, kidnapping, and stealing oil.
Mexican drug cartels operate in more than 2,500 U.S. cities. They are the only ones working in every part of the United States, and have forced out Columbian gangs.
Drug gangs are actually setting up de-facto shadow governments and levying taxes in the Mexican states of Tamaulipas and Coahuila on the Texas border, as well as President Calderon's home state of Michoacán.
President Calderon acknowledged the growing strength of the drug gangs at a national security conference. He said: "Their business is no longer just the traffic of drugs. Their business is to dominate everyone else. This criminal behavior has become a defiance to the state, an attempt to replace the state" by exacting war taxes and taking up arms more powerful than those used by outgunned government forces.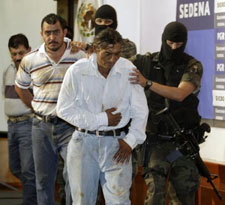 Mexican authorities are losing the battle against drug cartels.
Recently, the U.S. Joint Forces Command warned that the Mexican government could experience "a rapid and sudden collapse" due to drug cartel violence.
According to some experts, it's so bad that Mexico's government has been forced to pick sides, showing favoritism to certain drug gangs in return for help battling other drug cartels. Such alliances would be another step toward drug gangs becoming a political force.
There's already a lot of non-official cooperation. In one notorious incident, a birthday party in the northern city of Torreon was attacked by drug cartel hitmen who used automatic weapons to kill 17 people and wound 18 others. Mexican authorities later said the hitmen were incarcerated cartel gang-members let out of jail by corrupt officials. The prison guards lent the gunmen vehicles and their own weapons. After the bloody massacre, the killers coolly returned to the prison, handed back their weapons, and went back to their cells.
Stealing Big in Oil
The drug gangs are also stealing oil. Mexico's state-owned oil company, Petróleos Mexicanos or PEMEX, estimates some $720 million worth of oil products were stolen from it in 2008, slightly higher than 2007. Just one gang — busted in April — allegedly stole $46 million worth of oil products over two years.
And this year, the drug gangs branched out to threatening petroleum production, which provides one-third of Mexico's revenue. PEMEX's general director told a congressional committee that rampant kidnapping of workers forced the closing of oil and liquid gas plants in the Burgos Basin in northeastern Mexico, among the company's most lucrative installations.
This is coming at a critical time, because Mexico badly needs investment in its oil industry …
Mexico's supergiant offshore field Cantarell started declining in 2005, and crude output has fallen from an average of 3.4 million barrels a day in 2004 to about 2.6 million barrels a day over the last 18 months.
Meanwhile, PEMEX's current top-producing field, Ku-Maloob-Zaap, has hit its expected peak production of 850,000 barrels a day.
In all, Mexico's crude oil output was 2.592 million barrels a day in the first half of the year, down 1.4% from a year earlier.
If Mexico's oil production falls again this year, it would mark six straight years of declines.
PEMEX hopes to issue up to 14 incentive-based contracts by the end of the year to get private sector assistance to develop mature oil fields. But if the drug gangs are stepping up the war, and targeting oil field workers, it's hard to say who will want those contracts.
This, in turn, puts more pressure on the supply of crude oil to the U.S.
Other Economic Risks from the Drug War
Mexico's economy is expected to grow by about 5% this year. That sounds good, except that Mexico's economy shrank 6.5% last year. So, the country's GDP would still be lagging. It's hard to get foreign investment in new factories when drug cartels are running rampant.
And Mexico is still feeling the pain from sovereign debt downgrades last year from two credit ratings agencies, leaving Mexico only one notch above the lowest investment grade (Mexico's declining oil output was a key factor in the downgrades). The debt downgrades make it harder for Mexico to borrow money. And bloodthirsty cartels running wild and shooting up the place won't help bondholder confidence, either.
For me, the big risk here is a potential collapse of the Mexican government. If the drug gangs are able to set themselves up as viable shadow governments, then the U.S. may be forced to intervene militarily.
And that may not be the worst of it. As a student of history, I can tell you that one of the forces that brought down the Roman Empire was the immigration of large numbers of foreign tribes over its borders. Those tribes all wanted the good life they saw in Rome, and they overwhelmed Rome's ability to cope with them. If the Mexican government collapses, we could see a new flood of people heading over our border. In that case, Mexico's problems could become our problems.
Bottom Line: 2 Ways to Play It
It looks like Mexico's world of hurt is going to continue. You should start thinking about how you can protect your portfolio from the worst that could happen, and how you can profit in the meantime.
Investment #1: Crude Oil. Oil is still trapped in a trading range between $67 and $90, and I don't see much that will break it out of that range in the near term.
But the drug war is a threat to Mexico's already fragile oil production, and Mexico is one of our biggest suppliers of foreign oil. America imports 65% of its oil. So, the drug-gang violence is probably a long-term bullish force in oil prices. You can play that with an ETF that tracks the price of oil, like the PowerShares DB Oil Fund (DBO), or a fund that tracks energy stocks like the Energy Select SPDR (XLE).
I think a better way to play it is through oil stocks, funds and MLPs that pay nice dividends. America's thirst for oil isn't going away, and these stocks and funds pay you to hold them while you wait for oil to break out of its range. This is the strategy we're using in Crisis Profit Hunter, and it's paying off nicely.
Investment #2: A good defense stock. The best defense is a good offense, and if the Mexican government collapses, I expect we'll see the U.S. intervene militarily. That means all the defense stocks that have sold off in anticipation of U.S. troops leaving Iraq and Afghanistan may be real bargains.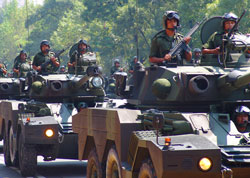 If the Mexican government collapses, the U.S. might intervene militarily.
There are a couple of defense exchange-traded funds, but they aren't liquid enough to trade in and out of. Instead, you might consider a high-quality defense stock like General Dynamics (GD). The company builds tanks and armored vehicles that the U.S would use in a major fight with the drug gangs.
And General Dynamics recently paid a 2.6% dividend yield. There is a lot to like about this stock.
Do Your Best and Leave the Rest
There are things we could do to stop the flow of people and drugs over our border. But that takes political will that appears to be lacking in Washington, which seems to be happy to put our troops along the borders of every country in the world except our own.
There are also things we could do to stop the rise of the drug gangs. But our government isn't interested. I'm talking about legalizing marijuana, which accounts for 60% of the cartel's income. That would cut the legs out from under the gangsters financially, but drug prohibition has a large and vocal constituency in the U.S.
Instead, we'll probably continue to fight the drug gangs the same way we have for the last 40 years — and get the same results. So I guess my point is, if you're looking for a better future out of this, you'll have to find it yourself by making smart investments.
Good luck and good trades,
Sean
P.S. My newest issue of Crisis Profit Hunter comes out soon, and it offers a bushel of dividend-paying picks that can protect your portfolio and help you profit. I'll also send you four bonus reports, including my just-updated "Pipeline to Profits" special report. You can subscribe to Crisis Profit Hunter for just $89 for one year. Get yours today!
This investment news is brought to you by Uncommon Wisdom. Uncommon Wisdom is a free daily investment newsletter from Weiss Research analysts offering the latest investing news and financial insights for the stock market, precious metals, natural resources, Asian and South American markets. From time to time, the authors of Uncommon Wisdom also cover other topics they feel can contribute to making you healthy, wealthy and wise. To view archives or subscribe, visit http://www.uncommonwisdomdaily.com.
© 2005-2019 http://www.MarketOracle.co.uk - The Market Oracle is a FREE Daily Financial Markets Analysis & Forecasting online publication.
Comments
Nicolas Garay
14 Aug 10, 08:00
tHE "COLOMBIAN" NOT "COLUMBIAN" GANGS


Ahh...fianlly worried and concerned about "drugs smuggling"?..I want to make some points on this "appreciation" of the situation..from the "columbian" (I mean colombian point of view).

First, Cali Cartel never dare to amrket directly in the U.S. cities. Their phylosophy was to supply the drug to other gangs further North in the map. Medellin Cartel triggered their destruction when they attempted to retail directly in the streets of the U.S. cities. The lesson was learned. The retail distribution is for LOCAL gangs of any ethnic "american" minority...Or, have you notice, if living in the u.S.,...some wealthy uneducated minority guys spending money in Real Estate?

Now, after the "shortsighted" sponsored U.S: drug polciy in the area, we have now the FARC and ELN Cartel. In some way, ideologically they sponsor drug traffic because in their idology any weapon should be sued to anhilite the enemy: The Capitalism! We ahve now soem neigboring governments protecting teh FARC and ELN operations. Shoul I write specifically Chavez regional foreign policy?....Do you want to GASP?...Pay atention to Correo from Ecuador and Morales from Bolivia! Do you have some strange feeling in your spine?...Pay attention to Rio de Janeiro gangs wars on drug territorial distribution!..Now, there is soemguy in San Caterina who si packing milliosn daily retailing drugs...So,..is not only Mexico..Beware if you lkive int he U.S...the cancer grows..and the surgery should be radical...Or,..accept dramtcioa social changes based on drug ideology!



cynthia curran
14 Aug 10, 22:04
mexico-not as bad


A lot of car manufactoring and aerospace manufactoring had headed to Mexico. This is not mention in the report. Problem with drug cartels sure, but for the first time in a while the manufactoring seems to be heading to Mexico instead of China. GM and Ford have a lot of production in Mexico and aerospace companies from the us and Canada have some companies there. Also, birthrates are lower in Mexico than Mexicans have in the States putting less pressure among a large unemployed youth population, Mexico's historical problem.




Only logged in users are allowed to post comments.
Register/ Log in