Agri-Food's Impact From Russia's Worst Drought in a Decade
Commodities
/
Agricultural Commodities
Jul 15, 2010 - 10:30 AM GMT


Last we talked was how pigs were being made into bacon in the markets for oats. Many at that time perhaps did not realize that both a cash and futures market existed for their oats. In that discussion we noted that a goodly reason the back of the bear run in oats was broken was too much rain in Canada. Weather, it seems, has a way of ignoring the forecasts of analysts and traders. Those lost oats, and other grains, in Canada, will indeed be made up, NEXT YEAR. Agri-Foods are not produced in factories.
Around the globe in Russia, the weather is playing another nasty trick on the grain bears. Bloomberg.com, 12 July, reports, "
"Russia's worst drought in a decade has damaged more than half of grain planted in 11 regions and hot, dry weather may continue for the rest of this month, . . . 'We don't see much room for improvement in July,' said Anna Strashnaya, head of agro-meteorological forecasts. . .Soil drought has affected more than half of grain plantings in 11 regions along the Volga, in the Urals and central Russia, and yields in these areas will be at least 30 percent less than last year, the service(Federal Hydrometeorological Service) said on its website late July 9."
Official forecast for Russian grain production this year has been reduced to 85 million metric tons. Last year Russia produced 97 million metric tons. A 12+% fall in grain production in one of the largest grain producing regions is significant.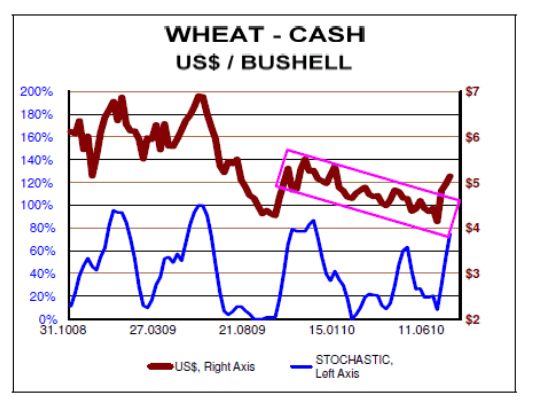 Above chart portrays U.S. cash wheat prices for the past 90 weeks. As indicated by the rectangle, wheat has been under a bear raid for months. Claiming that the world wheat supply was overwhelming, though we know that not true, traders pushed wheat price down in regular fashion. They shorted every rally. That strategy worked fine until the reports on weather in Canada, wet, and in Russia, dry, came out.
A move to $7 on U.S. cash wheat in the next six months is conceivable. Remember that the North American winter wheat crop has been harvested. Wheat plantings this spring in the U.S. were at multi decade lows, and will likely remain so until wheat prices are materially higher. And the next U.S. winter wheat crop? In 2011. Wheat is not made in a factory.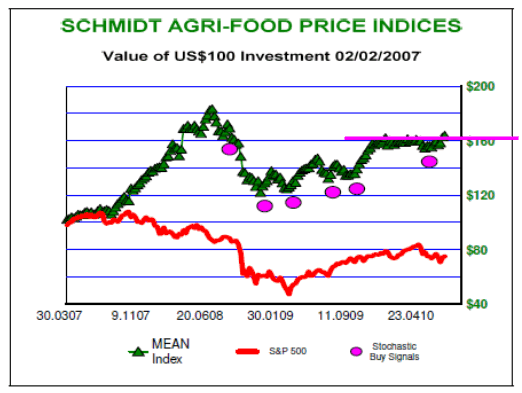 Action in oats, wheat, etc. have enabled the Agri-Food Price Index, shown in above chart, to move to a new cycle high. Wheat is the first of the Big Four to move out of the bear pattern. With China now a net importer of corn, that grain is building in that direction. Soybeans have already discovered a floor that will like persist as 70+% of the new Brazilian crop has already been sold. Only rice of the Big Four has yet to show signs of the breaking the bear raid.
While we have here talked mainly about grains, keep in mind that global meat markets are too feeling the demand pressure of a world becoming richer. The UN FAO Meat Price Index in June was less than 1% below the all time high. As meat prices continue to rise due to increasing demand from the growing global middle class, grain prices will follow. As we have noted before, neither meat nor any other Agri-Food is made in a factory.
As nations become richer, such as happening in China, nations import their food needs and wants, as noted by Commodity News for Tomorrow,

"Japan, the world's second-largest economy, now produces only 40% of its food and buys almost all its wheat, corn and soy beans from overseas.(14 July 2010)"

Importantly, once a nation becomes a net importer of food as long as national income continues to grow so will Agri-Food imports. Investment sector of growth in the coming decade has nothing to do with yesterday's technology companies or withering financial institutions, but is about satisfying the food import needs of nations. Think soybeans, Iowa farm land, and agri-machinery. Remember, you can not eat an iPad, and chicken is not produced in a factory.

Also since we last visited, the 2nd Agri-Food Commodities: An Investment Alternative July 2010 was released. This report is rapidly becoming the definitive review of the returns produced by Agri-Food commodity prices. Importantly it is independently produced, meaning it is not designed to sell the reader an investment product. This research found that the geometric returns on Agri-Food commodity prices in some measurement periods were significantly better than those produced by U.S. equities or bonds. To read this report, and we warn ahead that is statistical and dry, use this link: http://www.agrifoodvalueview.com...
By Ned W Schmidt CFA, CEBS
AGRI-FOOD THOUGHTS is from Ned W. Schmidt,CFA,CEBS, publisher of The Agri-Food Value View, a monthly exploration of the Agri-Food grand cycle being created by China, India, and Eco-energy. To contract Ned or to learn more, use this link: www.agrifoodvalueview.com.
Copyright © 2010 Ned W. Schmidt - All Rights Reserved
© 2005-2019 http://www.MarketOracle.co.uk - The Market Oracle is a FREE Daily Financial Markets Analysis & Forecasting online publication.

Only logged in users are allowed to post comments.
Register/ Log in