Beaten Down European Country ETFs
Companies
/
European Stock Markets
Jun 03, 2010 - 10:51 AM GMT


Last week I told you to keep your eyes on nine sector ETFs that have been crushed in the recent market downturn. Today I'm going to continue the same discussion starting with beaten-down ETF #10. This time, we'll look at six specific international ETFs that are in the bargain basement.
As I did last week, let me stress that I'm not recommending you buy any of these ETFs right now. My point is that eventually they'll find a bottom and represent good buying opportunities. As always, timing is the hardest part.
With that in mind, let's start our world tour in Europe …
Beaten-Down ETF #10: iShares MSCI Spain (EWP)
Beaten-Down ETF #11: iShares MSCI Italy (EWI)
Beaten-Down ETF #12: iShares MSCI Ireland (EIRL)
If you read Money and Markets regularly, you know that most of Europe is in economic crisis right now. The problems are centered in the so-called PIIGS countries: Portugal, Ireland, Italy, Greece, and Spain.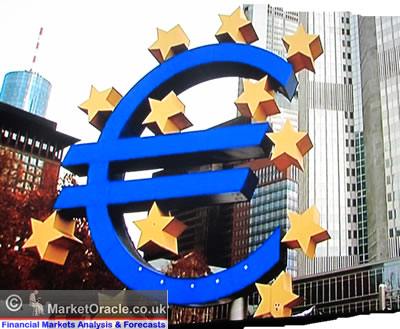 Pigs eat well on their way to slaughter.
For years these were some of the fastest-growing markets in the developed world. Fueled by easy money and increasing trade within the European community, their stock markets soared. And now we know the PIIGS were simply being fattened up for the slaughter.
On the other hand, these countries do have some advantages. They're going through changes — sometimes dramatic changes — but they won't just disappear into the abyss. Sooner or later, they'll bounce back.
Right now U.S. investors can access most of the PIIGS markets via easy-to-buy ETFs. All of which have taken a hard fall the last few months.
For example, during the six-week period from April 14 to May 26, 2010, iShares MSCI Spain (EWP) shed 30.2 percent and iShares MSCI Italy (EWI) dropped 28.4 percent. There isn't a Greece-focused ETF yet, but you can bet any such fund would have plunged even more.
iShares MSCI Ireland (EIRL) was just introduced a couple of weeks ago, so it missed most of the decline. However, it should be able to capture the Irish upside when it comes, so be sure to add EIRL to your watch list.
Keep your eye on the PIIGS. Now what about the rest of Europe?
Beaten-Down ETF #13: iShares MSCI France (EWQ)
France is the definition of "civilization."
The Greeks are catching a lot of heat for the bailout they're receiving. In reality though, it's Greece's lenders who are really being bailed out. Follow the money and you'll see most of it is flowing right back to banks in the more powerful European countries.
Institutions in France have some of the biggest exposure to the PIIGS economies. Traders are well aware of this. That's why EWQ lost about one-fourth of its value during the same six-week period.
Now this is not an "emerging market!" It's France — the very definition of civilization according to some people. Yet the chart of their stock market looks anything but civilized right now. I doubt France will stay this low forever. So EWQ could be a great buy before long.
Beaten-Down ETF #14: iShares MSCI Austria (EWO)
Austria is another country not directly associated with the current turmoil in Europe, yet its stock market suffered a 27 percent decline right alongside the other victims. The fact that more than 40 percent of EWO is invested in the financial sector helps explain its predicament.
Beaten-Down ETF #15: iShares MSCI EMU (EZU)
One of the problems Europe is dealing with is their common currency, the euro. Nations that don't control their own currency lose a lot of flexibility. By yoking themselves together monetarily but not politically, the euro-zone countries have created the worst of both worlds.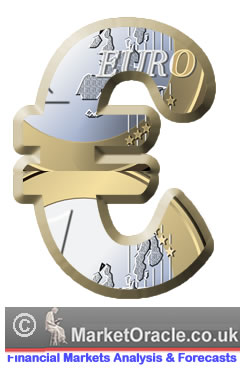 A common currency hasn't worked out so well for Europe.
The answer, in my opinion, is to get rid of the euro. Let each country do its own thing and face the consequences. However, this is not what they are doing. And Europe is heading in the opposite direction: More centralized control and less national autonomy.
I predict this experiment won't end well, but it will end. Meanwhile, add EZU to your watch list. This ETF covers the euro member markets while omitting the parts of Europe (like the United Kingdom and Switzerland) that still have a national currency.
EZU has been crushed in 2010, dropping more than 23 percent since early January. Part of this can be blamed on the euro's loss in value against the greenback, but these markets are doing terrible even on their own terms.
Will Europe get a summer rally? It's possible. The French and Germans love their vacation time, so they may try to finish their selling in the next month or two. If so, we could see a bounce, or at least some stabilization, in the euro zone. Keep your eyes on EZU.
Now that our European tour is over, where else can we look for ETFs on sale? I'll share some more ideas with you next week.
Best wishes,
Ron
This investment news is brought to you by Money and Markets. Money and Markets is a free daily investment newsletter from Martin D. Weiss and Weiss Research analysts offering the latest investing news and financial insights for the stock market, including tips and advice on investing in gold, energy and oil. Dr. Weiss is a leader in the fields of investing, interest rates, financial safety and economic forecasting. To view archives or subscribe, visit http://www.moneyandmarkets.com.
© 2005-2019 http://www.MarketOracle.co.uk - The Market Oracle is a FREE Daily Financial Markets Analysis & Forecasting online publication.

Only logged in users are allowed to post comments.
Register/ Log in