The Greatest Stock Market Trading Indicator in History
InvestorEducation
/
Stock Index Trading
Jun 01, 2010 - 06:21 PM GMT


I'm about to reveal a true market secret to you.
However, before I do, I'd like to share the below quote with you. I think it summates just how much the world has bought into the notion that the Fed can save the markets.
"I was advised that rejecting [Bernanke's] nomination would cause markets to nose dive, which would hurt retirees and families saving for their future. I am not enthusiastic in my support. " - Senator Barbara Mikulski (D- MD)
Source: http://www.zerohedge.com/article/feds-racket-exposed
The above quote is truly staggering when we consider its implications. In plain terms, here is an adult human being (an elected official or so called "leader," no less) admitting that she and her ilk operate under the childish belief that Ben Bernanke HAD to be re-elected as Fed Chairman in order to prevent a market nosedive.
The implications of this quote are vast. Among the more serious:
Any and all claims of recovery or a new bull market in stocks are lies (if things were fine, why would a new Fed Chairman cause everything to collapse?)
The stability of the entire system is contingent on continued funny money and easy access to credit for the Wall Street elite (our stock market is the equivalent of a drug addict needing a new "hit" weekly)
Whoever advised Senator Mikulski essentially committed an act of financial terrorism, threatening disaster to get what they wanted. Wall Street and its cronies have played this card several times in the last few years, most notably Hank Paulson and Ben Bernanke's "give us $700 billion or the whole world will implode" act in 2008 (by the way, didn't the market collapse DESPITE them getting the $700 billion)?
The entire financial and political world have "bet the farm" that Ben Bernanke and the world's central bankers know what they're doing.
This last implication is the most serious.
For 30+ years, the financial world has operated on the idea that the Federal Reserve can solve any problem. This not only induced unsavory risk taking and over-leverage, but masked the fact that the Federal Reserve itself was in fact one of if not THE cause of most of the problems created in our financial system.
Bernanke has now thrown everything including the kitchen sink at the financial crisis. And as the last few weeks have demonstrated, he's done nothing but pave the way for an even bigger Crisis. What should have taken down a handful of Wall Street banks is now going to wreck the US currency (what's happening with the Euro today will eventually happen in the US).
Which brings us to my secret indicator. This is THE most defining metric in terms of knowing when the buy or sell in today's market. It has "triggered" at EVERY single major market turn-point in the last five months.
This trigger registered a "sell" one day before the market collapsed on January 22, 2010.
It then registered a "buy" on February 23, 2010: THE day the massive rally into April began.
It even called the May 6, 2010 Crash, registering a "sell" exactly one day before.
As you can imagine, had you followed this metric's signals, you'd have made a fortune in the last four months alone. I only just stumbled across it the other day when I was reviewing dozens of charts of the market's action during the last five months.
I call it the PADSOCO trigger.
It stands for…
Politicians Actually Do Something Or Chicken Out (PADSOCO).
As ridiculous as this sounds, I'm not joking at all. Political decisions regarding Wall Street and the Too Big to Fail banks have marked EVERY major turn point for the market in the last five months has come.
Consider…
On January 21 2010, President Obama proposed legislation that would ban proprietary trading at banks. What followed was the fastest, most severe sell-off since the March 2009 rally began.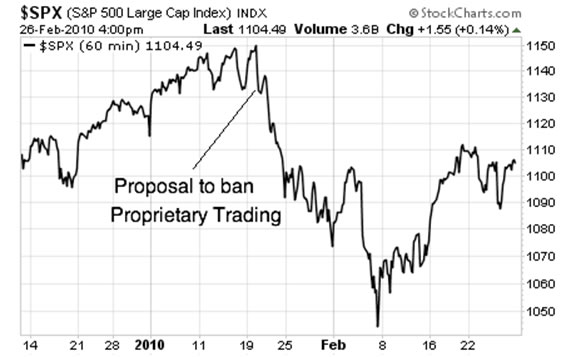 Then on February 23, 2010, the Administration announces it is considering dropping any ban on prop trading. What follows is the largest, most absurd ramp job we've seen in months: at one point the Nasdaq was up something like 20 out of 24 days, a rally we've not seen since the Tech Bubble.
Things melt-upwards until May 3rd when Congress introduced another attempt at breaking up the "too big to fail" banks. We all know what happened next.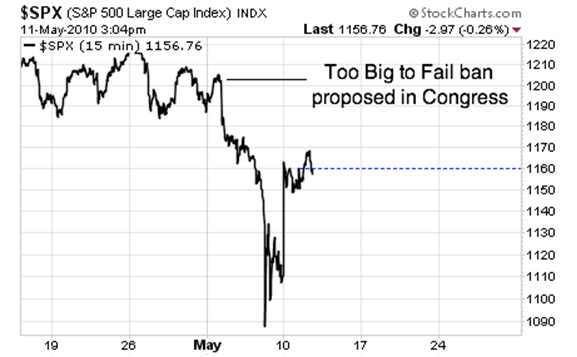 May 7, 2010, Congress announces that the Too Big to Fail ban failed to pass. This, combined with the $1 trillion bailout in Europe and the Federal Reserve opening up credit lines abroad, resulted in stocks posting their largest gap up in history.
At this point, if you're looking for hints of where the market is heading it might make more sense to watch C-Span than CNBC.
Indeed, Congress has gotten itself in a real mess. This year is an election year and voters are increasingly pissed off about the bailouts and stimulus. However, every time the politicians propose some piece of legislation that might negatively impact the large Wall Street firms, Goldman and pals implode the markets (see May 6).
In plain terms, the market is now more "political" than any time that comes to mind. So it is small surprise that is it legislation, NOT financial or economic data, that is marking the major turn points (the Greek situation has been an ongoing farce since December '09).
So if you're looking to identify key turns or changes, keep your eyes on financial reform and legislation. It's nailed every major turn in 2010. And with political pressure increasing as we approach elections, it's likely to play an even more crucial role going forward.
Good Investing!
Graham Summers
PS. If you're worried about the future of the stock market, I highly suggest you download my FREE Special Report detailing SEVERAL investments that could shelter your portfolio from any future collapse. Pick up your FREE copy of The Financial Crisis "Round Two" Survival Kit, today at: http://www.gainspainscapital.com/MARKETING/roundtwo.html
Graham Summers: Graham is Senior Market Strategist at OmniSans Research. He is co-editor of Gain, Pains, and Capital, OmniSans Research's FREE daily e-letter covering the equity, commodity, currency, and real estate markets.
Graham also writes Private Wealth Advisory, a monthly investment advisory focusing on the most lucrative investment opportunities the financial markets have to offer. Graham understands the big picture from both a macro-economic and capital in/outflow perspective. He translates his understanding into finding trends and undervalued investment opportunities months before the markets catch on: the Private Wealth Advisory portfolio has outperformed the S&P 500 three of the last five years, including a 7% return in 2008 vs. a 37% loss for the S&P 500.
Previously, Graham worked as a Senior Financial Analyst covering global markets for several investment firms in the Mid-Atlantic region. He's lived and performed research in Europe, Asia, the Middle East, and the United States.
© 2010 Copyright Graham Summers - All Rights Reserved
Disclaimer: The above is a matter of opinion provided for general information purposes only and is not intended as investment advice. Information and analysis above are derived from sources and utilising methods believed to be reliable, but we cannot accept responsibility for any losses you may incur as a result of this analysis. Individuals should consult with their personal financial advisors.
© 2005-2019 http://www.MarketOracle.co.uk - The Market Oracle is a FREE Daily Financial Markets Analysis & Forecasting online publication.

Only logged in users are allowed to post comments.
Register/ Log in