US Iraq War Policy "Intellectually Bankrupt"
Politics
/
Iraq War
Sep 01, 2007 - 03:02 PM GMT

In a scathing attack on Donald Rumsfeld and the US failed policy of invasion and occupation of Iraq by the former head of the British Army in Iraq, General Sir Mike Jackson stated :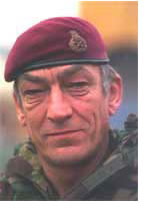 Mr Rumsfeld was "one of the most responsible for the current situation in Iraq," and that he was "intellectually bankrupt"

Mr Rumsfeld's insistence that US forces "don't do nation-building" was "nonsensical".

Short-sighted Pentagons decision to disband the Iraqi Army. "We should have kept the Iraqi security services in being and put them under the command of the coalition," he said.

The US approach to tackling terrorism as 'inadequate'

He defended Britain's occupation of Southern Iraq

"We all knew that it was impossible for Iraq to threaten the UK mainland," he said.
However, Sir Mike jackson could be accused of sensationalism as he seeks publicity for his new book which is being serialized in the media. And that there is little point in stating the blatantly obvious now some 4 years on. Where was the courage to say the same publically during 2003 when it may have made some difference ?.
This marks another step in the blame game that is going on as Britain makes preparations for withdrawal from Iraq, to leave the US to the deteriorating situation in the South, and these comments are seen as further attempts at papering over the failure of the British Occupation to bring stability and security to the Basra region, as increasingly the militias seize control.
The fact is that both the US and Britain have failed miserably in Iraq. The invasion and occupation of Iraq was an epic mistake which was not governed by the facts on the ground, namely Sept 11th / Al Qeeda had nothing to do with Iraq. Instead of completing the job in Afghanistan with both the taleban and Al Qeeda on the run. Both George Bush and Tony Blair took their respective countries down an imbecilic route which has had the effect of creating a breeding ground for terrorists in Iraq by turning it into a failed state where thousands of Iraqi's are murdered every month.
Now Britain prepares to cut and run as Gordon Brown seeks to assert his differences to Tony Blair in foreign policy in possible preparations for an early election.
The cost of the war to Britain to date is put at some $50 billion, coupled with damage to Britain's standing in the world as well as loss of moral amongst the armed services.
By John York
http://www.marketoracle.co.uk 2007
© 2005-2019 http://www.MarketOracle.co.uk - The Market Oracle is a FREE Daily Financial Markets Analysis & Forecasting online publication.

Only logged in users are allowed to post comments.
Register/ Log in