Investing in the Arctic Tundra - Diamonds are Forever
Commodities
/
Arctic Resources
Aug 22, 2007 - 09:21 AM GMT

Sean Brodrick writes: When I wrote you last week, I had just joined my hosts in the diamond exploration camp in the Canadian Arctic. I was taking my first trips out on the tundra, looking for kimberlite, which is the host rock for diamonds.
In the picture, I'm standing with Nick, one of the locals. One of his many jobs was making sure I wasn't eaten by grizzlies. His bear rifle is in the blue bag on his shoulder!
We found plenty of kimberlite — along with skulls, poop and lemming condos — but I'm getting ahead of myself. Let's start with a brief explanation of why diamonds are so rare and expensive …
How Diamonds Form Deep Within the Earth
Diamonds are formed deep under the earth's surface, in the mantle, about 90 to 120 miles down. There, they lie in wait for a volcanic eruption to bring them to the surface. Problem is, most volcanoes don't form that deep. Hence, we have the first factor in what makes diamonds so rare.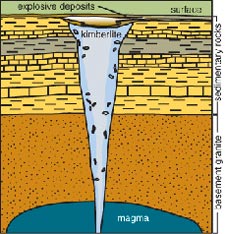 When a volcano does form that deep, and under that kind of pressure, it can spike higher in a cone or "volcanic pipe." A second factor making diamonds so rare is that these diamond-bearing volcanic pipes are closely related to the oldest, coolest regions of continental crust (cratons). This is because cratons are very thick, and their mantle extends deep enough to provide stable conditions for diamond formation.
And here I can make another point — not all volcanic rocks contain a lot of diamonds ("diamondiferous" in rock hound lingo). In fact, of the 6,200 kimberlite pipes known to exist, less than 1% have been developed into producing mines! Now you can start to see why diamonds are so expensive!
Anyway, the magma carries this old rock upward. The kind of old rock we're interested in is kimberlite that is saturated with "indicator minerals" — magnesium-bearing olivine, pyroxene, magnetite, garnet and others. Because these minerals form at the same depth as diamonds, they're a good sign that kimberlite MAY contain diamonds.
Now that you know the science, let's talk about what I saw at the camp …
Looking for Something Special In the Barren Arctic Landscape
Rows and rows of core sample boxes …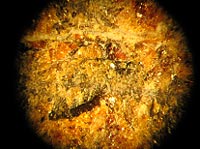 Through a microscope, we can see "indicator minerals" including garnets.
We spent the first part of my second day at the camp looking at core samples — lots and lots of them. The drillers circled garnets and other indicator minerals on the surface of the cores. These cores will be crushed and used in a "mini-bulk" sample, which will be tested for microdiamond content (after all that crushing, the only diamonds you're likely to find are "micro").
In the afternoon, we waited for a break in the rainy and foggy weather and hopped into the helicopters for a ride out to an active drill rig. After that, we flew off for a longer flight and finally landed on a rocky cliff. The geologist led me down the adjoining slope to get a better look at the bluff.
"I wanted to show this to you," he said. "It's something special." The face of the bluff was all kimberlite!
Now, it may or may not be diamondiferous — the explorers don't know that yet. And even if it is diamondiferous, the question then becomes whether it's economically viable. But the geologist explained this is probably the only place in North America — and maybe South America as well — where you can see a cliff face like this.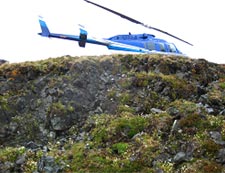 Our helicopter parked atop the kimberlite cliff.
We flew back the next day to explore the bluff some more. Further up the hill, a kimberlite eruption had scattered promising-looking rock over a huge area.
While I was stumbling over the kimberlite at the cliff, I found a caribou skull. The day before that, I found a caribou antler. The next day, a caribou jaw. I started thinking if I stayed there long enough, maybe I would have found the rest of the animal.
We saw very few live caribou, but mass herds of the beasts had left their calling cards everywhere I stepped — piles and piles of caribou poop, as well as the spoor of foxes, rabbits, lemmings and more. Let me tell you, the arctic is one giant, frozen, treeless swamp, and there are plenty of animals using it as a giant litterbox!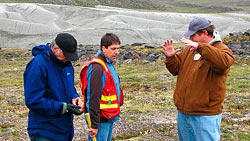 I try to get a grasp on the situation, but the look on the geologist's face tells me I better try harder.
On my third day, we checked out a magnetic anomaly that meant climbing up and down more hills. The area was over-run with lemmings, and huge piles of marine clay were carved by wind and weather into weird shapes. It made the hill look like a huge lemming city.
To show you how hit-or-miss this business is, we didn't find rocks of interest at "Lemmingopolis." The same day, however, we helicoptered to another outcropping of kimberlite and the rock was riddled with large pieces of garnet, olivine, magnetite and other minerals. Chunks of the earth's mantle, called xenoliths, were scattered about. These are some of the oldest rocks in the world — billions of years old.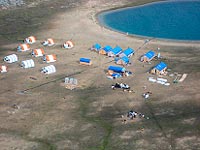 The mining camp was a speck of human activity on a desolate stretch of land.
I have to tell you — the Arctic environment is more suited to lemmings than people. The exploration camp I stayed in was a speck of civilization on a vast and barren landscape. However, miners do eat very well. Dominic, the camp's chef, prepared all kinds of amazing meals during my stay.
One night, for example, I feasted on roast caribou with gravy, caribou stew, baked char (an Arctic fish), Greek salad, vegetables, a huge slice of strawberry shortcake and two slices of homemade bread.
The next day, lunch included a local delicacy, "maktaaq," or whale blubber with the skin attached. The blubber, harvested by indigenous fishermen, comes from narwhals (odd-looking beasties that have a tooth that grows into a unicorn-like horn). It was pleasant enough when dipped in soy sauce.
Anyway, it's safe to say I got my fat content for the week. It's a good thing I left the camp when I did, or the helicopter might not have been able to get off the ground.
Parting Thoughts on what I Saw in the Arctic Tundra
Kimberlite is rare, but in the weird Arctic landscape it's not as rare as one might think. The miners I visited have found diamondiferous kimberlite on their property, and their quest now is to figure out if there are enough diamonds to make mining economically viable. There are a lot of unanswered questions out in the Arctic. But it's certainly interesting enough to be worth a second look.
If the diamonds prove economically viable, a mine will be built, you can count on that. The resulting rocks will be shipped out over the cold Arctic sea. And thanks to the warming global climate that is melting the ice, any mine in that area would become more accessible with each passing year.
However, I have two important takeaways from my trip that I want to share with you right now:
First, Kimberlite is just one of many interesting minerals up in the Arctic. There are massive deposits of copper, gold, uranium, and more slumbering like giants beneath the Tundra. A U.S. government study says as much as 25% of the world's undiscovered oil and gas could be hidden in the Arctic, too. We have mined and drilled and pumped resources from every corner on Earth, so now we're getting to the last place on Earth — the final frontier — in the Arctic.
Second, there are plenty of ways to play this trend. For example, natural resources behemoth BHP Billiton (BHP) has a subsidiary, BHP Billiton Diamonds, which produces about 15,000 carats of diamonds every day from its Ekati Diamond Mine in Canada's Northwest Territories. One carat is 200 milligrams, so 15,000 carats is enough diamonds to fill a coffee can. That translates into about four million carats per year.
Now, BHP's Diamonds and Specialty Products Customer Sector Group only accounted for $866 million in sales in 2006, or 2.4% of the company's overall revenues. But the group's sales are growing at nearly 13% per year.
Yours for trading profits,
By Sean Brodrick
This investment news is brought to you by Money and Markets . Money and Markets is a free daily investment newsletter from Martin D. Weiss and Weiss Research analysts offering the latest investing news and financial insights for the stock market, including tips and advice on investing in gold, energy and oil. Dr. Weiss is a leader in the fields of investing, interest rates, financial safety and economic forecasting. To view archives or subscribe, visit http://www.moneyandmarkets.com .
© 2005-2019 http://www.MarketOracle.co.uk - The Market Oracle is a FREE Daily Financial Markets Analysis & Forecasting online publication.

Only logged in users are allowed to post comments.
Register/ Log in