A Few Facts About Gold and Silver
Commodities
/
Gold and Silver 2010
Apr 06, 2010 - 04:15 PM GMT


Silver is apx. 1/3 of its 1980 cost (nominal prices, not inflation adjusted). Is there anything else on the planet you can think of that is currently 1/3 of its 1980 price? Oh, and do they have the following attributes?
Silver is an industrial metal and a monetary metal. 5,000 years of sound history as a measure of value and store of wealth, portable, fungible, divisible and unique.
Aristotle 384 - 322 BC - Qualities of good money
• Durable: Money must stand the test of time and the elements. It must not fade, corrode, or change through time;
• Portable: Good money needs to hold a high amount of 'worth' relative to its weight and size;
• Divisible: Money should be relatively easy to separate and re-combine without affecting its fundamental characteristics. An extension of this idea is that the item should be "fungible", defined as "being freely exchangeable or replaceable, in whole or in part, for another of like nature or kind."
• Intrinsically Valuable: This value of money should be independent of any other object and contained in the money itself, starting with rarity.
Known as "the poor mans gold", Silver is more affordable and useful in smaller units, as real money, than Gold.
Silver has had more patents issued with its use than all other metals combined.
Silver is a very good natural biocide and is now being used in clothing and food storage containers like Tupperware because of that property.
Silver is the second most malleable metal next to gold, the most reflective and the best electrical conductor of all metals.
Silver is widely used in industrial applications as a conductor, RFID (radio frequency identification chips) for inventory and tracking, nano technology and surgical equipment where the biocide and super conductivity qualities are needed. Photography was the largest industrial use but is declining due to digital photography.
Silver has replaced lead in solder for both Europe and the U.S.
Most industrially used silver is used and effectively destroyed because it is not recovered and ends up in landfills….Permanently lost.
There is an estimated 20 billion oz. of above ground silver that can be accounted for by coinage, bullion in storage, flatware, jewelry, religious and artistic objects. There is an estimated 9.2 billion oz. of gold above ground (an estimated 90% of all gold ever mined is still in existence). 2.17 : 1 ratio.
The 800 year price ratio of silver to gold is apx. 16:1 (1980 $50/$825), in 1913 18:1. Today the current price ratio of silver to gold is 63.29:1 (3.95 X the historical average). The Gold/Dow ratio is now 9.65:1 (was 44:1 in 2000)…..yes, the Dow is down 78% in gold terms, over the past 10 yrs. Do you think precious metals are a risky and dangerous investment? Incidentally, in 1933 and 1980 1 oz. of gold equaled 1 share of the Dow (825 Dow, $825 gold in 1980). A regression to the historical mean sounds just right to me. You see, gold and silver are resuming their historical role as real money and wealth and still have a long way to go….particularly silver. Precious metals cannot be printed or digitally produced. You have probably noticed the obscene amounts of un-money being created for our Special Olympic economic model "no one loses and no one fails", with bailouts and monetary stimulus to and from the ends of the earth.
Oil is up 850% from 1999. Gold +305% over 10 years and Silver +254% over 10 yrs.. You see, gold and silver are way behind and as fiat currency of all kinds becomes inflated into oblivion these laggards will become what they have always been….a measure of value and store of wealth – real money.
If the current volume of fiat dollars was converted to gold it would exceed $50,000 per oz.
There was a 17 consecutive year shortage of silver production until 2007.
1971 when Nixon closed the gold window and abandoned the gold standard, the U.S. had in excess of 2 billion oz. of silver reserves. The U.S. Treasury now has none and the U.S. Mint has to purchase the silver in the open market to mint their silver eagles.
Most of the world lives in countries that have experienced unstable, volatile and unpredictable governments. The rule of law and sanctity of personal and private property are not observed as they are in the U.S. (<4% of world population). As a result, many people in the world have experienced and observed confiscation, seizures, hyperinflation (currency devaluations), closed banks and accounts and don't trust their government, currency or financial institutions. A very large number of these people recognize and appreciate the intrinsic value and eternal nature of "real" money…. precious metals. In 2008 China not only made it easier for their population to purchase it, they have encouraged it.
As developed (G-20) equity and real estate markets have declined, all currencies have declined over the past 10 years. Gold and silver have increased dramatically over the same period.
.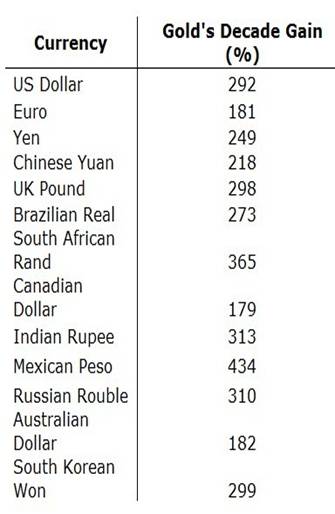 Some people are losing their confidence in fiat money (un-money created in infinite quantities, out of thin air and backed by nothing), the global financial system, leverage, debt and paper assets….for good reason. The bible doesn't mention fiat money and the men that wrote the constitution had revulsion for it (Article 1 Section 8).
There is very little interest in precious metals among our general public. To test this theory you could find most investment advisor's portfolio allocation recommendations. I believe you will find precious metals just a little ahead of cabbage patch dolls. This is beginning to change.
Play man on the street. Ask people what they think of silver and gold as an investment, how or where do you buy it and how much do they have? I am speaking or real metal not paper.
Fully 70% of silver is produced as a result of mining other metals, mostly base metals. Copper mining, for example, is responsible for 28% of the silver mined in 2007. Lead/Zinc mining yielded 32% of the silver mined in 2007. Finally, gold mining brought about 10% of the silver market.
Central banks added the most gold to their reserves since 1964 last year amid the longest rally in bullion prices in at least nine decades, data compiled by the World Gold Council. http://www.bloomberg.com/apps/news?pid=20601087&sid=amBRPzwyB9SY
Total global gold production has contracted over the past 10 years (down 4% 2008) in spite of a 305% price increase over that time. Randlgold Resources (Amex: GOLD) expects global gold production to decline by between 15% and 20% in the next two to three years, as unprofitable operations are squeezed out and difficult market conditions delay the development of new mines.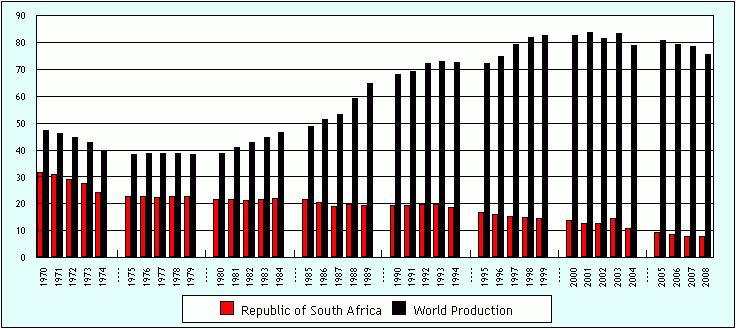 A production decline in spite of $1,000 gold. Finite resources have a way of invalidating the theory "supply will increase to meet demand if prices are high enough" or, prices aren't high enough. You will not get this information from the "drive by" media, pundits, talking heads, government and other masters of the universe.
The best value for silver is to take delivery on a futures mini contract (1,000 oz.). You would need a commodity broker. Junk silver (U.S. quarters before 1965) are the best retail value. Much of the time, the silver content actually sells for less than the spot market silver price. Have you ever heard of someone counterfeiting an old, worn, discolored and almost universally recognized U.S. quarter (Washington in circulation 76 yrs.)? I haven't either. They are self certifying.
The following interviews and Article are the best at describing and exposing the manipulation and fraud of the LBMA (London Bullion Metal Exchange) and the COMEX "CRIMEX" (U.S. Commodity Exchange).
http://kingworldnews.com/kingworldnews/Broadcast/Entries/2010/3/30_Andrew_Maguire_%26_Adrian_Douglass.html
http://kingworldnews.com/kingworldnews/Broadcast/Entries/2010/3/31_GATA.html
http://www.gata.org/node/8466
You will notice a significant premium for real metal as compared to prices quoted on the COMEX "CRIMEX" every day. They are about the best performing assets on the planet over the past year and decade….safe haven and disaster insurance. They have never become worthless and have a 5,000 history of being the "go to" assets in time of crises and uncertainty. The "Ministry of Truth" wouldn't want you to think of Gold and Silver as a safe alternative to fiat paper dollars, stocks, bonds and other forms of paper wealth in the mainstream financial world order.
There is only ONE thing to remember, the mantra/battle cry of the Federal Reserve and all central banks is "INFLATE OR DIE".
"Like gold, U.S. dollars have value only to the extent that they are strictly limited in supply. But the U.S. government has a technology, called a printing press (or, today, its electronic equivalent), that allows it to produce as many U.S. dollars as it wishes at essentially no cost. By increasing the number of U.S. dollars in circulation, or even by credibly threatening to do so, the U.S. government can also reduce the value of a dollar in terms of goods and servicees, which is equivalent to raising the prices in dollars of those goods and services. We conclude that, under a paper-money system, a determined government can always generate higher spending and hence positive inflation. - Ben Bernanke 11/21/2002. Any Questions?!?!?!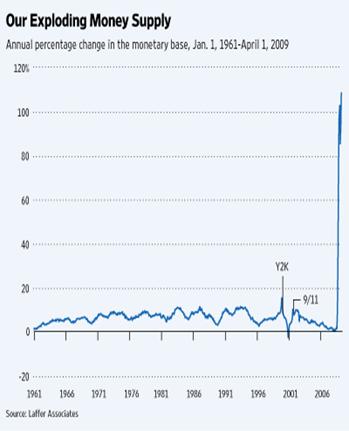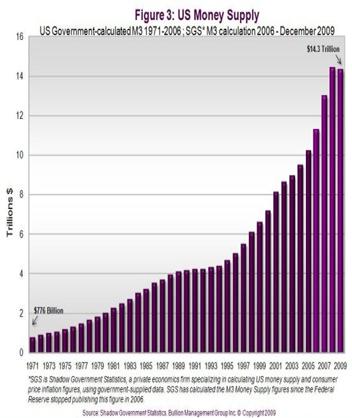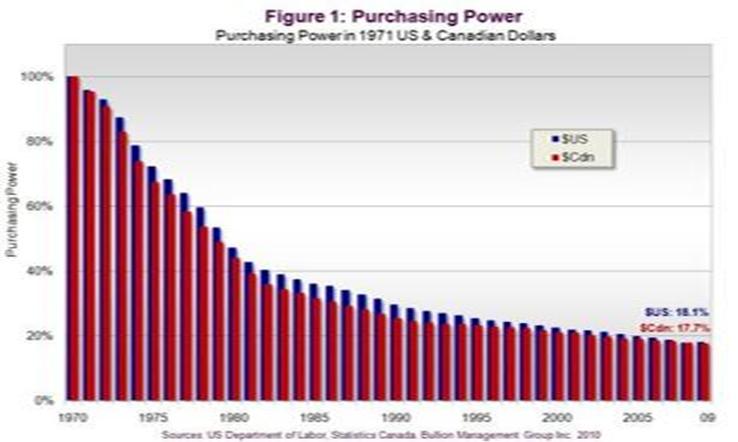 "The best way to destroy the capitalist system is to debauch the currency. By a continuing process of inflation, governments can confiscate, secretly and unobserved, an important part of the wealth of their citizens. By this method they not only confiscate, but they confiscate arbitrarily; and, while the process impoverishes many, it actually enriches some. The sight of this arbitrary rearrangement of riches strikes not only at security but [also] at confidence in the equity of the existing distribution of wealth". - Vladimir Lenin
"There is no subtler, no surer means of overturning the existing basis of society than to debauch the currency. The process engages all the hidden forces of economic law on the side of destruction, and does it in a manner which not one man in a million is able to diagnose". – Maynard Keynes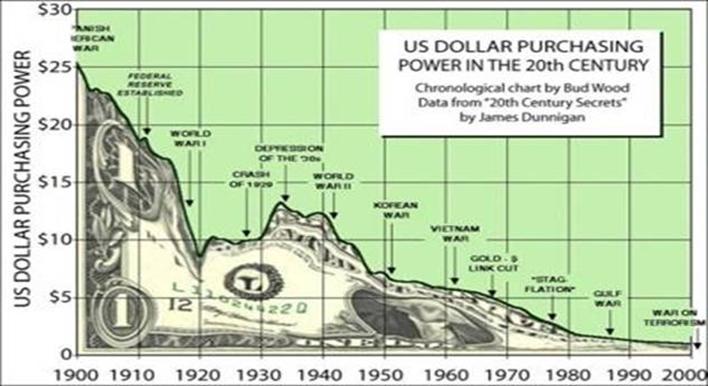 -97%.
The following websites are of the largest global retail market place for precious metals and can help you keep track of reality as compared to managed fraud (manipulated paper markets COMEX).
http:www.24hgold.com/english/buy_sell_gold_coins.aspx?co_id=0
http:www.24hgold.com/English/buy_sell_silver_coins.aspx?co_id=0
Here are a few of the most notable bullion dealers. Some store in vaults overseas (London, Canada & Switzerland) there are thousands of dealers and shops.
mailto:http://goldmoney.com/
http://www.bmgbullion.com/
mailto:http://www.bullionvault.com/
mailto:http://www.apmex.com/gclid=CM-UvcT-nJYCFQkiagodu3KK7Q
mailto:http://www.blanchardonline.com/content-18668274314&gclid-COO1_tX-nJYCFRs-awody06W7Q
http://www.bulliondirect.com/index.jsp?ovmkt=0AOF00HISDVA6QJT5S0RMC5CH8&gclid=CMjai5_a8qACFQEEiQodcmCToQ
mailto:http://bullion.nwtmint.com/
mailto:http://www.firstmajestic.com/s/OrderForm.asp - Silver mine with sales direct to the public.

Hi Ho Silver Away!!! Now, go do the right thing.
By Mark B. Rasmussen
Mark is a real estate appraiser/broker by profession
Copyright © 2010 Mark B. Rasmussen

Disclaimer: The above is a matter of opinion provided for general information purposes only and is not intended as investment advice. Information and analysis above are derived from sources and utilising methods believed to be reliable, but we cannot accept responsibility for any losses you may incur as a result of this analysis. Individuals should consult with their personal financial advisors.
© 2005-2019 http://www.MarketOracle.co.uk - The Market Oracle is a FREE Daily Financial Markets Analysis & Forecasting online publication.

Only logged in users are allowed to post comments.
Register/ Log in