Stocks Stealth Bull Market Closes At New Dow High
News_Letter
/
Financial Markets 2010
Mar 24, 2010 - 01:12 AM GMT

The Market Oracle Newsletter

March 20th, 2010 Issue #16 Vol. 4


The Market Oracle Newsletter
March 20th, 2010 Issue #16 Vol. 4
Stocks Stealth Bull Market Closes At New Dow High
Dear Reader
This week the stocks stealth bull market that bottomed in March 2009 confounded widely held expectations by both the bulls and bears of immediate term price action lower to dissipate its overbought state that failed to materialise, instead the stock market on Wednesday broke to a new bull market high by closing at Dow 10,733 with a further advance on Thursday, followed finally by a small down day on Friday to break a 8 day winning streak with the Dow closing at a new weekly high of 10,742.
The Dow high had lagged other stock indices that had made new highs over previous week including the UK FTSE, S&P500 and Nasdaq (though not other European indices despite the weak Euro).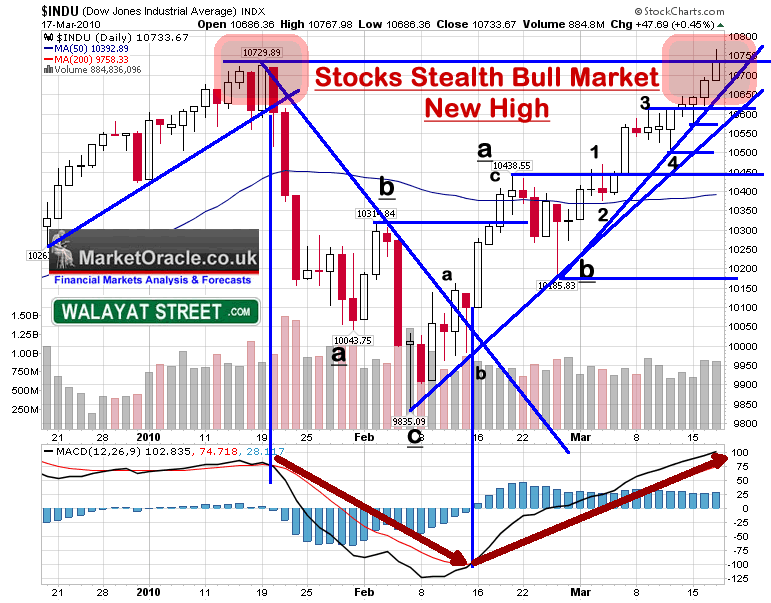 Stocks Stealth Bull Market Trend Forecast For 2010 - The Inflation Mega-Trend Ebook Page 82 (DIRECT Download)
Dow 10,067 - Stocks Multi-year Bull Market that bottomed in March 2009 will trend Sideways during first half of 2010 attempting to break higher. The second half will see a strong rally to above 12,000 targeting 12,500 during late 2010.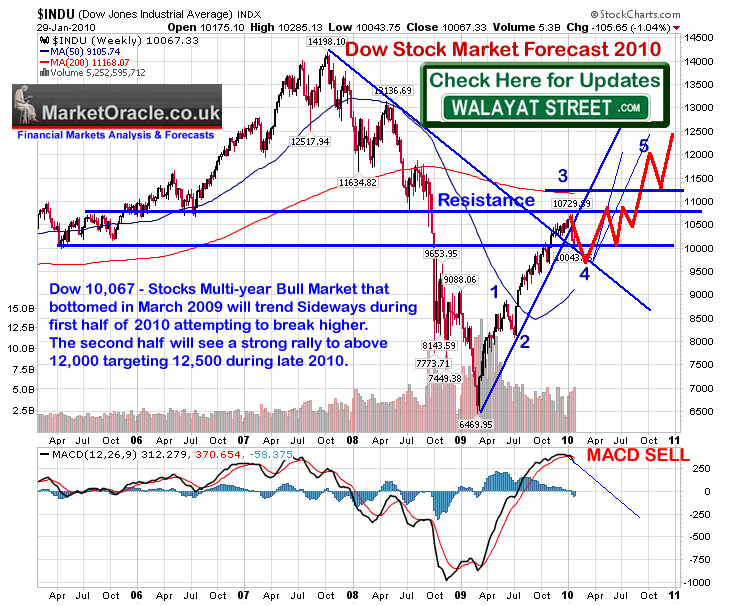 The stock market was / is expected to experience resistance along its 50% axis (10,333) to conclude in a sideways trend for the first half of 2010, the trend off of the early Feb low is showing relative strength against this expectation.
Whilst many (most?) since the January high have been anticipating the for the bear market to resume, my strategy remains for accumulating on corrections into the target sectors (see ebook), which even without a general market correction materialising the strategy has been to accumulate on rotating sector corrections.
Stock Market Where Next ?
Breakout Higher for a New Up leg? Double Top? Bearish Elliott Wave Pattern? Overbought? This does demand an in depth analysis which will follow in the next few days that will aim to project a trend forward into May 2010.
For more mega-trend forecasts across the financial market and implications of the unfolding Inflation Mega-Trend download the Inflation Mega-trend Ebook now, which includes analysis and precise forecasts for:
Interest Rates
Economy
Inflation
Gold & Silver
Emerging Markets
Stock Markets
Stock Market Sectors and Stocks, including ETF's
Natural Gas
Agricultural Commodities
House Prices
Currencies
Crude Oil
Your Analyst.
By Nadeem Walayat
Copyright © 2005-10 Marketoracle.co.uk (Market Oracle Ltd). All rights reserved
Featured Analysis of the Week


Most Popular Financial Markets Analysis of the Week :
1. Paper Gold Market Is Going to Explode, Buy Physical Bullion NOW!
By: Gordon_Gekko
Evidence seems to be mounting that we are headed towards some sort of implosion in the paper Gold market, and perhaps the currency/bond markets in general. Let's take a look:
2. Gold Supported by Geopolitical and Sovereign Risk as S&P and Moodys Warn US
By: GoldCore
Gold Supported by Geopolitical and Sovereign Risk as S&P and Moodys Warn US
3. Ford Motor Company Is Ready to Haul In a Fortune for Investors
By: Horacio R. Marquez
Last week the Money Map team got together at the Baltimore Marriott and had a two-day conclave to discuss the market and what we can do to better serve you. We had many productive exchanges about our market views, preferred ways to profit, and other important issues.
4. China Joins Inflation Mega-Trend, Stock Market Drifts Higher Into Resistance, Delaying Correction?
By: Nadeem_Walayat
The stock market drifted higher all week with the Dow closing up at 10625, meanwhile the FTSE raced ahead to a new bull market high of 5625, which is not surprising given the fact that the FTSE is mostly populated with international companies with a large % of overseas earnings, therefore a 10% drop in sterling makes these stocks 10% cheaper hence the out performance of the nominal indices.

5. Marc Faber Says We're All Doomed and Washington Can't Do Anything About it
By: Submissions
Washington is patting itself on the back for having orchestrated an amazing economic recovery. But Washington lawmakers are a delusional bunch of boneheads, say Marc Faber and Mike "Mish" Shedlock, editor of the Gloom, Boom, and Doom Report and investment advisor at SitkaPacific Capital Management, respectively
6. Marc Faber Says Cash is High Risk, U.S. Dollar Will Eventually Fall to Zero
By: Submissions
Marc Faber, publisher of the Gloom, Boom & Doom Report, reveals his views on the inflation/deflation, of the US dollar. Marc says, cash and treasury bond will lose and the winners will be foreign currency and commodities. Equities have some power to hedge inflation.
7. U.S. Financial System is On the Edge of Default
By: Bob_Chapman
The dramatic and costly undertow of deflation continues unabated, as government via fiscal policy and the Federal Reserve, by creating money and credit out of thin air, proceed to overpower this deflation with massive inflation.
8. Stock Market Run Run Away
By: Toby_Connor
Last week I hypothesized that the markets are "On the Brink of an Asset Explosion". If this is going to play out then we can probably expect to see runaway moves develop in virtually all assets soon.
You're receiving this Email because you've registered with our website.
How to Subscribe
Click here to register and get our FREE Newsletter
To access the Newsletter archive this link
Forward a Message to Someone [FORWARD]
To update your preferences [PREFERENCES]
How to Unsubscribe - [UNSUBSCRIBE]
About: The Market Oracle Newsletter
The Market Oracle is a FREE Financial Markets Forecasting & Analysis Newsletter and online publication.
(c) 2005-2010 MarketOracle.co.uk (Market Oracle Ltd) - The Market Oracle asserts copyright on all articles authored by our editorial team. Any and all information provided within this newsletter is for general information purposes only and Market Oracle do not warrant the accuracy, timeliness or suitability of any information provided in this newsletter. nor is or shall be deemed to constitute, financial or any other advice or recommendation by us. and are also not meant to be investment advice or solicitation or recommendation to establish market positions. We recommend that independent professional advice is obtained before you make any investment or trading decisions. ( Market Oracle Ltd , Registered in England and Wales, Company no 6387055. Registered office: 226 Darnall Road, Sheffield S9 5AN , UK )
Copyright 2010 MarketOracle.co.uk
© 2005-2019 http://www.MarketOracle.co.uk - The Market Oracle is a FREE Daily Financial Markets Analysis & Forecasting online publication.

Only logged in users are allowed to post comments.
Register/ Log in