The Race for Arctic OIl, Gas and Metal Resources
Commodities
/
Arctic Resources
Aug 08, 2007 - 10:16 AM GMT

Sean Brodrick writes: A lot of people are going to the Arctic these days.
The U.S. is sending an icebreaker there to help expand its territorial claim … Canada is planning on building as many as eight armed patrol ships and a deep water port to reassert its sovereignty over Arctic territory … and last week, Russian explorers planted a national flag on the seabed under the North Pole.
Boy, that move by the Russians had me upset. See, I'm going to the Arctic this weekend, and I wanted to stake a claim to the region's vast treasure-trove of mineral wealth … for the People's Republic of Sean. Darn you, Vladimir Putin!
Okay, I won't be planting a flag on the Arctic sea floor anytime soon, but I am going to the Arctic this Saturday. Let me tell you why, and what I'm hoping to find …
A Race for Wealth in The Last Place on Earth
As a species, we've spent the last century drilling, mining and pumping out resources around the globe at a furious pace. Now, we're literally getting to the ends of the Earth. And — SURPRISE! — the Arctic is chock full of natural resources.
Explorers and miners are starting to pry lots of resources from the Arctic's icy grasp — gold, copper, zinc, aluminum, nickel, uranium and more.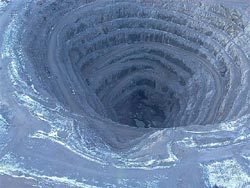 Miners are getting gold, copper, zinc, uranium, nickel and more from the Arctic.
Adding to the frenzy, climate change is shrinking the Arctic icecap and opening new sea lanes. That makes it easier to find new fisheries, oil fields and motherlodes of minerals. The race to claim and conquer this brave new world is on.
Untapped energy reserves are getting a lot of the attention. The U.S. Geological Survey estimates that the Arctic seabed and subsoil hold as much as 25% of the world's undiscovered oil and gas.
That's why the Russians are up there — hoping to bolster their claim on 1.2 million square kilometers of Arctic territory. Russia estimates the area holds at least 10 billion tons of oil and natural-gas reserves.
Under international law, no country owns the North Pole or the region of the Arctic Ocean surrounding it … yet. The five surrounding Arctic states, Russia, the United States, Canada, Norway and Denmark (via Greenland), are limited to a 200-mile economic zone around their coasts. However, Canada has long laid claim to much of the Arctic. And while the Russians may be planting flags, the Canadian Navy has already made several recent excursions, with more planned.
I have heard stories from miners and explorers about the vast wealth of the Arctic: Pure copper boulders the size of Volkswagens littering an icy stream … frozen fields of gold nuggets so pure they don't even have to be milled … all this and more, untouchable for decades after discovery simply because it was too far and too frozen to recover economically. Until now.
I'd like to check it out and see for myself …
Diamonds: Finding Ice Underneath the Arctic Ice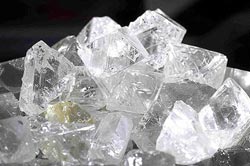 There's more than one kind of ice up in the Arctic!
I'm going to the Arctic for diamonds — lots and lots of diamonds — as I check out what could be the world's next great diamond mine.
Ask people where they think most diamonds come from and they'll say South Africa. That used to be true. But Botswana and Russia are now the world's leading producers of diamonds.
Canada is right behind them at #3, mining about 15% of the world's supply. The country's diamond industry is now worth more than $2 billion as production soared 8% to 12.6 million carats in 2004 (the latest figures available). And this is in an industry that didn't even get started until 1980, when major discoveries of kimberlite (diamond-bearing rock) were first discovered.
Canada became a diamond producer in October 1998 when the Ekati diamond mine, owned by BHP Billiton, opened about 187 miles northeast of Yellowknife. In the first six months, that mine produced one million carats of diamonds. Its average production over its projected 20-year life is expected to peak at three to five million carats a year — 4% of world production by volume.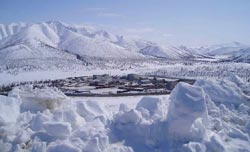 Canada became a diamond producer with the 1998 opening of Ekati.
The second Canadian diamond mine, Diavik, began production in 2003. During its projected 20-year life, average diamond production from this mine is expected to peak at six to eight million carats a year — about 5% of the world's total supply.
More Canadian diamond mines are coming online. This year, Snap Lake (owned by DeBeers) goes into production. The Snap Lake mine was featured in "Ice Road Truckers," a television series you may have seen on The History Channel. Victor, a mine in northern Ontario also owned by DeBeers, should start production in 2008.
Most diamonds in Canada are found in the far reaches of the Northwest Territories or Nunavut — the so-called "barrens" populated by Eskimos and obsessed prospectors.
A Land of Caribous, Wolves, And Musk Ox Dinners!
I'm going to Nunavut. To get there, I'll go through Yellowknife — a town so remote that civil servants get "hardship pay" just for working there. Then I'll trek to another town that is best known for its spectacular sea kayaking and the local delicacy of musk ox.
But even that's not far enough! I'll have to board a helicopter to get to the mining camp. This place is literally "off the map" — I tried to find it on Google maps and it came up as a blank space!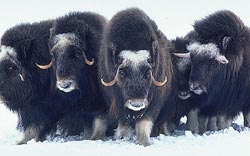 I'm more interested in the diamonds than the musk ox …
Why would anyone go so far to find diamonds? Well, diamonds are incredibly rare. Gold is measured in terms of ounces per tonne of rock, sometimes grams per tonne. Diamonds are measured in carats, or 200-milligram increments. In other words, diamonds make up one billionth of the source rock.
It's a lot cheaper to dig up natural diamonds — even in remote locations — than to make them artificially. And natural diamonds have a superb gem quality that artificial diamonds can't equal.
There are always risks involved, of course. For example, Jericho, a mine in Nunavut, started production last year. Soon afterward, the operator, Tahera Corp., reported it was finding fewer high-quality diamonds than expected while production costs were soaring.
Now, the resource that I'm going to visit has the potential to be one of the biggest diamond mines in Canadian history. Even better, they don't have to build a road to the middle of nowhere. They have access to the sea, which will allow them to bring in supplies and haul out diamonds.
Still, I'd rather brave snow and ice for a couple days and see everything in person before I recommend this stock to my Red-Hot Canadian Small Caps subscribers.
I'll let you know what I find up in the Arctic as soon as I get there … so stay tuned.
Yours for trading profits,
By Sean Brodrick
This investment news is brought to you by Money and Markets . Money and Markets is a free daily investment newsletter from Martin D. Weiss and Weiss Research analysts offering the latest investing news and financial insights for the stock market, including tips and advice on investing in gold, energy and oil. Dr. Weiss is a leader in the fields of investing, interest rates, financial safety and economic forecasting. To view archives or subscribe, visit http://www.moneyandmarkets.com .
© 2005-2019 http://www.MarketOracle.co.uk - The Market Oracle is a FREE Daily Financial Markets Analysis & Forecasting online publication.
Comments
Dan
08 Aug 07, 14:16
Russian Oil Report


Russia's oil boom is an interesting issue. The U.S. is not the only country interested in the production of oil in the Russian province. Here is a list i found of the companies and countries involved.

http://www.whiskeyandgunpowder.com/ppc/RussianOilReport2.html

Cheers!




Only logged in users are allowed to post comments.
Register/ Log in