Gold Analysis "A Star Rises!"
Commodities
/
Gold & Silver
Aug 06, 2007 - 11:21 AM GMT

Take a look below at gold's Friday price action. Gold is so much like a spring. Every time it finds itself being pushed down it jumps right up again. What you are looking at below is the evidence of a true bull market in action.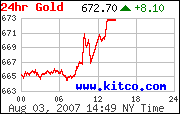 If you are in a big hurry for gold to ascend the present ceiling price of 700 just hold on and wait time out. It continues to occur to me that there are basically two divided camps among the gold market. There are those who never invest a penny but ***** and moan about the direction of the gold market.
Then there is another class who choose not to complain but instead quietly purchase quality gold and silver mining companies and make money. This game is about making money and there is a great deal being made even as we speak. The gold price is not crashing and, instead, is doing quite well.
Dave, "While the carnage continues on Wall Street under the radar screens of most they're flocking to buy gold." "I could go on and on with reasons to stock up on the metal during these typically weak summer months. In order to get a better price you buy on weakness and only on down days. You only have to look at the action in gold today, 08/01/07 to know that gold is being accumulated at lower levels. GOT GOLD?" EP
Is gold a dying market? Anglo Gold just partnered with Dynasty to develop Dynasty's Pebble project in Alaska . Anglo Gold will be investing 1,425,000,000 dollars (that's one billion and 425 million) of their money to get the project under construction. That is not small potatoes and is indicative of the trust the mining community has in gold long term. The first ounce of gold will not even be pored until 2015. Is that not trust and commitment in spades? I remember recommending this little company called Dynasty back when their share price was a humble .60 cents Canadian. My how things do change.
"Northern Dynasty & Anglo American Establish 50:50 Partnership to Advance Pebble Project to Production" "Northern Dynasty Minerals Ltd. ("Northern Dynasty") (CDNX:NDM.V - News)(AMEX:NAK - News) announces the signing and completion of a transaction with Anglo American plc ("Anglo American") (LSE:AAL.L - News)(JSE: AGL), whereby a wholly owned subsidiary of Anglo American ("Anglo") has become a 50% partner with The Northern Dynasty Partnership (a wholly owned affiliate of Northern Dynasty) in a limited partnership with equal rights in the Pebble Copper-Gold-Molybdenum Project (the "Pebble Project") in southwestern Alaska, USA, by making a staged cash investment of US$1.425 billion." Click
And what about that perfect storm soon to come barreling around the corner?
Dale Doelling from Trends In Commodities warns 'The perfect storm is about to come raining down on us, and the precious metals will be the place to be in the coming year…' 'So 'hold on to your gold, silver, platinum, palladium and copper –these are the markets that will pay huge rewards'
I like listening to what the professionals have to say because that is how I keep my bearings and stay on course.
Kenneth Rogoff, professor of economics at Harvard says 'For at least the next 50 to 75 years, prices for many natural resources are headed up.' 'If you don't already have a substantial share of your equity portfolio in energy resources, precious metals and base metals, do some switching into them now.'
I know you have heard the following information below before but I think it is a good idea to hear it again and again.
Leading investment banks including Deutsche Bank, Barclays Capital, Scotia Mocatta, Standard Bank PLC, Merrill Lynch and Goldman Sachs are all forecasting higher gold prices.
And the warning below is already coming true today as we speak and converse.
Robert McTeer, former president of the Federal Reserve Bank of Dallas warns '...There will be a crisis that will result in rapidly rising interest rates and a rapidly depreciating dollar that will be very disruptive.'
Presently we are witnessing an alarming deterioration in the US Dollar that has just begun in earnest in the past year or so. In all of history when any country has reached the level of debt the US has reached there has always been a currency collapse. The paper house of cards built out of the US dollar is beginning to come tumbling down.
Foreigners & professionals recognize this inescapable fact, but not the average man on the street. The story behind gold is the plunging US dollar. What we are presently witnessing is the slow break down of the US financial order.
David: "Of course the price should be dramatically higher, but you have to expect this pressure to keep the prices from rising so fast from those that have an agenda to show stability." Chuck G.
During the last major gold bull market between 1970 to 1980 it was not unusual to see gold and silver mining stocks often climb from as low as a dime to over a 100 dollars a share.
What star do I make reference to rising? A golden star of course. Slowly as the wheels of time turn gold is becoming more and more a natural and necessary part of an investor's portfolio. My only complaint for gold is that I personally believe the price climbed too quickly after surmounting 500 in late 2005.
I suppose I could beat my head against a wall and there would still be these non investors who complain about the direction gold is headed in. My primary concern, though, is the direction of quality gold and silver stocks that will do well regardless of the price of gold.
And here is really where the real rub is. Too many investors have bought low quality gold and silver shares that are going no where and just sitting in stationary limbo. And everyone knows that a rising tide lifts all boats in the harbor. But if I were you I would trade those worthless shares now for the quality winners.
Don't pick your gold stocks via a dart thrown against the wall. There are excellent companies out there worth owning and you need to do an analysis to see if the shares you are holding are really worth hanging on to. If you are complaining about the gold price you probably own the wrong gold and silver shares. And how goes the housing market fiasco?
" U.S. trouble extends to global markets" "The worsening U.S. credit crunch is beginning to cast an ominous shadow. Markets from London to Shanghai dipped Wednesday amid worries that problems that began with subprime mortgages — loans to borrowers with less-than-stellar credit — in the U.S. housing market are infecting other assets." "This will increasingly become a global phenomenon. … We're now seeing contagion to other financial markets…" "The U.S. credit crunch, which began with defaulting subprime mortgages before hitting securities linked to those loans, could spread further: Foreigners holding mortgage-backed securities could suffer major losses in the ongoing market downdraft." "Anecdotal evidence suggests that overseas investors and hedge funds have significant exposure to the riskier" types of these investments, said an International Monetary Fund report in April." "We really are just at the beginning of this," says Desmond Lachman of the American Enterprise Institute." "Either country could be rocked if those investors are forced into a fire sale to cover their losses at home." Click
What is sad is that we have not even begun to see the carnage in the housing industry yet. It will probably begin to really peak next summer in 2008.
Hi David, "The "dead cat bounce" in the housing industry is over…" "We are currently in another "dead cat bounce" in the USD, which will unwind rather quickly." "I also predict the USD dropping below 80 shortly…" "All the above conditions are extremely PM BULLISH!!" Anthony S.
Gold Letter, Inc. reviews gold, silver, uranium and other resource stocks under valued and poised to rise in this time of increased demand for all resources. Natural resources and related contrarian stocks will only escalate in value as the world continues to experience unprecedented population growth. Gold Letter's 10 best performing stocks are up over 2,000% and GL's top 55 performing stocks are up over 500%. Close to 90% of all Gold Letter's recommendations since inception in January, 2003 are up over 250%. GL charts are computer generated and updated every hour while markets are open.
Click here to order Gold Letter
"The Worldwatch Institute, an organization that focuses on environmental, social and economic trends, says the current rate of global demand for resources is unsustainable." Click
Send me an email!
By David Vaughn
Gold Letter, Inc.
David4054@charter.net
The publisher and its affiliates, officers, directors and owner may actively trade in investments discussed in this newsletter. They may have positions in the securities recommended and may increase or decrease such positions without notice. The publisher is not a registered investment advisor. Subscribers should not view this publication as offering personalized legal, tax, accounting or investment-related advice. The news and editorial viewpoints, and other information on the investments discussed herein are obtained from sources deemed reliable, but their accuracy is not guaranteed. © Copyright 2007, Gold Letter Inc.
© 2005-2019 http://www.MarketOracle.co.uk - The Market Oracle is a FREE Daily Financial Markets Analysis & Forecasting online publication.
Comments
Loren
08 Aug 07, 06:56
silve & gold not crashing


With the markets crashing over the last week, see gold & silver




Only logged in users are allowed to post comments.
Register/ Log in