Lower Standards - The Downsides to Outsourcing to China
ConsumerWatch
/
China Economy
Aug 04, 2007 - 07:50 AM GMT

We were greeted this week again with something that is becoming rather familiar and worrisome; a recall of yet another Chinese-made product. This time it was toys which contained paint with unacceptable lead levels. Most if not all of us remember the recent pet food scandal in which melamine was found in pet food. This substance was responsible for the deaths of an untold number of pets, our own included.
This is but one of the many downsides of outsourcing. Unfortunately, it is one of those inconveniences which are rarely talked about when trade agreements are foisted on the American populace. Or, in the case of China, one of the downsides never talked about when the terms 'cheap products' and 'cheap labor' are mentioned.
Talk radio was quick to poo-poo the idea that high levels of lead in paint is any big deal, citing the well-known situation in the 1970's where children got sick from eating paint chips. As usual, they missed the entire point, preferring to blame parents for letting their kids eat paint chips. Of course it is easy to teach a kid not to eat paint chips. That should be common sense. However, try teaching a kid NOT to put toys in their mouth. That is another matter entirely.
Lower Standards?
One of the biggest problems with allowing goods to be made in foreign countries are sometimes huge differences in the standards used to manufacture those products. For many products, the difference in standards are imperceptible. However, when you start talking about food, children's products, pharmaceuticals and similar types of products, these differences can become glaring. China, in their stage of rapid growth is clearly interested in pushing out products. We are as much responsible as the Chinese because we are just as eager to borrow to consume them as they are to send them to us.
Having a need for safe children's toys myself, I decided to do a little research and see if my conception that almost all toys were made in China really was true. In one minute's time I found a website that contains a somewhat often updated list of toys made in the USA. The website does urge consumers to check labels as companies are constantly switching their suppliers and many of these suppliers are outside the United States. Simply copy and paste the link into your browser.
http://www.seanet.com/~bross/usamade.htm
Other Downsides...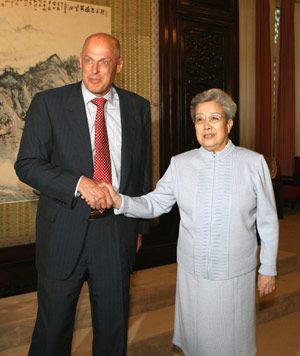 The major players in the US financial system have been visiting China with increased frequency during the first part of 2007. Most recent was Treasury Secretary Henry Paulson's visit seen below:
Ben Bernanke was in China a few months ago. The spin is that Paulson and Bernanke are trying to prevent a trade war between the US and China. Congress appears intent on irritating the Chinese with sanctions, tariffs, levies etc. Whatever their real mission is, I certainly don't believe they are over there complaining about melamine or lead paint in kid's toys. My guess is that the real reason for these visits underscores our need for cooperation in a slow and timely unwinding of the dollar versus its Chinese counterpart.
Perhaps the largest economic downside to outsourcing is that unless a trade balance can be maintained, it results in the amassing of large quantities of US Dollars which are then used to buy US assets like stocks, bonds and real estate. On first glance this might appear to be a good thing as it provides a much-needed prop under our equity, bond and real-estate markets. However, what happens when we no longer own our own companies and land? What happens when foreigners own the roads, bridges and infrastructure? These are big picture questions and the ones we should be asking elected officials as we continue exporting our productive capacity.
By Andy Sutton
http://www.my2centsonline.com
Andy Sutton holds a MBA with Honors in Economics from Moravian College and is a member of Omicron Delta Epsilon International Honor Society in Economics. He currently provides financial planning services to a growing book of clients using a conservative approach aimed at accumulating high quality, income producing assets while providing protection against a falling dollar.
© 2005-2019 http://www.MarketOracle.co.uk - The Market Oracle is a FREE Daily Financial Markets Analysis & Forecasting online publication.

Only logged in users are allowed to post comments.
Register/ Log in