How Investors Can Profit From China's Economic Boom
Stock-Markets
/
China Stocks
Feb 03, 2010 - 08:50 AM GMT

Twenty-five hundred of the world's most influencing corporate and government leaders gathered in the Alpine ski resort of Davos, Switzerland last week.
They weren't there for skiing, although I'm sure some did. What these world leaders gathered in Davos for was the 40th World Economic Forum.
The World Economic Forum is a global organization committed to "improving the state of the world" and "engage leaders from all walks of life to shape the global agenda." Those are lofty goals and they tackle everything from climate change to population growth, and even the economics of happiness.
I'm sure they had a lot to discuss given the weak state of the global economy and I hope that they listened closely to what the Chinese leaders had to say because China is one of the few economic bright spots in the world.
The Chinese economy grew by 8.7% in 2009 and by an amazing 10.7% in the fourth quarter of 2009. Those are impressive numbers on their own merit, but even more amazing when you realize that the rest of the world's economy shrank by 0.8% last year, the first contraction since World War II.
China's strong economy is rubbing off on the rest of the world. The China National Statistics Bureau calculates that about 20% of world economic growth is attributable to China and the United Nations estimates that China has accounted for half of world economic growth this decade.
China isn't ready to slow down, either. The International Monetary Fund released its Global Economic Update and said that it expects the global economy to grow by 3.9% in 2010. The fastest engines of growth remain, as they have for years, in Asia. The IMF estimates that China's growth rate will be 10% this year and 9.7% in 2011.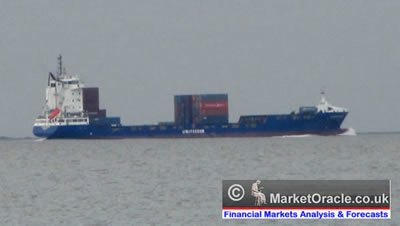 About 20% of world economic growth is attributable to China — half of world growth this decade alone, according to the U.N.
China isn't the only hot spot in Asia, either. The IMF expects India's growth rate to be close to 8% both years.
The picture isn't so rosy for the mature, established countries. The IMF expects the U.S. economy to grow 2.7% this year and then drop to 2.4% growth in 2011, Germany to grow by a measly 1.5% in 2010 and 1.9% in 2011, Britain by 1.3% this year and 2.7% in 2011, and Japan grows 1.7% in 2010 and 2.2% in 2011.
Don't Underestimate the China Boom
Do I agree with the IMF? Well, the IMF (as well as Wall Street) has consistently underestimated the Chinese economy and consistently overestimated the U.S. and European economies. I am confident that China will do much better than 10% and for the U.S. to struggle to stay out of a recession.
But whether you agree with the scale of my or the IMF's predictions, the one thing that I think is unquestionable is that China will grow at four, five, or more times the pace of the U.S. economy.
I don't say that because of any detailed research reports I've read. I say that because I've personally visited factories, poked my nose into loading docks to see how full the trucks are, dodged forklifts, talked to everybody — taxi drivers, janitors, construction workers, waiters, cashiers, policemen, housewives — that would give me the time of day.
You see, I don't trust those consumer sentiment surveys that universities and brokers put out. I do my own boots-on-the-ground research and that gives me what I believe is a much more accurate picture of the economy.
And what I'm finding is an enthusiastic optimism from Chinese about their individual situation and the country that they are so fiercely proud of.
As an investor, you have to ask yourself which part of the world deserves your investment dollars. Do you want to hitch a ride on a slow-moving station wagon or a rip-roaring sports car?
Chinese Vice-Premier Li Keqiang told the global leaders at Davos, "Though it is winter, here we feel the spring of the coming economic recovery."
Top No-Load China Funds 2009

Oberweis China Opportunities (OBCHX)

+122%

ProFunds Ultra China (UGPIX)

+117%

The USX China Fund (HPCCX)

+104%

Guinness Atkinson China (ICHKX)

+88%

Matthews China Fund (MCHFX)

+74%
He's right and if you want to add more China to your portfolio, you have several choices.
There are several excellent mutual funds (see list) that focus on China, but I think you'll do much better with individual stocks instead of funds. Why? Mutual funds and ETFs are often heavily invested in large, inefficient, government-run companies instead of the fast-growing companies run by Chinese entrepreneurs.
Investing in Chinese stocks is easy. In fact, you don't even need to leave the comfort of your current broker to invest in Chinese stocks. I say that because there are more than 100 Chinese stocks listed on the New York Stock Exchange and the Nasdaq.
I'm talking about huge, multi-billion-dollar companies, such as China Mobile (CHL), CNOOC (CEO), New Oriental Education (EDU), China Life (LFC), Mindray Medical (MR), PetroChina (PTR) … and many more.
In fact, four Chinese companies just went public last week in the U.S.: China Education Alliance (CEU), Andatee China Marine Fuel Service (AMCF), China Electric Motor (CELM), and Century 21 China (CTC).
By the way, you would have learned about those IPOs if you are a regular reader of my blog. It's free and full of what I think is the most important and timely information about successfully investing in Asia.
Do yourself a favor. Cut back on your U.S. stock holdings and increase your weighting to Asian equities, especially China. I believe you'll be delighted with the results and the richer for it.
Best wishes,
Tony
This investment news is brought to you by Uncommon Wisdom. Uncommon Wisdom is a free daily investment newsletter from Weiss Research analysts offering the latest investing news and financial insights for the stock market, precious metals, natural resources, Asian and South American markets. From time to time, the authors of Uncommon Wisdom also cover other topics they feel can contribute to making you healthy, wealthy and wise. To view archives or subscribe, visit http://www.uncommonwisdomdaily.com.
© 2005-2019 http://www.MarketOracle.co.uk - The Market Oracle is a FREE Daily Financial Markets Analysis & Forecasting online publication.

Only logged in users are allowed to post comments.
Register/ Log in