Stock Market Update: Along for the Ride
Stock-Markets
/
US Stock Markets
Jul 29, 2007 - 09:49 AM GMT
Last weeks Market update said:
It's no secret that I've been getting closer and closer to calling a major top while maintaining the unbiased flexibility to trade both sides of the market as we approach our final destination. We've been perfectly cautious of overextended rallies, while also avoiding panic on the dips and buying bottoms. IF I could have my way from here, I would want to see this market attempt one more screaming rally to just above its recent highs and, at that point, if all things remained the same, I'd be willing to call for a substantial turn, not only in the stock indices, but in several other major markets.
If we can't construct a rally from Fridays close, or just a bit lower, then once price takes out some specific target levels , we'll start to get short and approach the market from a bearish perspective .
Market Update: Trade Like TTC July 22, 2007
TTC is extremely happy to have been able to get its members as close to a possible top as it did without calling for tops every week.
This is actually Joe filling in for Dom, who's on vacation in an undisclosed location as promised in last week's update. He did send me some charts, though, and some notes to share, given the extremes seen this week. Now that the bears have clearly awoken, Dom's first concern is that members made it through the week, that there were no blowups, and that no one has the margin clerk breathing down their neck. That aside, he wants to know if you made some MONEY this week, because it was certainly there to be made! I know several members made out quite nicely on the wide swings the markets were throwing off the past few days. Did you go along for the ride? Or was this you: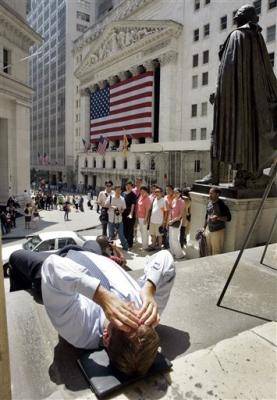 Dom promised in the previous update that members were going to receive important levels and charts that nonmember readers of these weekly updates wouldn't get, and that's the case here as well. As it should, the market outlook evolves in realtime, and from day to day, so the bottom line is you need to join if you want to get on board the unbiased bandwagon and make some bucks. But to clarify the situation for members and nonmembers alike, here's what one of the best analysts and futures traders on the web wants to share from the wild week that was.
The last update noted Dom's long-awaited 1556 target in the S&P futures had been reached, but that the pattern could still unfold with a new high. There was no confirmation of a top and therefore an unbiased trader needed to be able to react to what the market would give and get long if there was to be a rally, but also not be afraid to buy puts or get short if key levels were breached. Either way, the recent range-bound trading of the previous few weeks suggested a powerful move was going to emerge in one direction or the other. TTC played to the long side as it seemed the S&P would try to reach for those new highs on Monday. As everyone knows, it fell far short and then tumbled precipitously… and Dom was ready to growl with the grizzlies when the time for big money on the downside was right.
As usual, he was ready in advance with a game plan. After choppy trading the first half of the week, Dom figured Thursday's opening to be the crucial moment. The chart below was posted Wednesday night, while the option for a quick short-covering rally to a new high was still on the table. Dom's warning was that failure to take out Wednesday's highs would open the floodgate and that traders should be ready for a big move in whichever direction the market decided to take. When Thursday opened with a gap down, the die had been cast.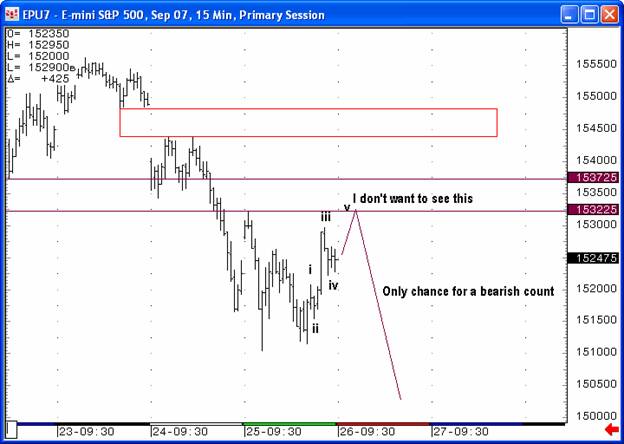 Quickly, Dom posted his key confirmation level for getting defensive with puts, 1504 ES. The futures popped higher the first time this number was hit, proving it was indeed the right level, and when it was taken out later in the morning, it gave the clear signal there would be a big move to the downside. Now short, Dom posted a target for the move, 1469 ES. As the market dropped to within two points of his target, Dom alerted members to the opportunity to get long for a bounce, which, in the extreme conditions experienced this week, yielded twenty points in about two hours. Not a bad ride!
The choppy action into Thursday's close was a reminder to "take the money and run", or TMAR as it's called on the site, where there's frequently occasion to be taking profits. Holding a position overnight in this high volatility is a risky proposition, and taking profits allows you to regroup and trade another day. As it happened, even traders who got short with Dom but missed the bounce opportunity, or who held onto their shorts, got another chance the next day.
After further review, Dom refined his downside target to 65/69 and knew the possibility of a return trip to satisfy these levels was still out there. He also posted support/resistance at 1481 and crucial resistance at 1488. As the chart below shows, failure at 1488 was the signal to get short again with an eye for the 65/69 target zone. This time the exact downside target was hit and a potential buying opportunity emerged.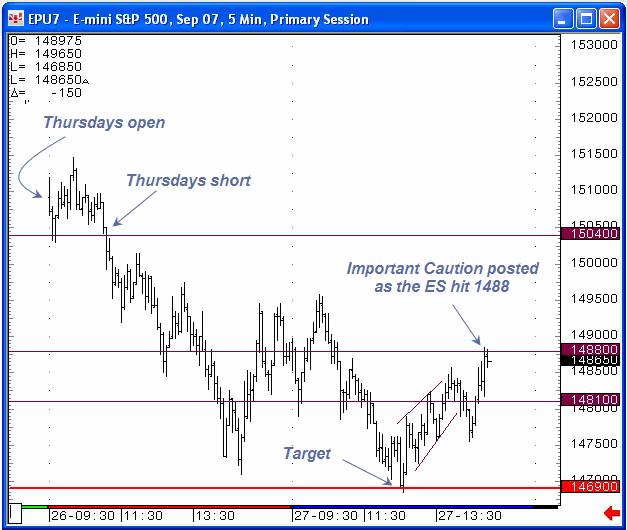 After getting long as the market hit Dom's bottom target, we happily watched other buyers mounting an impressive rally Friday afternoon. But, knowing the danger of marrying a position, Dom again called for TMAR when the market had climbed back to his 1488 resistance, and started looking for a short entry. Dom's exact post in bold was "1488 is very important now"
Breaking through 1481 was the confirmation we needed and sure enough, another reversal from one of Dom's numbers came through the tape and extended into a very fast thirty point decline, leaving the market to close at the lows of the week. If you were away all week and returned on Friday at 2:00, you could have made as much as $7600 on only 1 SP contract selling the exact high of the posted 1488 target!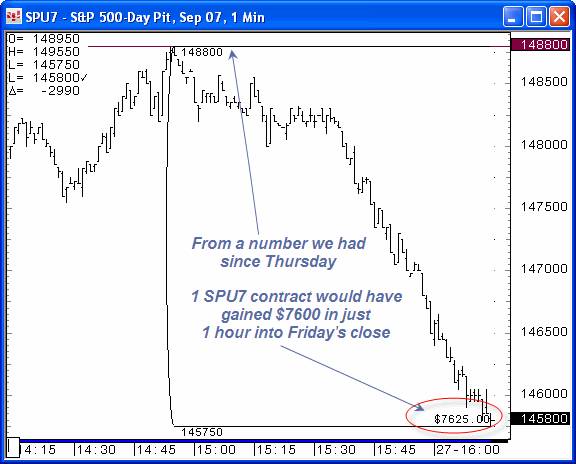 As any member of TTC should know, Dom has put aside the question of whether the official top is in on this market, and for good reason. Focusing on the top could give you a powerful move in one direction, but you can also be easily whipsawed out of any profits you might have had. When the market's rallying twenty points in two hours and then reversing back thirty points the next hour, working both sides is the only way to make money. And talking about the top has nothing to do with that trade.
Essentially, Dom's target for the S&P has been hit and impulsive waves downward from that target have now materialized. Formulating an exact count from that high is difficult because the market has not yet clarified which level is the true top and which are corrective retracements, but as the examples above show, Dom's versatile system is just as effective using target numbers as it is with Elliott wave counts. This will be an important strategy to remember in the days ahead. But, as far as making the official call that the top is in, Dom's not ready to do it yet, mostly just to keep it from being a distraction.
The unavoidable fact about bear markets is that they're given to violent snapbacks that eat up all your hard-earned profits. This being the case, Dom will not hesitate to get long for what he believes could be a huge snapback from this very fast decline. In fact, Dom will be looking for the S&P to find support by next week, which, of course, he'll buy. Most of TTC's energy will be spent on that move up from whatever low we make next week so that we can pinpoint what the market is exactly doing. Don't forget the lesson of the final hour on Friday, though. We're here to trade: up or down, Dom will be buying and selling reversals of his target numbers and, if you want to go along for the ride, so should you.
Since the March lows we have mentioned our Dow maps and I'm sure many members have made money using them and saved a lot more buy not shorting the SPX from the 1364 area!!! Below is only one of many we had been following. This Weekly Dow chart shows a price that we had focused on and a low to low to high cycle that was targeting the week of July 23 rd . Talk about a picture worth a thousand words.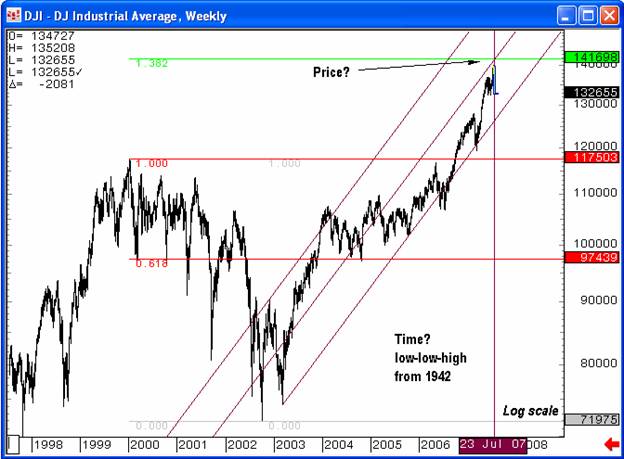 by Joe Nicholson (oroborean)
This update is provided as general information and is not an investment recommendation. TTC accepts no liability whatsoever for any losses resulting from action taken based on the contents of its charts,, commentaries, or price data. Securities and commodities markets involve inherent risk and not all positions are suitable for each individual. Check with your licensed financial advisor or broker prior to taking any action.
© 2005-2019 http://www.MarketOracle.co.uk - The Market Oracle is a FREE Daily Financial Markets Analysis & Forecasting online publication.

Only logged in users are allowed to post comments.
Register/ Log in