Investing in Specialized Transportation ETFs 2010
Companies
/
Exchange Traded Funds
Jan 21, 2010 - 12:40 PM GMT


Today I'd like to tell you about a sector that is deeply intertwined with economic recovery.
I'm talking about transportation.
We live in a mobile society, even if we are in the internet age. Not only do we move ourselves around, we also depend on quick, efficient transport to sustain our advanced economy.
Ever wonder how your neighborhood grocery store keeps fresh fruit and vegetables year-round? Transportation, that's how. Food doesn't just magically move itself from wherever it grows to wherever you are. Someone has to haul it — by truck, railroad, ship, or airplane. And even when you shop online, those purchased products must be delivered.
The economy depends on efficient transportation.
Now you can understand why transportation is a huge segment of the economy. And here's where it gets interesting …
Transports: The Canary in the Coal Mine
Watching transportation stocks is a good way to keep an eye on the overall health of the economy. When demand starts to pick up, transport companies have to get busy moving stuff around.
Remember, a lot of stuff has to be moved before consumers actually buy it. That means the transportation companies are among the first to benefit from economic recovery. When the transports take off, there's a good chance the rest of the economy won't be far behind.
It works the other way around, too. When business slows down, merchants cut back their orders. Next thing you know, ships are sitting idle in ports and trucks are driving around half-empty. This is often apparent long before manufacturers and distributors see their own volumes drop.
So how can you play the transport sector? I have a suggestion for you …
Transportation ETFs
Exchange-traded funds (ETFs) offer a quick and easy way to get exposure to most market sectors. Transports are, I must say, a little bit underserved. Currently U.S. investors have access to only one broad transport sector ETF, and three more specialized offerings.
We depend on the trucking industry to keep grocery stores stocked with fresh food.
One reason for this is that stocks don't always fit into neat categories. Consider Boeing (BA). They make airplanes that are used by transportation companies. But Boeing's biggest customer, by far, is the U.S. government along with foreign military forces. So is Boeing a transport stock, a defense stock, or both? It's not easy to say.
Most index providers classify the transports as a subset of the "industrial" sector. If you buy SPDR S&P Industrials (XLI), for example, you'll have a piece of conglomerates like General Electric (GE) as well as transport stocks like FedEx (FDX) and Union Pacific (UNP). (You'll have Boeing, too.)
If you want to zero in specifically on the transportation stocks, the best choice is iShares Dow Jones Transportation Average Index Fund (IYT). This is an ETF that follows the venerable Dow Transports index, which includes 20 of the top U.S. railroads, truckers, delivery services, airlines, and shipping companies.
Look at this weekly chart below of IYT and you'll see what I mean about transports sometimes leading the larger economy. The shares topped out just below the $100 mark back in the summer of 2007, and have yet to move significantly above the point despite several attempts.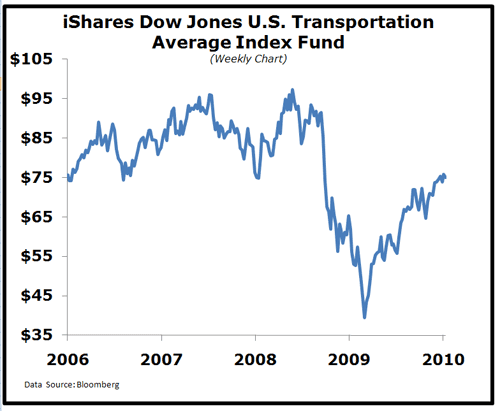 We know in hindsight, of course, that the U.S. economy entered a deep recession in the last quarter of 2007. The fact that IYT stalled out several months earlier was a good clue. Perhaps even more telling is that IYT started losing ground to the broader market a year earlier, in July of 2006.
And then last year transportation stocks lagged behind the major market indexes, a strong hint that the recession had not run its course.
Specialized Transportation ETFs
In addition to IYT, there are three ETFs that cover more specific niches within the transportation sector:
Claymore/NYSE Arca Airline ETF (FAA) holds airline stocks. This is a particularly volatile niche. Airlines regularly face vicious competition, rising fuel costs, and labor unrest. Yet these stocks can truly fly when conditions are right. Since its inception on January 26, 2009, FAA has lagged IYT, but it has started to come on strong the past six months.
Claymore Delta Global Shipping Index ETF (SEA) holds stocks from around the world that are involved in maritime freight transportation. SEA outperformed both FAA and IYT the past year and has been surging the last few weeks, but it is still far below its 2008 peak.
PowerShares Global Progressive Transportation Portfolio (PTRP) holds stocks that are involved in the quest for environmentally-friendly means of transportation. This excludes most of the large, well-known industry players. PTRP had the misfortune to be launched in late 2008 just as financial markets began to crater. But it has since recovered nicely.
Should you buy any of the transport ETFs right now? That's for you to decide. But under the right circumstances, this sector can give you amazing results. So keep your eye on the transports.
Best wishes,
Ron
Weiss and Weiss Research analysts offering the latest investing news and financial insights for the stock market, including tips and advice on investing in gold, energy and oil. Dr. Weiss is a leader in the fields of investing, interest rates, financial safety and economic forecasting. To view archives or subscribe, visit http://www.moneyandmarkets.com
© 2005-2019 http://www.MarketOracle.co.uk - The Market Oracle is a FREE Daily Financial Markets Analysis & Forecasting online publication.

Only logged in users are allowed to post comments.
Register/ Log in