Outraged At Oil Companies, But Not Chicken Farmers?
Commodities
/
Agricultural Commodities
Jul 06, 2007 - 03:59 PM GMT

As gas prices continue going up, the debates are getting more emotional. About a month ago I had an interesting discussion or should I say argument about escalating gas prices. My "friend" adamantly put the blame on the oil companies. My argument about a few billion new entrants into the global economy creating supply/demand imbalances fell on deaf ears.


Regardless of the cause, there is absolutely nothing you or I can do about the price the oil. I have stopped worrying over things that are out of my control. I prefer looking for the opportunity in the crisis. The formula for investors is simple, increased revenue with relatively fixed expenses generates outsized profits. Buying stock in such companies offset rising prices at the pump, grocery stores or anywhere else.
Personally, I have made enough money trading Petrobras (PBR) to fill-up my car every week for the next couple of years. Petrobras, headquartered in Brazil, explores and produces oil and natural gas. In 2006, it produced on average 2.33 million BOE (barrels of equivalent) per day. The company has 11 refineries throughout Brazil, with a capacity of roughly 2.1 million barrels per day. It was ranked #86 in Fortune's list of the world's largest companies for 2006. An oil company with an emerging market kicker to boot – that's my kind of stock.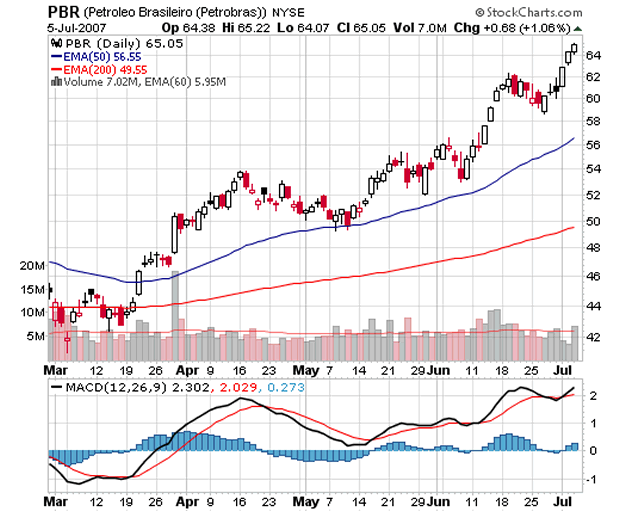 I have made my peace with the oil companies, but chicken farmers - that's a different story. According to wikipedia:
Chicken is one of the most used meats in the world. Nearly all parts of the bird can be used for food, and the meat is cooked in many different ways around the world. Popular chicken dishes include fried chicken, chicken soup, Buffalo wings, tandoori chicken, butter chicken, and chicken rice. Chicken is also a staple of fast food restaurants such as KFC, McDonald's, and Burger King.
With chicken being such a key item in our diets, I would think that there would be outcries about escalating chicken prices. Over the past 3 months, Whole Grade A, Ready-to-Cook, Ice-packed, New York delivered chicken has increased 7.4% per data from the U.S. Department of Agriculture . That's enough to make you want to ring the chicken's neck, but it is more expensive dead than alive.
Eggs have not escaped the price increases. Large USDA Grade A, White eggs on New York store shelves have increased 4%. If you prefer your eggs in a liquid, non-pasteurized state, it will cost 7.1% more than 3 months ago.
Gas has been volatile, but it is only up 5% over the period in discussion.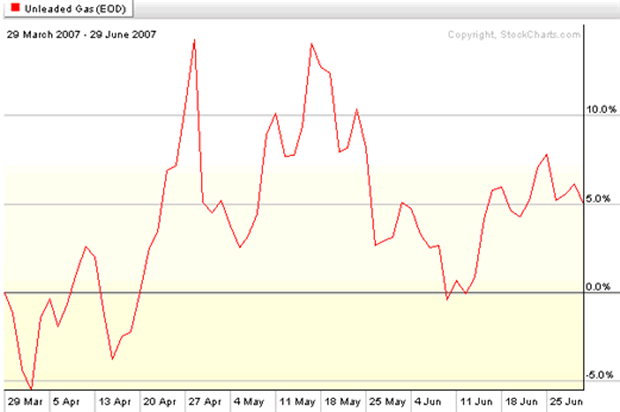 Although chicken product prices have increased more than gas over the same period, I haven't had one argument concerning the money grubbing chicken farmers. For whatever reason, chickens do not elicit the same uproar as oil.
One of the benefits of writing articles is that often readers send feedback. (Note: If you ever want a surge in email traffic – write a bearish article on gold. Gold bugs are quite an emotional group.) A reader of one of my recent articles, How I Made Eric Bolling's Agricultural Stock Play My Own , sent an email stating that I should take a look at Cal-Maine Foods (CALM). The company is primarily engaged in the production, grading, packing and sale of fresh shell eggs.
If you have read any of my previous articles, you know that I one of my favorite strategies is to buy high quality stocks, participating in a theme of choice, that are making new closing highs. Lo and behold - CALM was screaming "buy me."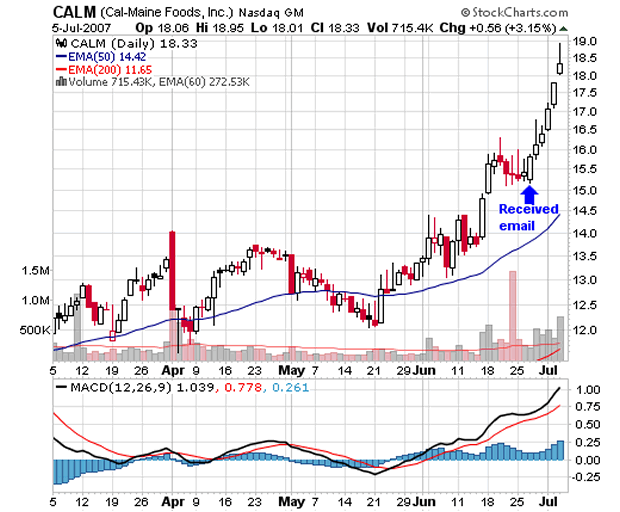 The sentiment may be different between chickens and oil, but the fundamentals are the similar. Higher prices lead to higher profits.
By Michael K Dawson
http://www.thetimeandmoneygroup.com/
Copyright © 2007 Michael K Dawson
Michael K Dawson founded the Time and Money Group with the aim of educating and sharing 20 years of experience on how to reach financial freedom. "Financial Freedom is freedom to focus on what is truly important to you and your family without having to trade time for a wage. It is enabled by a portfolio of income producing assets, managed by you, which generates sufficient income to cover your yearly expenses on an ongoing basis. It provides both time and money". The intent of his website is to become a repository of information to put you on the fast track to becoming financially free. For further infromation visit http://www.thetimeandmoneygroup.com/
© 2005-2019 http://www.MarketOracle.co.uk - The Market Oracle is a FREE Daily Financial Markets Analysis & Forecasting online publication.

Only logged in users are allowed to post comments.
Register/ Log in