The Feverish Pitch for Gold Real Money, Five Golden Rules for Bullion Investing
Commodities
/
Gold & Silver 2009
Oct 06, 2009 - 12:02 PM GMT


The feverish pitch for gold — and the worries over the declining value of the U.S. Dollar — are rising again. That's not surprising.
First, it's pretty much official: The U.S. is losing its status as the world's economic caretaker. That was made clear by the recent G-20 meeting in Pittsburgh.
It is now no longer the G-3 … the G-7 … or even the G-8 countries that are the world's bastion of economic decision makers. It is now the G-20, giving many of the emerging and developing countries, especially China and India, a far stronger voice in world economic policy than ever before.
That's great for those countries, and I am happy for them. But there's no question that it also shows the diminishing economic power of the United States — and the increasing power of our foreign creditors.
So not surprisingly, the value of the U.S. dollar continues to sink, barely lifting its head off the mat. Which is obviously why the price of real money — gold — is now, despite short-term gyrations, preparing to at least double in value.
And it's why there's such a feverish pitch around the world to gobble up that real money.
Today I want to address a concern many investors have …
How to Buy and Safeguard Your Gold
In the last 39 years, a series of gold bullion coins have hit the market: The South African Krugerrand in 1970 … the Canadian Gold Maple Leaf in 1979 … the U.S. Gold American Eagle in 1986 … and, most recently, the Singapore Lion in 1990.
And that's just a sample list.
Are gold bullion coins a good investment? Sure. But if you buy coins, you're going to pay for the fancy design and the rarity of the coin itself. And that can add up to a hefty premium over the actual value of the gold content, as much as 7 percent, or more.
Put another way, the price of gold would have to rise 7 percent just for you to break even on the investment.
Buy Small Gold Bars
Instead, if you're interested in physical gold, I recommend you invest in small gold bars. You can buy them in a wide range of weights — from one to 1,000 grams.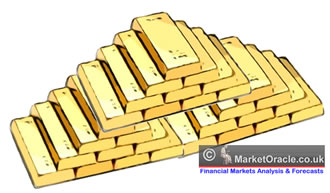 If you want to buy physical gold, I recommend small gold bars.
They contain a minimum of 99.5 percent fine gold and don't carry the premium that gold coins do. You can buy small gold bars or ingots for as little as 1 percent over the price of gold.
Right now, there are 94 accredited manufacturers of small gold bars that produce a staggering 400 different gold bars among them.
Which to choose? Any one of the 94 accredited manufacturers is fine.
But to help you narrow down your choices, I like Engelhard, Johnson Matthey, and PAMP.
Now, when buying gold, it's important to keep these five rules in mind …
Rule #1. Don't store your gold with the dealer you bought it from.
Sounds simple enough, doesn't it? But the fact remains that countless investors have been burned when their gold dealer went bankrupt: Ruffco … National Bullion … North American Coin & Currency … and Bullion Reserve are just a few gold dealers that went belly up.
And mark my words, as the price of gold continues to skyrocket, you'll likely see more bankruptcies, not less, down the road. In gold bull markets, the buying frenzy seems to attract the least prudent and least ethical players to the bullion industry.
Rule #2. Take possession of your gold using one of these alternatives.
Look at it this way: When you purchase physical gold, the farther you remove your bullion — legally and physically — from the dealer, the safer it is from the claims of that dealer's creditors.

Alternative A: Cash & Carry. In terms of getting what you paid for, buying your gold and taking it with you is the ultimate solution. You go to your dealer, inspect what you're buying, make your purchase, and walk out the door with your gold in hand. Simple. (But remember: Driving around town with a bag of gold has its own security risks.)

Alternative B: Consignment Method. The dealer sends the bullion to you for your inspection and then you send the money. It's a great choice and gives you plenty of leverage. If you can find a dealer to go for it, you're golden. Just have them send the metal to you and then you respond with a check the minute you're satisfied you've got what you were promised.

Alternative C: Sight Drafts. You make an arrangement with your bank to act as an intermediary between you and the gold dealer. The dealer sends the gold to the bank. The bank then holds it for your inspection. When you give the OK, the bank issues a cashier's check and you take possession of the metal.
Rule #3. Use a major, independent depository to safeguard your gold.
I prefer Brinks (718-949-2186) … HSBC Bank USA (212-525-6439) … and Manfra, Tordella & Brookes, Inc. (212-981-4516) — all located in New York and all approved New York Mercantile Exchange gold depositories.
Rule #4. Use non-fungible storage.
When you put your gold in non-fungible storage, it means it's stored in your name and it's not pooled with bullion from other customers. This keeps your gold nice and tidy — and it's really the best way to go.
However, just because your dealer says your bullion is non-fungible and completely segregated doesn't necessarily make it so. And even if your metal is segregated, that doesn't mean the segregation agreement will automatically stand up in court. The best way to make sure is to have your attorney review the firm's paperwork.
Either way, always specify that you want non-fungible storage. It may cost a bit more, but it's worth every penny.
Rule #5. Consider offshore purchases and storage.
If you've spent any time reading my thoughts here or in Real Wealth Report , you know I don't trust gold dealers, politicians and government bureaucrats. And there are also bankers I don't trust.
The Perth Mint of Australia has an attractive Gold Certificate Program.
Nor do a lot of other people. That's why so much gold is stored in Switzerland and Australia. I especially like the Gold Certificate Program at the Perth Mint of Australia. Features …
1. The world's only government-guaranteed certificate program 2. Insured by Lloyd's of London at the Perth Mint's expense 3. Low minimum purchase requirements of $10,000 to get started 4. Segregated storage available 5. Storage in a government vault, not a foreign bank 6. Gold, silver, platinum and palladium available — in coin or bullion 7. Permitted in Individual Retirement Accounts (IRAs)
What happens when you want your gold? Just present your certificate by mail or in person to the Perth Mint, pay any related charges, and then tell them where you want your gold shipped. It's simple and easy.
Best wishes for your health and wealth,
Larry
This investment news is brought to you by Money and Markets . Money and Markets is a free daily investment newsletter from Martin D. Weiss and Weiss Research analysts offering the latest investing news and financial insights for the stock market, including tips and advice on investing in gold, energy and oil. Dr. Weiss is a leader in the fields of investing, interest rates, financial safety and economic forecasting. To view archives or subscribe, visit http://www.moneyandmarkets.com .
© 2005-2019 http://www.MarketOracle.co.uk - The Market Oracle is a FREE Daily Financial Markets Analysis & Forecasting online publication.

Only logged in users are allowed to post comments.
Register/ Log in