How I Made Eric Bollings Agricultural Commodities Stock Market Play My Own
Commodities
/
Agricultural Commodities
Jun 28, 2007 - 12:45 AM GMT

On Thursday, June 15, the Admiral, Eric Bolling, of CNBC's Fast Money, presented an update to his Agricultural Stock trade (Ag Play). To capitalize on the trend of higher commodity prices allowing farmers to spend more money on new equipment, higher yielding seeds and better fertilizers – he constructed a four stock portfolio.
The stocks are Monsanto Company (MON), a seed producer, Agrium Inc. (AGU), a fertilizer supplier, Bunge Limited (BG), a grain and seed processor and Deere (DE), a farming equipment company. I have been trading energy as well as precious and base metal stocks for a number of years. The idea of playing soft commodities via the stock market was quite appealing. I wrote about it in "Eric Bolling's Agriculture Stock Play: Is it Too Late?"
Although I loved the idea I couldn't fully commit. On Friday, I cherry picked Agrium out of the group and purchased it. However, during the entire day I was constantly asking myself why did he buy Agrium instead of Potash Corp. or some other fertilizer company? By the end of the day, I bailed out of Agrium. I have learned that it is hard for me to blindly commit to someone else's idea. My preference is to borrow ideas and as they say on American Idol "make it my own." So, with a tweak here and there I was up and running with my own version of Bolling's Ag play on Monday. So what tweaks did I make?
First of all, I own Caterpillar in my Big Build-Out portfolio . Thus, from an overall perspective adding Deere would have been to a certain degree redundant. So, I chose not go with Deere.
Next, I took a closer look at Agrium and its competitors. I am always amazed at the Fast Money trader's depth of knowledge on such a broad spectrum of stocks, so I am certain that there is a fundamental reason why Agrium was chosen. However, as a one-person shop with limited resources and time; I choose to rely on charts more so than fundamentals.
Agrium's chart didn't excite me. It looked like it was range bound between $42.5 and $36. At least that's the way it looked, until I purchased the other guy. The day after I implemented my version of the Ag play - Agrium popped 4.5% bursting through its channel on positive news.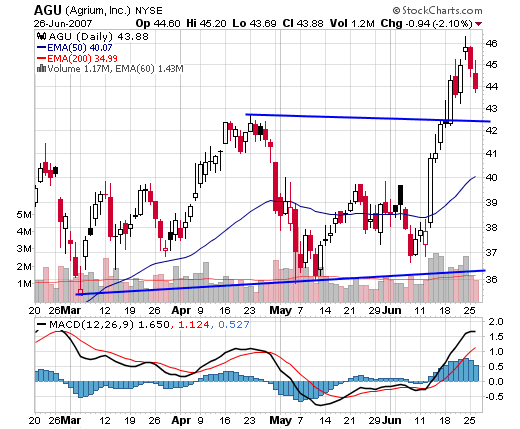 All was not lost, because some of Agrium's competitors had beautiful charts. Take a gander at Terra Nitrogen Co. (TNH).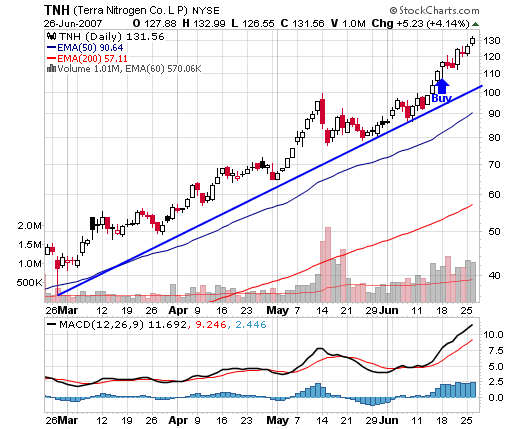 Many would shy away for a stock that has tripled in 6 months. However, I love trending stocks making new highs. I must admit that it is really extended above its 50 day moving average, but one way to manage risk in a situation like this is to buy a smaller position than normal. (Note: The stock is up 12% since my purchase and I have moved my stop to break-even. Now it is a free trade.)
Stocks often run in packs and this has been true with the fertilizers. Therefore, I decided to double up and add another fertilizer stock to my play. There were several fertilizer stocks to choose from, but I chose Potash Corp. (POT). One of the reasons that I selected Potash, other than its chart, is that it is based in Canada (as is Agrium). The increasing value of the Canadian dollar should provide an additional kicker.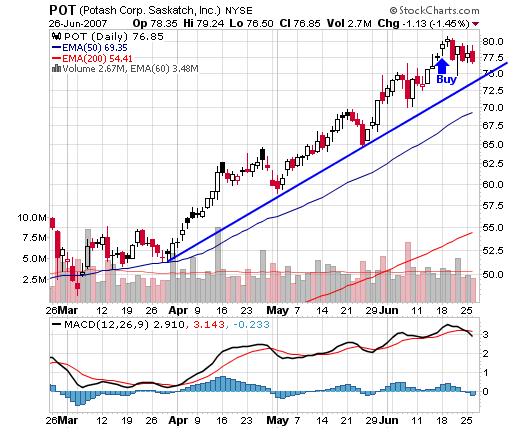 Next, I looked at Bunge Limited's chart. It wasn't very interesting, so I decided to pass.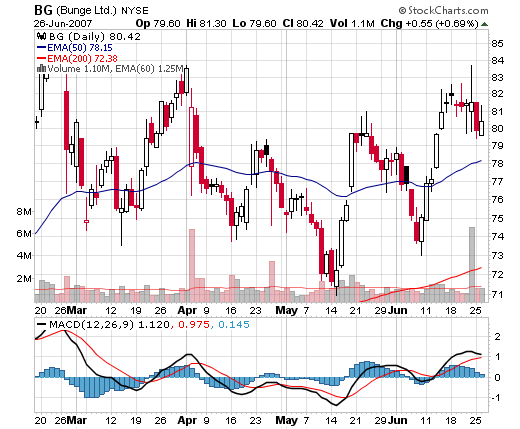 Finally, Monsanto was a no brainer. On June 15, the company raised its profit expectations for the year due to strong corn seed and herbicide sales. Their CEO, Hugh Grant, said "We're having extraordinary performance in an extraordinary year for agriculture. The performance of our business has set us up for strong growth this year and continues to create momentum for future growth." Fundamentally the company is hitting on all cylinders and it has a nice looking chart too.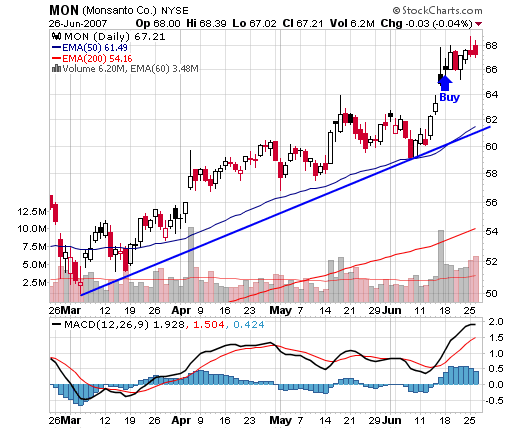 There you have it. On June 18, at the close I bought Monsanto Co., Potash Corp and Tera Nitrogen – the Mike Dawson Ag Play. So, I am sure that you are curious as to how the portfolios have performed versus each other. Obviously six days is not long enough to form any conclusions, but I am pleased to report that my play is outperforming the Bolling Play. That being said, the Bolling Play is much better diversified and definitely less volatile. So, over the long term his version might prove to be the better play. I will take another snap shot at some point down the road.
One of our advantages as individual investors is that we can tailor our plays to meet our personal needs and risk tolerances. I have reaped tremendous rewards by borrowing great ideas and "making it my own."
Note: The market is currently facing tremendous headwinds. This may be a very short lived trade. If I am stopped out I will look for another opportunity to reinitiate the trade in the upcoming months.

By Michael K Dawson
http://www.thetimeandmoneygroup.com/
Copyright © 2007 Michael K Dawson
Michael K Dawson founded the Time and Money Group with the aim of educating and sharing 20 years of experience on how to reach financial freedom. "Financial Freedom is freedom to focus on what is truly important to you and your family without having to trade time for a wage. It is enabled by a portfolio of income producing assets, managed by you, which generates sufficient income to cover your yearly expenses on an ongoing basis. It provides both time and money". The intent of his website is to become a repository of information to put you on the fast track to becoming financially free. For further infromation visit http://www.thetimeandmoneygroup.com/
© 2005-2019 http://www.MarketOracle.co.uk - The Market Oracle is a FREE Daily Financial Markets Analysis & Forecasting online publication.
Comments
Lin
10 Nov 09, 20:48
any Agricultural Commodities penny stocks?


Hi there, thanks for all the news letters and hard work that you did. But I am looking for some Agricultural Commodities

stocks... can you talk about those stocks little bit?

Thank you so much

Lin




Only logged in users are allowed to post comments.
Register/ Log in