Stock Market Critical Support Holds..... Consolidation Continues...
Stock-Markets
/
Stock Index Trading
Sep 05, 2009 - 10:58 AM GMT

A very interesting week has concluded with the market doing its usual number of head fakes both up and down, but with the greatest frustration, unquestionably felt by the bears who really had their hands around the neck of the bulls but simply couldn't get the job done. Something that has taken place many times over the past many weeks.
Let's go over what they let get away from them.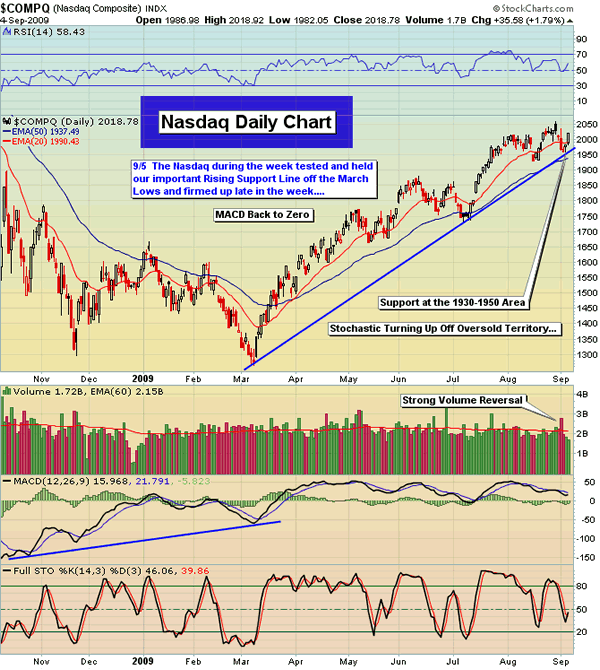 On Tuesday, we saw the market finally fall from those nasty negative divergences in place across all the major index daily charts. We also had overbought weekly charts and a doji on last weeks weekly chart and this confluence of events, we warned, could lead to some good selling by the bears.

Tuesday we gapped down and ran and did so on big volume along with a very powerful number of decliners versus advancers. Basically, four down for every one stock up. Everything was in place for continued downside action with the bears finally taking away gap support at 1018 on the S&P 500 and the 20-day exponential moving average all in the same day. Didn't happen.
From there the bulls managed to scratch and claw their way back, and today, Friday, for the moment, we saw the bulls take back those lost 20-day exponential moving averages. Not what you'd expect to see when a market is ready to sell harder.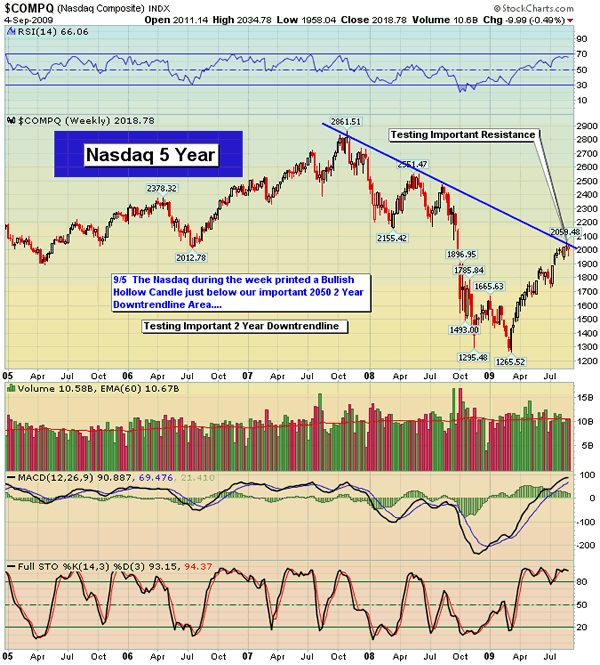 It was interesting to watch how fast those overbought daily charts unwound, not only their oscillators, but how rapidly the negative divergences were unwinding. It's still far from perfect but certainly some of that is off the board now and with all that, the market hardly experienced any appreciable price deterioration. Unwinding divergences and overbought oscillators without too much in terms of price loss can not be considered bearish by any means.

We invite you to sign up for our Free 21-Day Trial to Jack Steiman's SwingTradeOnline and see for yourself how Jack's live trade alerts and technical market analysis can help you profit and preserve wealth!

With today's overall action in terms of regaining the 20-day exponential moving averages and with the unwinding we've seen, the bulls can feel good about what took place after we saw the move down on Tuesday, and the bears have to feel like they really let this one slip away. At least for the very short term. The longer term is still quite unclear.

It's always important to follow the movement of the leaders in all areas of the market to gain more insight about what's going on in the markets. We saw a lot of the leaders begin to fall as their charts were raining down with negative divergences on those daily charts. One chart looking worse than the other.
Leaders such as Google (GOOG), Baidu Inc. (BIDU), Apple Inc. (AAPL) and more. You could go to the leaders in the transports or the retail sector. You could find the same story if you look in the agricultural sector. It didn't really matter where you went. Leaders were looking poor on their daily charts. Overbought oscillators on top of those negative divergences. These leaders have fallen well off their tops, but notice how the market has found a way to hold above the 20-day exponential moving averages and not even come close to the 50-day exponential moving averages, the real line that separates bull from bear.

The market is rotating around and as money leaves some of the leaders, the secondary stocks and further down the line, are picking up bids, allowing for only small losses in terms of price. This is normally bullish medium-term action. Not always, but usually. The longer the leaders can unwind and eventually get oversold, the better the chance the bulls have of holding critical longer-term support at those 50-day exponential moving averages. So far so good but they look like they could use further unwinding.

People are asking me what separates this bull market from a bear. What will turn you more defensive and go short ETF's and individual stocks?

The answer is simple really.

The 50-day exponential moving averages are now above critical levels that broke this market out. When the S&P 500 finally cleared that neckline of resistance at 956, the 50-day was well below. The breakout has held and with the rising 50-day now above that level, only a loss of that 50-day would allow me to get bearish on the stock market. It could happen for sure, but there are still no real signs that this will be taking place any time soon.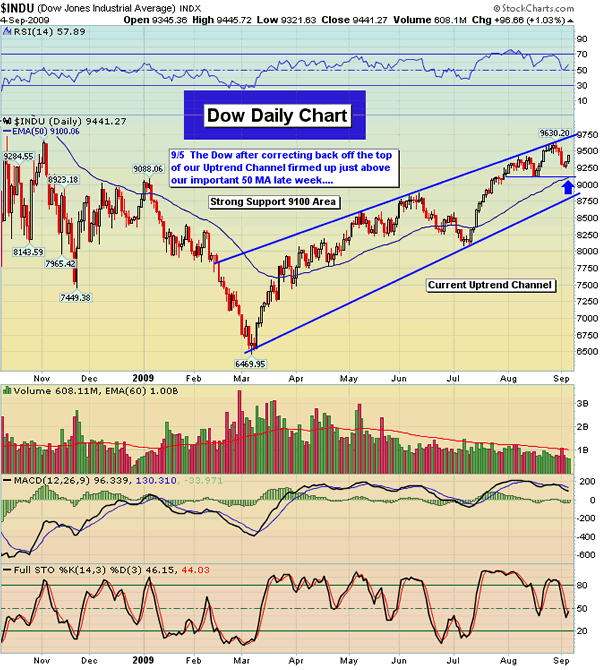 The numbers as of today are 979 on the S&P 500 and 1937 on the Nasdaq 100. Those levels would have to be lost with force, meaning at least by 1% for me to say this bull run is over. The bears took the first step in accomplishing this by taking out the 20's, but now they've given that back, although barely. They need another huge gap down that runs and puts the 20-day EMA's in the dust. They can then focus on taking those 50's. Won't be easy for sure. Bottom line, take out the 50-day exponential moving averages or they've done nothing of any significance.

Sentiment Analysis:
Over the past week we saw the bull/bear spread go from 32% more bulls down to 26% more bulls. Not great numbers for the bulls but nowhere near levels that often put in tops. Normally about a 40% spread will put in the top of a bull market. Also, when bulls equal 58% to 60%, that too puts in tops and we're not close there as well. We haven't seen too many low put call readings except for that one-day-plus from a week plus ago. On the latest selling, we did see a few readings above 1.0 which shows too many bears but that too didn't last. When you break it all down, there really isn't much to take away from sentiment as its basically neutral overall.

Sector Watch:
The first chart is the big one. A chart of the Shanghai. Notice the huge drop that took place on this weekly chart. It fell hard but look where it put in a strong tail. Yes, right at the 50-day moving average. No coincidence. It's very normal for markets that are overbought or have negative divergences or both, to come back down and test key support such as the 50's are. The key is whether it can tail off that level hard and here we see it clearly did.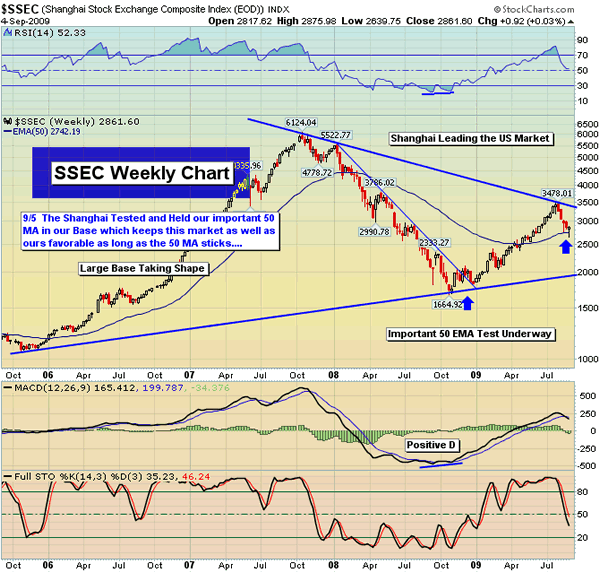 The Shanghai has been leading the United States market. It bottomed four months ahead of our market last year. It seems to have bottomed now. Like our own market, if the Shanghai loses the 50-day moving average with some force, it is quite likely we will ultimately as well. Something to keep an intense eye towards down the road.

Let's see what it can do now that it has this bullish tail in place next week. Will it follow through or reverse back down. The odds say it'll hold the 50's and move higher. If we look down the list of the other charts, we see charts two and three are different views of the Nasdaq 100.

The Nasdaq 100 daily chart clearly shows the buyers rushing back in the moment we hit the trend line. Solid action for sure. The Nasdaq 100 weekly chart is more complicated and critical. It shows the Nasdaq 100 testing the two-year down trend line from underneath and it has yet to clear, but it isn't racing down either. It's near 2040 and if we can close above that level, the trend line would be a memory and things could really blast up.
Overbought MACD's won't make that journey easy. Same goes with the other oscillators which are at or close to overbought. Would be best to unwind first without much price erosion. If that were to occur then things would be set up for another run higher.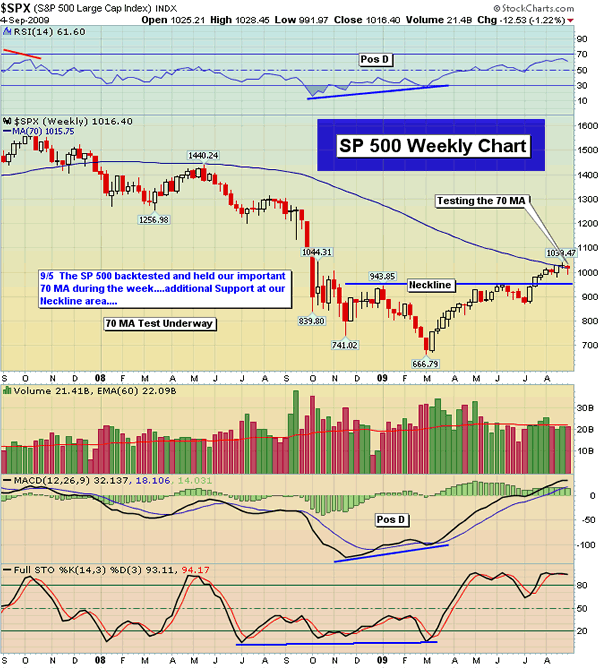 Then we see the S&P 500 chart. A weekly chart that shows that 70-week MA. This level in the past has been the difference maker between a bull market rally and a true bull market. It's capping the upside for now but if we can clear that 70-week moving average, the bears will be in big trouble. For now, they're holding back the bulls and with things overbought there, that too probably needs time.

We finish with the transports and this is so interesting. You can see the unwinding in all the oscillators that has taken place yet it sits in a perfect bull flag. This combination of the flag and unwinding usually plays out bullish in time.
There are challenges ahead for the bulls that may not get done, but they are very close to breaking things out. If the Nasdaq 100 can clear that trend line from underneath and if we can take out that 70-week moving average, the bulls will be dancing in the streets.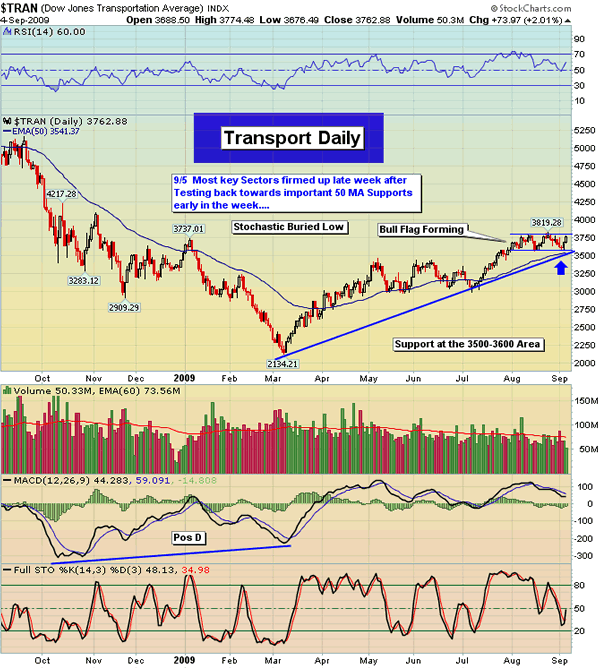 The Week Ahead:
An important week ahead as we watch the Shanghai, and of course our market, to see what the bears have in their arsenal to once again try to take back those lost 20-day exponential moving averages, and to see if they can finally make a move down to the 50-day exponential moving averages.
On any selling, the 60-minute charts will form a strong positive divergence as they blasted up nicely with the move up in price the past few days. This will make the job that much more difficult for the bears for sure. They certainly won't get the job done on the first bout of selling, if they get it. In addition, if we get any selling down to those 50-day EMA's, the daily charts will become oversold on all the oscillators while the 60-minute charts flash those positive divergences.
The job just won't be an easy one for the bears this coming week, even if we sell down to the 50's. If we do get to those 50's, it should provide a great buying opportunity. As we know, nothing is etched in stone in this crazy game, but you have to see the set ups on those charts and react accordingly, and it says nothing will be easy for the bears now, even if we get some early selling. Things just aren't setting up bearishly if we do sell some first.
Slow and easy as always.
Peace
Jack Steiman
Jack Steiman is author of SwingTradeOnline.com ( www.swingtradeonline.com ). Former columnist for TheStreet.com, Jack is renowned for calling major shifts in the market, including the market bottom in mid-2002 and the market top in October 2007.
Sign up for a Free 30-Day Trial to SwingTradeOnline.com!
© 2009 SwingTradeOnline.com
Mr. Steiman's commentaries and index analysis represent his own opinions and should not be relied upon for purposes of effecting securities transactions or other investing strategies, nor should they be construed as an offer or solicitation of an offer to sell or buy any security. You should not interpret Mr. Steiman's opinions as constituting investment advice. Trades mentioned on the site are hypothetical, not actual, positions.
© 2005-2019 http://www.MarketOracle.co.uk - The Market Oracle is a FREE Daily Financial Markets Analysis & Forecasting online publication.

Only logged in users are allowed to post comments.
Register/ Log in