Discovering bargain stocks in Japan
Stock-Markets
/
Japanese Stock Market
Jun 19, 2007 - 09:31 AM GMT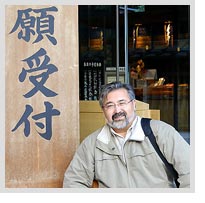 Tony Sagami writes: I was still wearing diapers and drinking from a bottle when my mother and I moved from Japan to Tacoma, Washington in 1957.
My first trip back there was when our Boy Scout troop participated in the 1971 World Boy Scout Jamboree held at Asagiri Heights on the western slope of Mt. Fuji.
I still remember playing "wide game," where each scout wore a Japanese character on a colored card around his neck. We then had to fan out over the jamboree site looking for the similar colored cards to spell out the jamboree theme, "For Understanding."
It was like finding a needle in a haystack, and I never finished the task. But during the search, I met scouts from all over the world. I felt like a United Nations diplomat. What a blast!
Of course, the Jamboree wasn't the only thing I remember from my 1971 trip to Japan:
As the son of a vegetable farmer, I wasn't used to crowds. So the massive throngs in Tokyo, especially in Shinjuku station (which serves more than two million people each day), was a total shock.
Japan was also cheap for us Americans. We received around 360 yen for every dollar! I even got my first contact lenses in Japan because they were a fraction of the cost in the U.S. Today, the dollar fetches only 123 yen, and Japan is one of the most expensive cities in the world for Americans to visit.
Back then, "Made in Japan" generally signified cheap, shoddy quality. These days, thanks to the obsessive attention to quality from companies like Toyota and Sony, the "Made in Japan" label is a badge of excellence.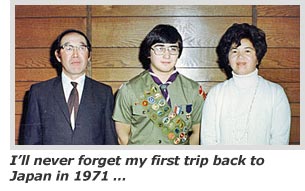 Since my first trip in 1971, I've been back to Japan a few times. And even though there are few places in the world prettier than Montana in the summer …
I'll Be Heading Back to Japan in Just a Few Weeks
I know that I just got home from Asia, but I simply can't put off this trip. Heck, I'm more excited about it than you can imagine. Why?
Reason #1: Dad + two sons = trip of a lifetime. I usually travel alone, but this time I am taking my two oldest boys: 23-year old Ryan and 14-year old Kenji. This will be their first trip to Japan, and I can't wait to take them to places like the Tsukiji fish market, the glittering Ginza, and Aizu Wakamatsu, my home town.
Plus, it will be a great opportunity for my sons to see what their Dad really does for a living! Right now, all they see me do is talk on the phone and peck away on a keyboard.
Reason #2: Japanese stock prices are still 60% below their 1989 peak. It's hard to believe, but 17 years after the Japanese market hit all-time highs, the country's stocks are still trading at a fraction of those historic levels.
In fact, with a price-to-cash-earnings ratio of 8.5 and a price-to-book ratio of 1.9, Japan is the least expensive major equity market in the world.
Call me thrifty if you want, but I think profits are made when you buy a stock … not when you sell it. In other words, by buying at the right price, you are almost guaranteed to make money.
Right now, I think Japan's market looks similar to four great Wall Street bottoms of the 20th century: 1921, 1932, 1949 and 1982.
Keep in mind, anybody who invested at those points in U.S. stock market history got very, very rich. For example, less than nine years (97 months, to be exact) after the 1921 low, U.S. stocks had risen 491%. And 208 months after August 1982, they had gained more than 1,700%!
So, why do I think the Japanese market is at a similar stage today? Because, like in the case of those four U.S. bottoms, the country's stocks have been made ridiculously cheap by DEFLATION.
Japan suffered deflation for 17 years. But now, prices are finally turning around. Real estate, wages, rents, interest rates, consumer goods, and food prices are starting to rise. If that trend continues, the Japanese economy and the Japanese stock market are likely to take off.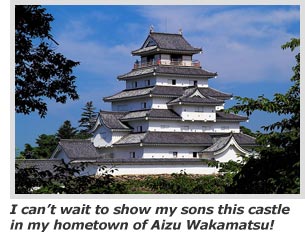 Remember, I'm not talking about a third-world country, either. Japan is the second-largest economy in the world. Its stock market is the third biggest. Many of Japan's largest companies — Canon, Hitachi, Honda, Kawasaki, Makita, Mitsubishi, Nintendo, Sony, and Toyota — are household names in the U.S.
And there is one other important reason why Japanese stocks look ready to rocket higher …
Japan Is the Secret Backdoor to China
Japan has long been a heavy exporter, and China is eager to tap into Japan's technical expertise in areas like auto manufacturing, industrial machinery, and construction.
Result: Japan is now China's largest trading partner. And it's one of the few countries in the world that has a trade surplus with China.
China may have the sexier growth story, but Japan is where investors can participate in the booming Chinese economy at a fraction of the cost.
I have to tell you, the more annual reports, financial statements, and balance sheets of Japanese companies that I look at, the more I start salivating over the bargains. I see companies that have set up significant operations in China … that are on the verge of turning into virtual yen printing presses … and that are selling at fire-sale valuations.
Of course, there's a lot more to investing than just crunching numbers, so I have a short list of companies that I'm going to visit in Japan. I'll grill them about their China plans, and find out firsthand which ones are the very best investments in all of Japan.
Then on Sunday, July 15, I'll send out a flash alert to my Asia Stock Alert subscribers and tell them the #1 absolute best Japanese stock to buy.
The first time I sent out a boots-on-the-ground alert like this, it resulted in a 107% gain on Siliconware Precision Industries. And my subscribers are currently sitting on a 25% open gain in just two months on my last flash alert.
This next flash alert should be no different. In fact, I expect to find the bargain of the decade when I go sleuthing around corporate Japan.
Of course, if you're more of a mutual fund investor, and just want a general stake in the Japanese market, you should take a look at iShares Japan exchange-traded fund (EWJ). It's designed to mirror the return of the Nikkei 225, which is the Japanese equivalent of our S&P 500.
While you shouldn't expect a home run with EWJ, you will get a piece of what I think is the very best stock market bargain in the entire world.
Best wishes,
By Tony Sagami
P.S. If you want to get that special Japanese flash alert … join Asia Stock Alert now!
This investment news is brought to you by Money and Markets . Money and Markets is a free daily investment newsletter from Martin D. Weiss and Weiss Research analysts offering the latest investing news and financial insights for the stock market, including tips and advice on investing in gold, energy and oil. Dr. Weiss is a leader in the fields of investing, interest rates, financial safety and economic forecasting. To view archives or subscribe, visit http://www.moneyandmarkets.com .
© 2005-2019 http://www.MarketOracle.co.uk - The Market Oracle is a FREE Daily Financial Markets Analysis & Forecasting online publication.

Only logged in users are allowed to post comments.
Register/ Log in