US Housing slump continues as housing starts plunge 27%
Housing-Market
/
Strategic News
Nov 19, 2006 - 09:52 PM GMT

Contrary to Alan Greenspans comments last month that the US housing market was showing signs of having bottomed, the latest data released by Commerce Department show that the housing market is still weak and likely to continue to drift lower well into 2007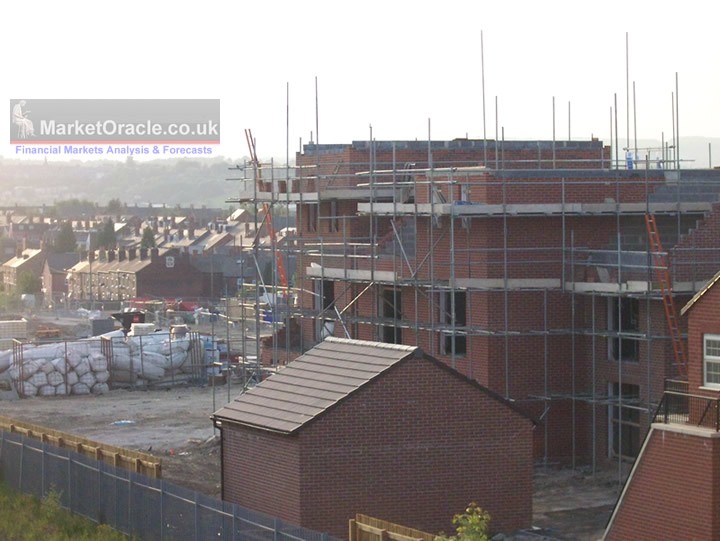 Housing Starts
Housing starts fell 27.4 percent since last year to 2,046,000.
Housing starts seasonally adjusted fell 14.6 percent to 1,486,000.
Single family housing starts in October were 1,177,000. 15.9 percent below September 06.
Building Permits
Building permits fell 28.0 percent since last year to 2,131,000.
Building permits a seasonally adjusted fell to 6.3 percent to 1,535,000.
Additionally, RealtyTrac's October 2006 U.S. Foreclosure Market Report, showed that 115,568 properties nationwide had entered into the stage of foreclosure, up 42% percent from last year. "So far this year, more than 1 million properties have entered some stage of foreclosure nationwide, up 27 percent from the same time last year," said James Saccacio, chief executive officer of RealtyTrac. Saccacio states that the data from the last three months shows an increase in foreclosures, causing more pressure on already strained housing markets.
The US housing market is increasingly resembling the last large decline in the housing market which occurred during the lead up to the early 1990's recession, when housing starts dropped over 40% between 1989 and 1991. This leading indicator for future deterioration of economic activity suggests that the risks of a hard landing for the US economy are high and a sell off is likely in the US Dollar as a response to lower interest rates.
The Housing activity is falling more than the 'soft landing' scenario, incorporated into the Federal Reserve's forecast. Which suggests that the Fed could cut interest rates aggressively during 2007, by as much as 100 basis points by the end of 2007.

© 2005-2019 http://www.MarketOracle.co.uk - The Market Oracle is a FREE Daily Financial Markets Analysis & Forecasting online publication.
Comments

21 Nov 06, 08:29
Re: US Housing slump continues as housing starts plunge 27%
I don't think we will see the same kind of housing slump as in the 1990s, since those days included high unemployment and interest rates, which we do not currently suffer. I think our economy is stronger now, and I also think the banks will work hard with people to avoid foreclosure's etc., i.e. special mortgage payment plans, hardship payment plans etc.





21 Nov 06, 17:37
Arm mortgages readjustung to 3 or 4 times previous rates !
The builders, loan officers, real estate agents, escrow companies, inspectors, appraisers are in panic mode as they don't have the income to support themselves, so 2nd jobs are all the rage. Rents are way down as sellers who are unable to sell attempt to rent at huge negative cash flows.

Many in Pay Option Arm mortgages that are readjusting to 3 or 4 times the previous payment. Same for the Interest Only Arms. Reno is predicted to not hit bottom until summer 2008 so we have a lot of very ugly months ahead of us. And from what I read, Reno is not unique in the housing bubble burst - it's nationwide!


Only logged in users are allowed to post comments.
Register/ Log in