Bernanke's REAL Legacy Helping Goldman Sachs Fleece Us All
Politics
/
Market Manipulation
Aug 28, 2009 - 10:19 AM GMT

I've watched with first amusement, then disgust, and ultimately outrage as various pundits proclaimed Bernanke's efforts "saved the financial system" or helped the US "weather the storm." Bernanke did NO such thing. You could train a chimpanzee to hit the "print money" button at the Fed every-time the Fed phone rings with a Wall Street number and get the same results. To date, Bernanke has spent or put the taxpayer on the hook for some $24 TRILLION in bailouts, lending windows, and off balance sheet arrangements.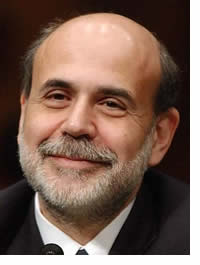 AND HE'S FIXED NOTHING.
Banks remain insolvent (if you marked their assets at market value, they'd all wipe out equity in a second), mortgages remain underwater, hundreds of thousands of Americans continue to lose their jobs every month, foreign investors grow increasingly distrustful of the dollar, and the financial system continues to have multiple black swans… all of which could bring about another CRASH.
Indeed, anyone looking to proclaim Bernanke as a savior should review the below video which shows that the guy DIDN'T HAVE A CLUE about the financial system/ economy from 2005-2007. Just click on the below image to watch (video should load in your Internet Browser). Prepare to see an Ivy-league educated guy who's in charge of our monetary system NOT see the biggest housing bubble in US history OR the worst financial crisis since the '30s (an era on which he is an alleged expert).
However, to focus on Bernanke's incompetence is to overlook his culpability in destroying Americans' wealth. In the last 12 months alone, the man has committed perjury (he lied under oath about no longer monetizing debt), embezzlement ($24 trillion gone to banks at least $9 trillion of which no one, not even the head of oversight at the Fed, kept track of), fraud (any proclamation of green shoots or recovery is fraud), corruption (forcing Bank of America to buy Merrill Lynch), and more.
It would, in fact, be no exaggeration to say that Ben Bernanke is a financial criminal on a scale that makes Bernie Madoff look like Mr. Rogers. Madoff ripped off $50 billion. Bernanke is currently destroying the middle class in the US, trashing our currency, worsening EVERY Americans' quality of life, and erasing any hopes of retirement for millions of Boomers.
In simple terms, Bailout Ben, in a mere year and a half, has overseen the destruction of 30% of US household wealth (from a housing and stock bubble he FAILED to see coming while working under Greenspan). He has yet to do a single thing to protect the average American or the dollar, but instead has opted to funnel trillions of taxpayer dollars over to Wall Street so that Goldman Sachs and friends could claim they're not insolvent and pay themselves RECORD bonuses.
Folks, the US stock market is an enormous house of cards propped up by the biggest bubble-blower in history. Fundamentals have NOT improved, the economy continues to collapse (regardless of the GDP accounting gimmicks they use to claim we're out of the recession), and stocks are at least 20-30% overvalued.
This mess will come unraveled. And it won't be long…
I've put together a FREE Special Report detailing THREE investments that will explode when stocks start to collapse. I call it Financial Crisis "Round Two" Survival Kit. These investments will not only protect your portfolio from the coming carnage, they'll also show you enormous profits: they returned 12%, 42%, and 153% last time stocks collapsed.
Swing by www.gainspainscapital.com/gold.html to pick up your FREE copy!!
Good Investing!
Graham Summers
Graham Summers: Graham is Senior Market Strategist at OmniSans Research. He is co-editor of Gain, Pains, and Capital, OmniSans Research's FREE daily e-letter covering the equity, commodity, currency, and real estate markets.
Graham also writes Private Wealth Advisory, a monthly investment advisory focusing on the most lucrative investment opportunities the financial markets have to offer. Graham understands the big picture from both a macro-economic and capital in/outflow perspective. He translates his understanding into finding trends and undervalued investment opportunities months before the markets catch on: the Private Wealth Advisory portfolio has outperformed the S&P 500 three of the last five years, including a 7% return in 2008 vs. a 37% loss for the S&P 500.
Previously, Graham worked as a Senior Financial Analyst covering global markets for several investment firms in the Mid-Atlantic region. He's lived and performed research in Europe, Asia, the Middle East, and the United States.
© 2009 Copyright Graham Summers - All Rights Reserved
Disclaimer: The above is a matter of opinion provided for general information purposes only and is not intended as investment advice. Information and analysis above are derived from sources and utilising methods believed to be reliable, but we cannot accept responsibility for any losses you may incur as a result of this analysis. Individuals should consult with their personal financial advisors.
© 2005-2019 http://www.MarketOracle.co.uk - The Market Oracle is a FREE Daily Financial Markets Analysis & Forecasting online publication.

Only logged in users are allowed to post comments.
Register/ Log in