Race for Rare Metals – And China Is Winning!
Commodities
/
Metals & Mining
Jul 21, 2009 - 07:03 PM GMT


Sam Kiri writes:The recent G8 Summit in Italy ended with one important concluding note. As President Barack Obama summarised, "For us to think we can somehow deal with some of these global challenges in the absence of major powers like China, India and Brazil seems to me wrongheaded." A well-timed thought as it is clear that the role played by these nations in the world economy is gaining prominence.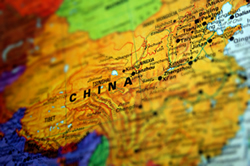 In the resource sector, China has already made its mark not only as one of the largest consumers but also as one of the largest accumulators of commodities. Chinese policy makers have ushered in an environment in which state enterprises, as well as private companies, are seeking to secure resource supplies around the world. It was against this backdrop that China Investment Corporation (CIC), a Sovereign Wealth Fund, acquired some 17% of Teck Cominco.

Copper is not the only metal China seeks to control and Teck is not the only acquisition China has made in the resource sector. In what could be a further indication of China's tightening grip on the supply side, the China Non-Ferrous Metals Mining (Group) Co., Ltd. (CNMC) recently acquired controlling interest in the Australian rare earth project developer Lynas Corporation Ltd. (Lynas). The full transaction, comprising a combination of equity, debt and loan guarantees, is valued at US$366 million and provides a glimpse of what rare metal companies are really worth.

Interestingly, CNMC is not the only government sponsored rare metals investment company. The Jiangsu Eastern China Non-Ferrous Metals Investment Holding Co. Ltd. (JIH), a unit of East China Exploration & Development Bureau, agreed to acquire a 25% stake in Arafura Resources Ltd., a gold and mineral mining company, for A$24 million, in February 2009. Arafura has a rare earth and phosphate deposit in its Nolans project.

Against this backdrop, one has to draw the attention to the ownership structure of these acquisitions and investments. Both CNMC and JIH are owned by the Chinese government and are established to ensure that China has interests in nonferrous metals both at home and abroad.

These investments clearly indicate that China is aggressively securing rare metal deposits around the world. Given China's massive consumption of rare metals, their desire to secure supply sources makes sense. The concern however is their continued acquisition would enable them to control both supply and prices thus leaving the rest of the world at their mercy!

According to the EU, for several years China has applied export restrictions (quotas and export duties) to key raw materials of which China is the leading extractor and exporter. Such restrictions naturally distort competition and increase global prices as some of these resources cannot be found elsewhere. While the recent complaint has only been on coke, bauxite, fluorspar, magnesium, manganese, silicon metal, silicon carbide, yellow phosphorus and zinc, this development provides a foretaste of future developments in other metal markets as well.

In addition to the traditional rare earth metals, other strategic metals such as tantalum are now assuming increasing importance. Tantalum is primarily used in the production of electronics capacitors which find their way into cell phones, DVD players, personal computers, digital cameras, gaming platforms, LCD monitors and wireless devices. It is currently produced by only a handful of suppliers. As China tightens its grip over rare metals with foreign asset purchases and export restrictions, the investment case for tantalum companies is also expected to gain recognition.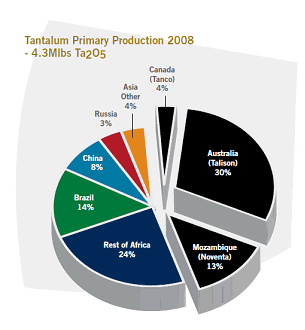 Given these developments, it is worthwhile highlighting Canadian Venture and Frankfurt listed Commerce Resources Corp. (TSX.V: CCE, Frankfurt: D7H) which is one of the most active tantalum explorers. A significant exploration and development programme is currently underway at the Upper Fir deposit of its Blue River Tantalum/Niobium Project. The company's competitive advantage lies in the fact that its projects are located in Canada, an area with low political and currency risk as compared to other world supplies.




The Upper Fir deposit has approximately 14 million tonnes of indicated and 19 million tonnes inferred resources. The project is expected to have a long-term mine life of over 20 years and due to being in carbonatite host rock could potentially be one of the lowest cost producers. Its proximity to the US makes it even more attractive.

We have highlighted on many occasions the power shift to China in the resource sector and the growing need for other industrial nations to seek alternative supply sources for themselves. Once supply sources are firmly secured, China will be able to determine both material prices and their export destinations. The fact that most of these investments are by state-funded entities such as CNMC makes the situation particularly precarious. At the far end of the pessimism, it will be a situation similar to oil supplies which are controlled by a handful of countries. The race has begun to secure supplies of rare metals. Investors should be positioning themselves at the starting line and taking a look at companies with proven deposits such as CCE.

By Sam Kiri
http://www.proactiveinvestors.com
Proactiveinvestors North America was established to provide financial news, stock market news, and business financial news in Canada and the United States, reported from our offices in Toronto.
Proactiveinvestors Limited
Proactiveinvestors North America is part of the wider network of Proactiveinvestors websites that cover financial news in Australia, UK, and China. We are an international news organisation with offices in Beijing, Toronto, Sydney and the UK.
Our goal is to be a database of news, research, comment and analysis on listed companies across the world's major stock exchanges. Our articles offer up to date, informed, dynamic snap shots of a company's past, present and future ambitions and we encourage our readers to research further material to make a rounded decision on a company's prospects.
No investment advice
The Company is a publisher and is not registered with or authorised by the Financial Services Authority (FSA). You understand and agree that no content published on the Site constitutes a recommendation that any particular security, portfolio of securities, transaction, or investment strategy is suitable or advisable for any specific person. You further understand that none of the information providers or their affiliates will advise you personally concerning the nature, potential, advisability, value or suitability of any particular security, portfolio of securities, transaction, investment strategy, or other matter.
You understand that the Site may contain opinions from time to time with regard to securities mentioned in other products, including company related products, and that those opinions may be different from those obtained by using another product related to the Company. You understand and agree that contributors may write about securities in which they or their firms have a position, and that they may trade such securities for their own account. In cases where the position is held at the time of publication and such position is known to the Company, appropriate disclosure is made. However, you understand and agree that at the time of any transaction that you make, one or more contributors may have a position in the securities written about. You understand that price and other data is supplied by sources believed to be reliable, that the calculations herein are made using such data, and that neither such data nor such calculations are guaranteed by these sources, the Company, the information providers or any other person or entity, and may not be complete or accurate.
From time to time, reference may be made in our marketing materials to prior articles and opinions we have published. These references may be selective, may reference only a portion of an article or recommendation, and are likely not to be current. As markets change continuously, previously published information and data may not be current and should not be relied upon.
© 2005-2019 http://www.MarketOracle.co.uk - The Market Oracle is a FREE Daily Financial Markets Analysis & Forecasting online publication.

Only logged in users are allowed to post comments.
Register/ Log in