How to Profit From Stock Market Volatility
Stock-Markets
/
Options & Warrants
Jul 16, 2009 - 04:32 PM GMT

"How can I make a lot of money in this market?"
That's the question I wake up to every day. Sometimes it's a real thinker, especially in bear markets. Other times, when there's a genuine bull market, it's a lot easier.
Right now, we don't have either one. We have a flat market. And we will continue to have a relatively flat market.
As we've looked at in the Prosperity Dispatch over the past few weeks, there are plenty of ways to beat a flat market. And how to do it without having to take big swings or trade actively.
There's one more way to beat – more like trounce – a flat market. It's a simple strategy really. It has been used by Warren Buffett to buy stocks as much as 15% below the market price. It has beaten more than 90% of mutual funds in the past two years. Still though, most investors don't even know about it. Let me explain.
A Bull Market in Uncertainty
Now, I realize the major indices have been climbing this week. The Dow is up almost 5% in three days. The bulls are charging.
Earnings season has been good so far – much better than expected. Goldman reported huge profits. Intel's latest earnings stunned Wall Street as well. As we like to say, great expectations lead to great disappointments. We're watching the inverse right now. Low expectations lead to big surprises.
If we take a step back from the excitement and look at where those profits come from, we'll get a much better idea of how sustainable they really are. In Goldman's case, most of the earnings came from trading activities.
Those are very low quality earnings. Trading profits come and go. There are only so many cost-cutting measures managers can take.
So when the next earnings season comes around, there aren't too many reasons to expect a repeat even though expectations will be much greater for many companies.
Then there's the monthly reality check for the markets when the unemployment numbers are released. There's no good news coming from there for a while.
That's all part of the reason why we're headed for a flat market over the next few months. There will be more signs of a recovery followed by more setbacks. The ups and downs will keep many investors on the sidelines. The markets will be volatile and generally flat leading to even more uncertainty.
The bull market in uncertainty is unwavering and the best opportunity is to turn uncertainty into cash.
Make 60% Safely in Six Months
There have only been four really good times to capitalize on uncertainty in the past 20 years. This is the best time of them all.
The best way to make money in this market is with stock options (if you've never considered options, please bear with me, it'll be worth it).
Now, I'm not talking about swinging for the fences by buying highly leveraged options. Then hoping everything works out (although that makes great testimonials for infomercials).
Heck, this is probably one of the worst times to be buying options. The odds are just so stacked against you. Basically, if you're right, you'll make a little bit.
If you're wrong you'll lose a lot. That's almost never a winning combination, but it's not enough to turn traders and speculators away from it.
That's why I'm talking about taking the other side of the options trade - writing options.
Writing options is like selling insurance. Most option traders want to hedge their portfolio's risk. They use options as an insurance policy against a sharp drop in share prices.
The greater the risk (or perceived risk – a.k.a. uncertainty) is, the more insurance costs. Think of what teenage drivers or homeowners in hurricane-prone areas pay for insurance.
The best measure of the current cost of insurance is the CBOE Volatility Index (or the "VIX" or "fear index"). This index tracks how much portfolio insurance costs. It is a measure of the "premium" investors are willing to pay.
The chart below shows the VIX over the past 20 years:

The chart highlights four times the VIX was above 30 in the past two decades. They correlate with major events. First was Operation Desert Storm. The second was during the Asian Currency Crisis and Russian debt default. The third was the bear market of 2002/2003. The final is the current credit crunch.
When the VIX is at or above 30, the cost of "insurance" is high.
What do you do when insurance prices are high?
That's right, you sell insurance.
The VIX at these levels create an opportunity for ordinary investors to collect 60% or more in "insurance premiums" per year.
There are three ways to use options to significantly boost your bottom line when uncertainty is high.
How Warren Buffett Gets Paid to Buy Stock
Last fall the markets were in a state of total confusion. The ultimate long-term investor, Warren Buffett, took the opportunity to buy stocks on the cheap. But he wasn't simply buying stocks the way most investors do. He was getting paid to buy stocks.
Buffett was using strategy called writing naked puts. Basically, he sold a put option. By writing (which is selling) a put option he gave the option to someone else to force him to buy shares of a specific stock at a predetermined price in exchange for an upfront cash payment.
For instance, October 8th Berkshire Hathaway wrote options for someone else to require the insurance giant to buy shares of Burlington Northern Santa Fe (NYSE:BNI) at $77 before the end of December. Berkshire collected a $5.78 per share premium in exchange. That day BNI shares closed at $81 per share.
So by using this strategy added a layer of safety. In fact, Berkshire was paid $5.78 to buy shares it was likely to buy anyway if BNI kept falling. The options just added a cash cushion of about 8% on top.
Don't get me wrong, writing put options can be extremely risky or extremely rewarding. There is a lot to understand about the risks and rewards before doing it (I recommend picking up a book on options valuations – not a "get rich quick" trading guide, a good educational book on options strategies) and finding an experienced, trusted advisor to work with for the first few trades.
It may be a little bit more time consuming, but this is a great time to learn this strategy and start applying it. If you learn it fast enough, you may never buy a stock again, unless you're paid to do it.
Getting Paid to Wait
Writing put options isn't the only way to turn uncertainty into cash. You can also write covered call options.
This strategy is a bit different. It involves buying stocks and then selling a call option. The call option gives someone else the option to buy the stock away from you at a predetermined price, once again, in exchange for cash.
Basically, you get paid to hold the stock. If the shares go down or stay flat you have the cash premium to offset losses. If it goes up, you have the gain on the stock up to the predetermined price, and the cash from the premium.
One of the best sectors to apply covered call options writing to is with gold stocks. This is something we proposed during the credit crunch given our outlook on gold. Since we expect it to take years for gold and gold stocks to really pay off, using a covered call strategy you can collect an additional 30% to 60% per year from all the volatility in gold stocks.
We talk about getting paid to wait a lot. When it comes to covered calls, you get paid extremely well to wait.
Let the Pros Do All the Work
Finally, there is one more way to turn uncertainty into better gains. That's with a closed-end fund like iPath CBOE S&P 500 BuyWrite Index (NYSE:BWV).
This fund basically does all the work for you. It tracks the CBOE S&P 500 BuyWrite Index which is an index which tracks a covered call strategy as applied to the S&P 500 as a whole.
We've looked into this fund twice in the past year as a way to safely wade into the markets. Once was last fall and the last time was on March 6, right before one the greatest rallies in history.
The chart below shows how well the covered call strategy, as tracked by BWV, reduces downside risk without sacrificing very much upside.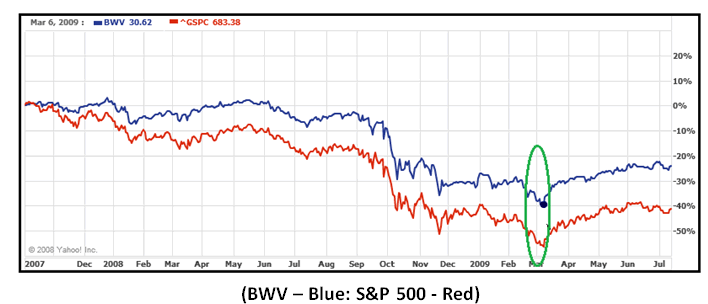 -------------------------------------------------------
Investing Successfully 101
When it comes right down to it, the markets haven't changed much at all in the past couple of years.
The bear market may seem to have "changed the rules," but they're still the same.
All the things that made some investors successful before will continue to make them better in the future. That means keeping an eye on risk and reward, limiting valuable capital to the best opportunities, and learning new strategies which work exceptionally well for the market conditions.
There's always an answer to: "How can I make money in this market?" You've just got to find it.
The path to financial independence hasn't closed. It might look a little different, but it's still open to anyone willing and able to walk down it.
Good investing,
Andrew Mickey
Chief Investment Strategist, Q1 Publishing
Disclosure: Author currently holds a long position in Silvercorp Metals (SVM), physical silver, and no position in any of the other companies mentioned.
Q1 Publishing is committed to providing investors with well-researched, level-headed, no-nonsense, analysis and investment advice that will allow you to secure enduring wealth and independence.
© 2009 Copyright Q1 Publishing - All Rights Reserved
Disclaimer: The above is a matter of opinion provided for general information purposes only and is not intended as investment advice. Information and analysis above are derived from sources and utilising methods believed to be reliable, but we cannot accept responsibility for any losses you may incur as a result of this analysis. Individuals should consult with their personal financial advisors.
© 2005-2019 http://www.MarketOracle.co.uk - The Market Oracle is a FREE Daily Financial Markets Analysis & Forecasting online publication.

Only logged in users are allowed to post comments.
Register/ Log in