NHS Doctors are Terrorists, London and Glasgow Attacks
Politics
/
Iraq War
Jul 01, 2007 - 07:19 PM GMT

Allegedly two of the suspect terrorists held by Police for the Glasgow and London bombings attempts are NHS Doctors.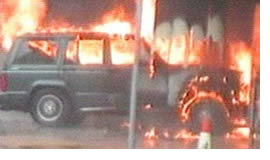 One of the doctors was the person to emerge on fire from the burning SUV Jeep at Glasgow Airport and is said to be from Iran. The other alleged doctor arrested on the M6 and is said to be of possible Jordanian origins and is thought to be behind the planning of the attacks.
The net continues to tighten around the suspect terrorists, with five arrests to date involving 4 men and 1 woman. this includes the two arrested at Glasgow airport. All of whom are said to be from middle eastern countries, including Iran and Jordan.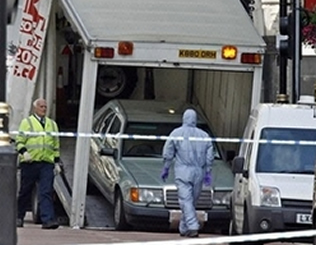 It is expected that the Police will have completed the arrests phase by tommorrow evening as the two mercedes cars that failed to detonate in London provide the police with a wealth of forensic evidence, which were packed with petrol, nails and gas cannisters left outside the Tiger Tiger nightspot in Haymarket early on Friday. One of which had been towed away by parking wardens to a nearby car pound.
Earlier the New Prime Minister Gordon Brown said "it is clear that we are dealing, in general terms, with people who are associated with al-Qaida." and warned that the threat would be "long term and sustained", but that the country would not be cowed by the plot targeting central London and Glasgow's airport.
The fact that all five arrested today are of middle eastern origins and not British nationals, supports the view that this attack may be directly linked to Al Qeeda and planned to coincide with Tony Blair leaving office.
The threat level in the UK was raised to the highest level Critical, following the attacks and in advance of the 2nd anniversary of the July 7th 2005 bomb attacks.
By Nadeem Walayat
(c) Marketoracle.co.uk 2005-07. All rights reserved.
© 2005-2019 http://www.MarketOracle.co.uk - The Market Oracle is a FREE Daily Financial Markets Analysis & Forecasting online publication.
Comments
Fred
02 Jul 07, 04:50
This is another false flag Terrorist


Everyone needs to ring Scotland Yard and tell them Gordon Brown is responsible.

At least they didn't kill anyone this time.

Everyone must give up their Freedom and Liberty to be safe, this is what Hitler did, wake up people.

Watch Terrorstorm ==> http://video.google.com.au/videoplay?docid=786048453686176230

Then Watch ZEITGEIST, The Movie and find out how Christianity, 9/11 and the Federal Reserve are all related ==>

http://video.google.com.au/videoplay?docid=5547481422995115331



Majid
02 Jul 07, 05:59
An Iranian GP?!


There is no evidence or even indication about an Iranian involved in that attack. This action like others seem a Wahabi, Salafi, Al-qaida one, which all are anti-Shi'i and anti-Iranians.



observer
02 Jul 07, 08:18
Terror Storm


Do you remember the liquid bomb that terrorists were planning to carry on board the airplanes. What happened to all the people rounded up?

The result is all travellers are not allow to carry liquid in excess of 100ml/containers to be placed in a transparent plastic bags.

Now, crude car bombs and do you know what will happen. The Government will come out with some excuse to curb the freedom of its citizen. The excuse that there is a small price to pay for democracy. What crap and bullshit and the worse culprit here is the leaders and the mass media harping the official line.

We are living in a world that if you didn't read the newspaper you are uninformed but if you do you are misinformed.



Ame...
03 Jul 07, 03:13
Christianity related?


Fred - I beg to differ. What... are Christians going around killing eachother... have you heard of a JW killing a Catholic JUST because their beliefs are slightly different?

If you're the Fred I think you are (.) - (yes, I bet you've never been as close to a live terrorist bomb as I have...)




Only logged in users are allowed to post comments.
Register/ Log in