Washington D.C. Dysfunction and Central Bank Chaos
Politics
/
US Federal Reserve Bank
Sep 05, 2017 - 06:12 PM GMT


On September 5th, the members of both houses of Congress of the United States will clean the beach sand from between their toes and return to work. Our public servants who occupy The House of Representatives have been working on their respective tans since July 29th. The Senate has had a little less time in the sun; they held their final vote on August 3rd despite their pledge to stay until August 11th.
Hopefully, they got a lot of rest, because they have a lot to do upon their return. By the end of September Congress will need to pass a budget bill to avoid a government shutdown. Expect Tea Party Republicans to hold their ground on spending cuts while Trump petitions for his wall. According to recent tweets, Trump is pushing for this fight and welcomes a government shutdown. Get out the popcorn this could get interesting.
Washington also need to increase the debt ceiling, to avoid a debt default that could trigger a global financial crisis. Treasury Secretary Steven Mnuchin can pay the bills in full and on time through September 29th – after that, he will need an increase in the country's $19.81 trillion-dollar credit limit. Republicans are promising that a default is impossible, but Congress also promised a repeal and replacement of Obamacare within the first 100 days of the Trump Presidency, and Trump himself guaranteed to kill the ACA on day one--so I wouldn't hold my breath that increasing the nation's credit limit will go any smoother.
Congress also needs to reauthorize the insurance of 9 million children through the Children's Health Insurance Program (CHIP) and pass the National Flood Insurance Program (NFIP)—Hurricane Harvey has put extra importance on this provision, as well as aid for the storm itself.
After they take care of those urgent matters they plan to segue back to tax reform, infrastructure and to take yet another crack at making some needed modifications to Obamacare; before the premiums rise to 100% of disposable income.
And they will have to juggle this full legislative agenda while dealing with North Korea, Russia-gate and Confederate Statue-gate.
For a body of elected officials who have built their careers on doing nothing they have an enormous amount of legislation to sift through in an incredibly short amount of time.
And all this dysfunction in DC is having an adverse effect on the dollar, which is already down over 9% this year. A strong dollar is emblematic of a vibrant economy. Whereas, the opposite displays faltering GDP growth and a distressed middle class.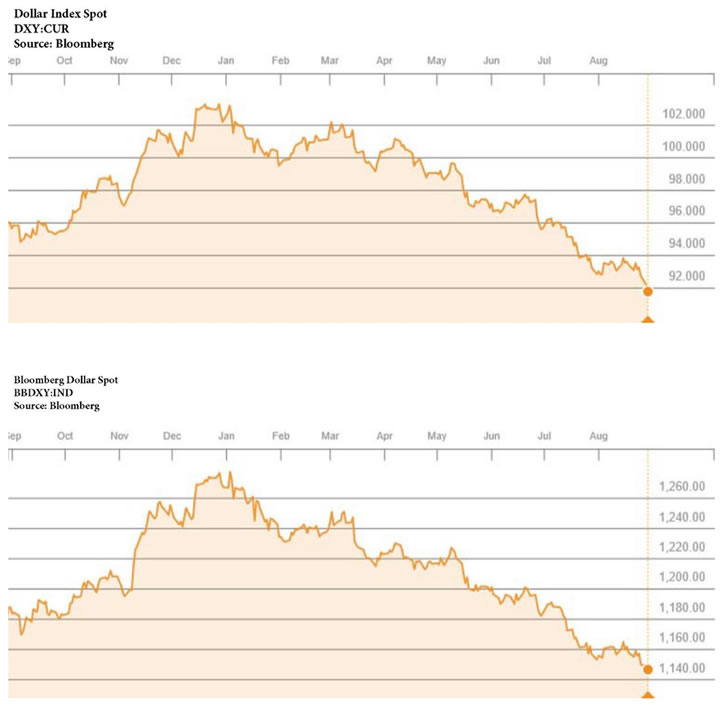 This recent retreat in the dollar is also due to Mario Draghi's hint that he may pull back QE in the Eurozone. In their June meeting, The European Central Bank (ECB) failed to announce a policy change, but they did make some small changes to forward guidance, which has investors bracing for such an announcement at the September 7th meeting. Mr. Draghi has recently expressed more confidence in the Eurozone economy. The expectation of ECB tapering has put downward pressure on our dollar.
This is why the lynchpin for the global economy now rests on the shoulders of Mario Draghi and Janet Yellen—both of whom foolishly believe that their massive counterfeiting sprees have put the global economy in a viable and stable condition. I intentionally left out Haruhiko Kuroda of the BOJ; even though he is the worst of the money printing bunch, at least he knows—along with everyone else--that he will never be able to stop counterfeiting yen. If the ECB begins the taper in January of next year, QE would be wound down to zero by June. And, of course, the Fed has made it clear that it will begin reverse QE around the end of this year. This will result in the selling of $50 billion worth of MBS and Treasuries at the same time the ECB is out of the additional bond-buying business.
The memories of central bankers are extremely limited. In particular, Draghi forgets that before his pledge to do "whatever it takes" to push European bond yields lower during 2012, the German 10 year bund was 4%. And periphery yields such as; the Italian 10 year was close to 8%, Portugal 14%, and in Greece the yield was 40%. That is how high yields were before ECB purchases began. However, these intractable yields were extant before the gargantuan increase in nominal aggregate debt levels incurred since the global financial crisis, which was abetted by the central bank's offering of negative borrowing rates.
The central banks' prescription for boosting the economy out of the Great Recession has been: print $15 trillion worth of fiat credit to purchase distressed bank assets, dramatically reduce debt service costs for both the public and private sectors, and to vastly inflate asset prices so as to create a trickle down wealth effect. But now, central banks are in the process of reversing that very same wealth effect that temporarily and artificially boosted global GDP.
Therefore, by the middle of next year--at the very latest—we should experience unprecedented currency, equity and bond market chaos, which will be a trenchant change from today's era of absent volatility. The vast majority of investors have fully embraced the passive buy and hold strategy due to confidence in governments and central banks. That misplaced confidence is the biggest bubble of all.
Michael Pento produces the weekly podcast "The Mid-week Reality Check", is the President and Founder of Pento Portfolio Strategies and Author of the book "The Coming Bond Market Collapse."
Respectfully,
Michael Pento
President
Pento Portfolio Strategies
www.pentoport.com
mpento@pentoport.com
Twitter@ michaelpento1
(O) 732-203-1333
(M) 732- 213-1295
Michael Pento is the President and Founder of Pento Portfolio Strategies (PPS). PPS is a Registered Investment Advisory Firm that provides money management services and research for individual and institutional clients.
Michael is a well-established specialist in markets and economics and a regular guest on CNBC, CNN, Bloomberg, FOX Business News and other international media outlets. His market analysis can also be read in most major financial publications, including the Wall Street Journal. He also acts as a Financial Columnist for Forbes, Contributor to thestreet.com and is a blogger at the Huffington Post.
Prior to starting PPS, Michael served as a senior economist and vice president of the managed products division of Euro Pacific Capital. There, he also led an external sales division that marketed their managed products to outside broker-dealers and registered investment advisors.
Additionally, Michael has worked at an investment advisory firm where he helped create ETFs and UITs that were sold throughout Wall Street. Earlier in his career he spent two years on the floor of the New York Stock Exchange. He has carried series 7, 63, 65, 55 and Life and Health Insurance
www.earthoflight.ca
Licenses. Michael Pento graduated from Rowan University in 1991.
© 2017 Copyright Michael Pento - All Rights Reserved
Disclaimer: The above is a matter of opinion provided for general information purposes only and is not intended as investment advice. Information and analysis above are derived from sources and utilising methods believed to be reliable, but we cannot accept responsibility for any losses you may incur as a result of this analysis. Individuals should consult with their personal financial advisors.
© 2005-2019 http://www.MarketOracle.co.uk - The Market Oracle is a FREE Daily Financial Markets Analysis & Forecasting online publication.

Only logged in users are allowed to post comments.
Register/ Log in